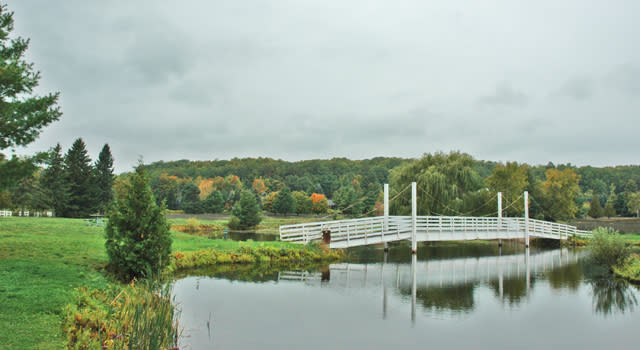 By MIKE NORTON
One of the crazy things about being a travel writer is that you sometimes find yourself doing more writing than traveling. You're whacking away at a keyboard, answering phone calls and emails and wondering what happened to your joie de vivre, and suddenly you look up and peer out the window and ask yourself, "What in blazes am I DOING here?"
Doesn't even matter what it looks like out there. It could be a perfect fall day like this one, with the pavement still shining from the morning rain, the bay lying still and blue under a turquoise sky, and the trees beginning to turn a rainbow of scarlet, orange and golden shades. Or it could be a day of sweeping mists and drizzles, like the last four or five we've had. Doesn't matter; you grab the camera and the car keys and get out there to do some Exploring.
And thats how I came to be wandering around on the meadows and woods of Veronica Valley, a delightful 92-acre park on the Leelanau Peninsula, about 12 miles north of Traverse City. I'd driven past the place many times, intrigued as much by the 100-foot steel faux-suspension bridge near its entrance as I was by what I knew of its history, but I'd never taken the time to look around.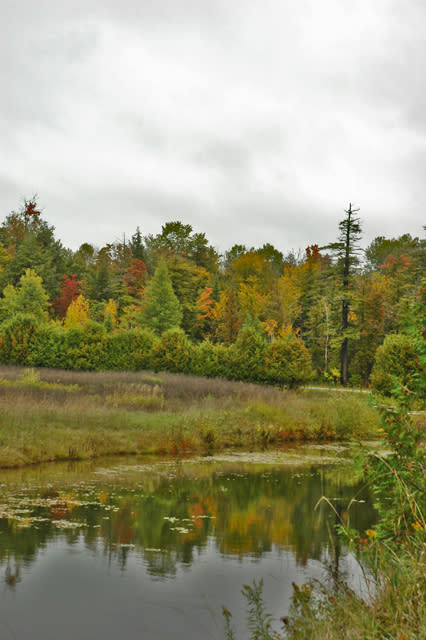 Golfers around these parts may remember Veronica Valley as one of the quirkiest and smallest of the area's many golf courses – a little nine-hole mom-and-pop operation decorated with enormous pieces of northern Michigan folk art. It was started in 1991 by a nearby couple, William and Diane Grant, who named it after their grandmother. Since they weren't golfers, they just followed their instincts in laying the place out, adding bridges, statuary, a castle and even a bear that would roar as you passed it, as if they were creating a miniature golf course on steroids.
It was a hit, actually – and it kept the Grant kids busy during a decade of summer vacations. But when William was diagnosed with Parkinson's Disease in 2002, the family realized they'd have to give the place up. They spent two years evaluating offers from potential buyers before approaching the Leelanau County Parks and Recreation Commission about turning Veronica Valley into a park for  "passive recreation" -- hiking, skiing, snowshoeing, picnicking, fishing and hunting – and as it happened, the local officials had been looking for exactly that kind of a place.
The sale went through in 2008. Since then, it's become a favorite spot for birders – thanks to its network of seven ponds and its variety of upland and wetland habitats, with lots of shrub-loving species (yellow warbler, gray catbird, eastern kingbird, brown thrasher) And it even has a small trout stream running through it. And since the Grants built a whole system of roads and pathways when it was a golf course, it's easy to get around.
From Traverse City it's an easy drive up along County Road 641 to Maple Valley Road, about four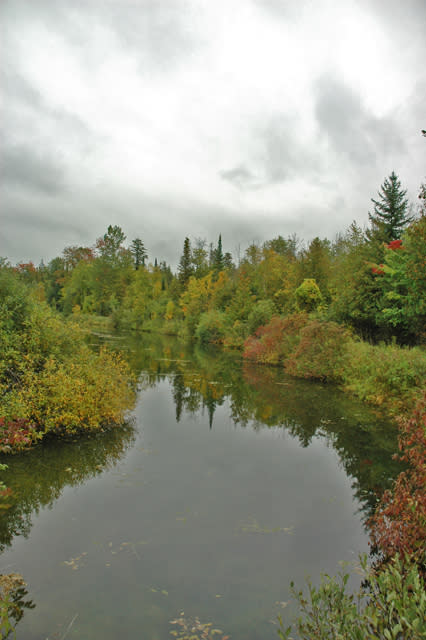 miles south of Suttons Bay and the village of Lake Leelanau, and right now the road is overshadowed by maples, ash trees and walnuts that are just starting to take on their brilliant fall colors. The park's western and northern edges are open meadows that give some fine views of the surrounding hillsides and forests, including a pasture where I spotted a Belted Galloway -- one of those strange black-and-white "oreo cookie" cows -- and there's a heavily wooded section in its southeastern corner that's filled with white cedars.
What I liked best, though, was walking beside the many ponds in Veronica Valley. On a calm day they become quiet mirrors that reflect the sky and trees around them – and even this late in the year you can hear frogs and other creatures splashing around among the reeds.
The park authorities left all the golf course bridges in place – in addition to the big white "suspension bridge," there's a small covered bridge in the forest that's very picturesque – and one little pond still boasts an odd "shipwreck" whose mast leans up incongruously from the cattails. Unfortunately, most of the other the statues and "farm-oriented folk art" that the Grants installed have been removed, but you can still see traces of them here and there.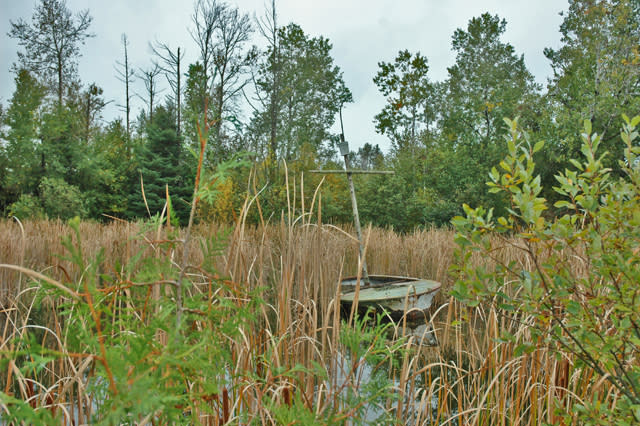 It's not a big place. There are six interconnected trails, but the largest of them is only a mile and a half long, so it's not hard to walk the entire park in an hour. The busy time to be here is in late June, when as many as 500 kids turn out here to fish for the thousands of bluegills that are planted in the ponds. In winter, they groom the trails for cross-country skiing, too. But for me, fall was the perfect time to enjoy the stillness and solitude of a country walk away from the computer and the phone.
Click here for a map of Veronica Valley Park and driving directions to get there.