Grand Rapids blogger Tieka from Selective Potential started off the new year with a visit to the Traverse City brew scene. Take a look at where she went, what she ate and which beers she drank. 
On New Year's Day, we made the trek to Traverse City from Grand Rapids for a weekend brewery tour. We were thankful for clear roads! We checked into our hotel at West Bay Beach Resort. We had a gorgeous lakefront view of the bay, and a huge comfy king-sized bed! We took a quick nap, and then headed out for a fun evening in Traverse City.
Our first stop on our brewery tour was at The Filling Station Microbrewery. This was a first visit for my husband, Eric, and me, but this definitely tops our list of favorite places in Traverse City. It's located just off the TART Trail in the historic railroad district. The building used to be an old railroad station. They kept as much of the charm as they could, and even named their beers and food accordingly. We met with Todd and his sister, Amanda, at this family-owned restaurant -- they were so friendly and knowledgeable.  We tried a flight of beers, which were all tasty! Eric's favorite was the Bacharach Golden Ale, and my favorite was the Timber Creek Brandy Strong Dark Ale. For dinner, we split a salad and a pizza (plenty of food for two people). We'd definitely recommend the Conductor salad (artisan greens tossed in their house-made buttermilk ranch, grape tomatoes, hard boiled egg, prosciutto, red onion and blue cheese) and their Three Rivers pizza (marinara, fresh basil, vine ripened tomatoes and mozzarella). To top it all off we shared a small S'more pizza for dessert, and it was delicious. Todd gave us a quick tour of their brewery, and we headed off to our next stop -- but we'll definitely be back! In the summer, they have awesome outdoor picnic-style seating, and I'd love to check that out.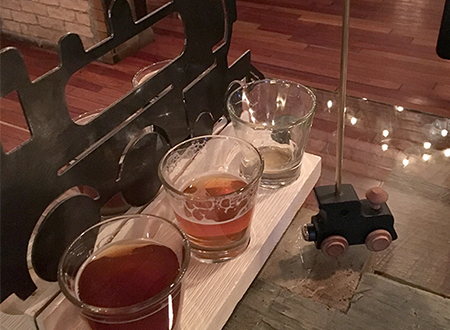 Our next stop was Right Brain Brewery, which is located in a completely renovated warehouse dating back more than 50 years. They re-used as much of the old building as possible, yet made it fun, new and one-of-a-kind. We loved the eclectic atmosphere! Their beer selection is always rotating, and they have between 15-25 beers on tap. They only serve their own beer, which is great. I loved that they also offered up locally made wines and ciders, and sodas as options for non-beer drinkers. We met with Russ, the founder and owner, who gave us a tour of their brewery and warehouse. I was so impressed with their setup, and how they are able to brew and distribute everything themselves. Plus, they love to experiment with fun, new beers. Russ was so passionate, and it was inspiring to learn more about his vision for Right Brain. After the tour, Eric and I spent some time tasting a few beers. Eric loved the Caramel Coffee, a half and half mix of the Belgian CEO Stout and the Northern Hawk Owl. We also enjoyed the 1841, which is only served in the pub. Excellent beer -- definitely worth a visit if you're in the Traverse City area.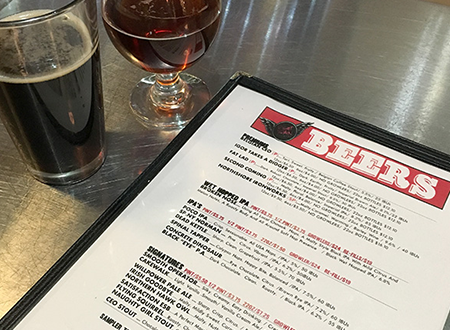 The next day, we had a fun lineup of places to go tasting. To start things off we sampled delicious cider at Left Foot Charley, an urban winery and tasting room whose owner, Brian Ulbrich works with several small local vineyards and orchards. Owned and farmed by individuals who don't have wineries, Left Foot sources fruit from them to make wines and ciders. They have a focus on white wine, hard cider and sparkling wine. The winery and tasting room are located at the unique Village at Grand Traverse Commons. Their building actually used to be the 1884 asylum's laundry facility. We tried a bunch of ciders, and devoured amazing locally baked pretzels and various mustards. Our favorite sample was the Tien Ice cider. I also loved their Cinnamon Girl cider by itself as well as with a splash of red wine -- it created a beautiful and tasty beverage!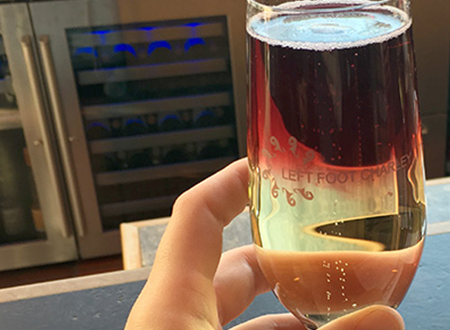 Our next stop led us up to Suttons Bay to Hop Lot Brewing Company. We had beautiful clear skies, and the sun was out. It was a perfect day for a scenic drive along M-22 and a little farther north. This venue was gorgeous! They had beautiful woodwork, a large beer garden, and an outdoor bar (to enjoy when the weather permits). When we pulled up, several people were enjoying beers by the fire pit on the patio. We headed inside, tried a few craft beers and met with Steve, the head brewer and co-founder who told us about the brewery. They have craft beer year-round at their taproom, grow their own hops at their on-site hop garden, have 10-14 taps, and brew all styles of beers, not just "hoppy" beers. I can't wait to come back here in the summer! Plus, their food menu looked amazing and it would be a perfect lunch spot if you're traveling through Suttons Bay.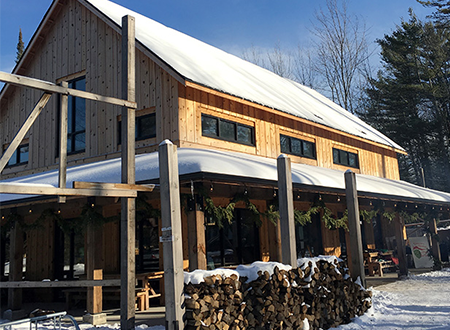 Afterwards, we headed back to Downtown Traverse City to visit The Workshop Brewing Company. Eric and I had been here a few times before to watch music, so it was fun to revisit during this tour. The Workshop is unique in many ways but what stands out the most is the owner's passion and commitment to honor traditional craft beer, reinforce Traverse City's community, and preserve Northern Michigan's natural environment. The Trifidelity symbol represents their motto: Nature. Community. Craft. We met with owner Pete Kirkwood, who gave us a tour of their brewery and recommended a few beers to suit our preferences. I fell in love with their Spokeshave, which is their Cold Chisel bière blanche, re-fermented with local raspberries for seven months in white wine barrels. Perfect for a wine drinker like myself! Eric really loved the Wrecking Bar. We also loved their famous spent grain pretzels (our favorite food of the entire trip… no joke!) served with cheese fondue and ESB mustard aioli. SO good! I'm craving it right now actually.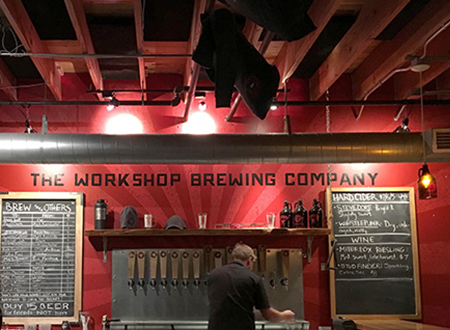 After the Workshop, we headed to Rare Bird Brewpub, which we heard rave reviews about from everyone we met. It's located a few blocks from downtown in a beautifully restored 1931 building. Rare Bird brews their own beers, but also offers a wide range of beers and beverages from other great breweries, wineries and distilleries. Eric and I enjoyed a few house-brewed beers and a Moscow mule to end the evening. For dinner, we were told to try the Cheese Curds with Avocado Lime Ranch and the Pecorino Garlic Dusted Frites with Artichoke and White Truffle dip. Yum! For dinner, we split the Pork Belly Nachos (house- made tortilla chips, white cheddar ale sauce, pico de gallo, avocado crema and pickled cabbage). It was a truly unique dish, and it was delicious! We loved the atmosphere of their location; they played great music, and sitting at the bar was fun while we enjoyed drinks and food. As a brewpub, their food is above average and it's a great place to hang out for dinner and drinks.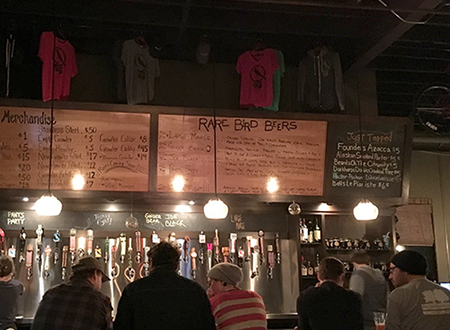 We had an amazing time, and would revisit all of these locations again (and again). Be sure to check out the 7th annual Traverse City Winter Microbrew and Music Festival on February 13, 2016. Tons of breweries will be there with their best craft beers, as well as terrific musicians including our friends Joe Hertler and the Rainbow Seekers and Stovepipe Stover: One Man Band. It will be a phenomenal time!