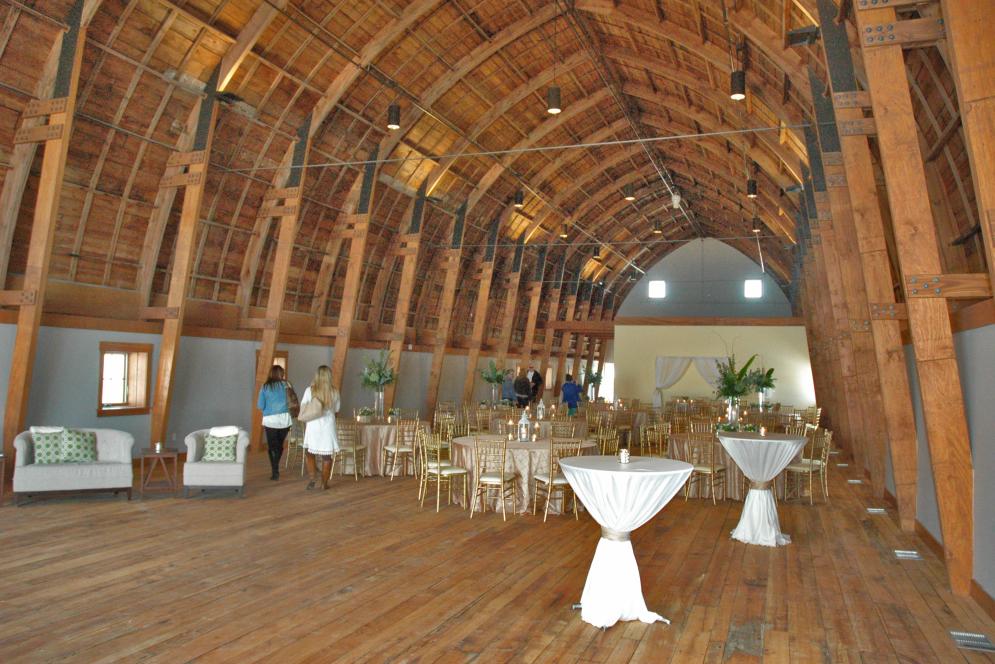 Planning meetings and events in a larger city for years was wonderful, but planning meetings and events in Traverse City is even better.  With the natural beauty and sheer number of amazing venues, it makes my job so much fun!  Within the last year or so Traverse City businesses have expanded their offerings by creating unique spaces well suited for a variety of special events. Read on to learn more about each one listed below.
Historic Barns Park
Home to the Botanic Garden and the Cathedral Barn, this is more than an event space. It's a destination!  The barn opened for events just a few months ago and was once home to a working farm for the Traverse City State Hospital. At the heart of the park stands the majestic Cathedral Barn. that was built in 1934 and rescued from the wrecking ball in 2004. This soaring structure is now being restored as a public event space to be enjoyed by generations to come.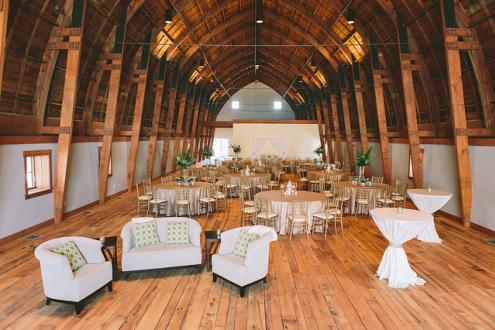 I love that this barn is so close to town! It is rustic with modern amenities such as heat and air conditioning -- both are always a plus in our Michigan climate. It is also on the same property as the Botanic Garden where there are diverse options for cocktail hour, dinner and other fun activities.
Kirkbride Hall & Kirkbride Suite
Kirkbride Hall opened in May of 2014.  The hall was formally known as the Chapel at the Northern Michigan Asylum.  It was built between 1883 - 1885 and was at the first place in Traverse City to have electric lights!  It's now a fabulous spot for weddings, corporate functions, and other gatherings.  Best of all, it offers a suite above the space that is available for rent for wedding parties, families or very small groups.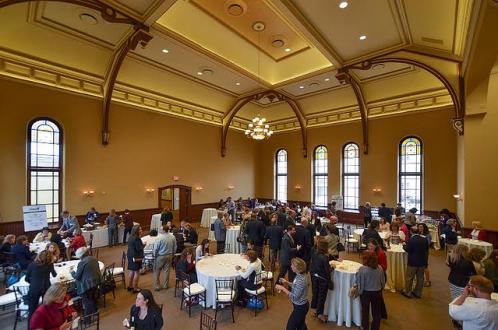 This location is part of the Village at Grand Traverse Commons continual renovation project, one that I have admired since the beginning. Couple the gorgeous venue with the impeccable customer service and this space is top notch all around.
Corner Loft
The Corner Loft offers some of the best downtown views in Northern Michigan. Located on the second floor of a former bank, this neo-classical building is the perfect addition to event venues in town because there is nothing else like it.
I love the floor to ceiling windows with views of the quaint shops and tree-lined streets. Inside, the space is modern, elegant, and versatile for a variety of different events. It is truly a gem of a venue right in the heart of our beautiful downtown shopping district.
Shady Lane Cellars
A Leelanau County favorite, the award winning Shady Lane Cellars completed a major renovation at the end of last summer.  There is a large covered patio, a fireplace, a large open patio and a huge lawn for tenting.  These major amenities are nestled up to the adorable tasting room that was a former chicken coup.
I can't think of a more relaxing outdoor venue!  What a great place for a networking event, team building or any cocktail hour.  I love that I can work with any caterer and pair it with their fabulous wines.  The staff at Shady Lane Cellars make this space one of my favorite places to visit and host events.
The RG Studio at Red Ginger
Paired with the best sushi in Traverse City and my favorite restaurant for customer service, The RG Studio has a large private patio with views of Grand Traverse Bay.  The modern look and feel is the perfect spot for a day of entertaining, rehearsal dinners or a hospitality suite right downtown.  It has a kitchen perfect for a sushi action station and a 60" flat screen TV in the room.
When I can pair my favorite chef, the best customer service in town at any restaurant and views of the bay, I know it's the best small venue in town.  Red Ginger makes planning so easy and simple and they thoroughly understand the needs of event planners -- this is always a plus!
I can't wait to see what's in store in the future for the region for venues, but for the time being, I know Traverse City is booming and has some of the best locations to host events not only in the state, but in the country.
If you are unfamiliar with the area, allow our staff to help by identifying hotel or resort properties that meet your specifications. We can provide information including meeting facilities, sleeping rooms, date availability, rates, amenities and special program requirements. At your request, we can also solicit individual proposals from properties that meet your requirements, or even arrange and host a site inspection of the facilities, as well as of our community.