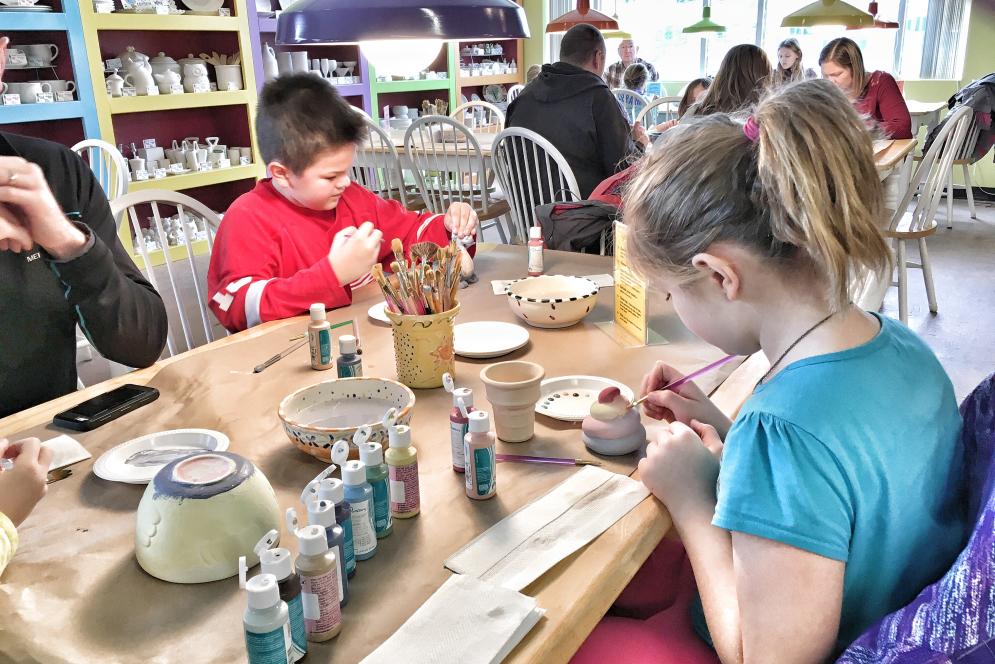 Want a quick weekend escape for your family? Looking for a fun, accessible spring break option? Then turn your thoughts north! Traverse City is quickly becoming a favored spring break alternative for families wanting to stay closer to home. Even better, many TC hotels have deals waiting for you – just look at their Escape Lodging Packages to find family bundles including dining and movie coupons, spa discounts and more. 
It's More Fun When Kids Help Plan
Now that your destination is set, it's time to talk details.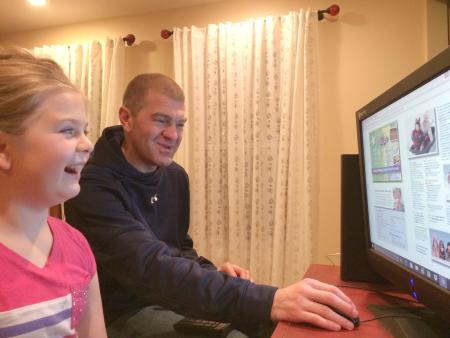 With three kids ages 6, 9 and 12, planning a trip that everyone loves can be a challenge. But we have a travel tip that is too good to keep secret: we let the kids help plan the trip!
Here's a behind-the-scenes look at how we planned our Traverse City vacation…
In our family, we make planning a big part of the vacation fun. Each child goes on a "computer date" with mom or dad and researches options at our destination.
For our Traverse City trip, we found the Kids' Activities Section of the Traverse City Tourism website to be really helpful, as well as their Kids Guide Magazine. During our "date," each child makes a list of their top three activities. We guarantee them that we'll do at least one thing on each list. Once the lists are complete, I do more research on the opportunities and see which ones will fit our schedule and budget.
Vacationing this way has increased my kids' patience for activities that might not be their first pick. It's a lot easier for big brother to stop in at a little kid's toy store when he knows it's bringing joy to his little sister. Little sister might not be excited to go ice skating, but she knows that is big sister's top choice so she's going to do her best.
Another added benefit of having the kids help plan: they are more patient with the mom and dad stops on the itinerary, too! 
We kept ourselves quite busy on our weekend in Traverse City, and found that everyone ended up liking ALL of the stops we made. I really can't remember another vacation where that was true, so I count that as a win for all TC has to offer.
Here's a recap of how our family spent our time up north:
Cherry Tree Inn & Suites
Let's be honest: your hotel can really make or break your vacation. We're a family of five, so finding a hotel that can accommodate us is no easy feat. That's why we felt like we hit the jackpot when we landed in a newly remodeled suite at Cherry Tree Inn & Suites.
Not only did our suite have a kitchenette, it also had a separate room with a king size bed for the parents, a trundle bed, and room for a rollaway so every person in our family had a place to sleep. The fireplace and window nooks were great touches, but the thing that tickled the kids the most was the bathroom! There's a TV in the bathroom mirror and a giant spa bathtub with walk-in shower. I've never had my kids argue over who got to bathe first until now.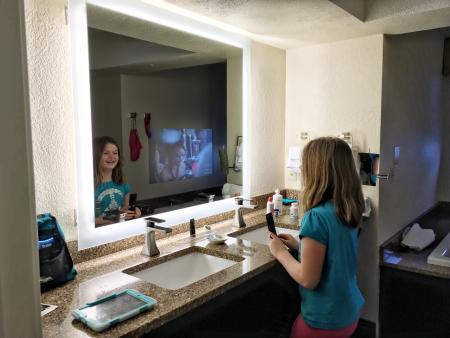 After our stay, my kids have declared Cherry Tree Inn to be their favorite hotel. Here are some of the other reasons why:
•  Free Breakfast: With make your own chocolate chip waffles with cherry sauce and oodles of whipped cream, how could a kid not love it? Lots of food choices make breakfast an exercise in independence and taste. 
•  Swimming Pool: A must on a vacation with kids. This pool has plenty of room for playing games like Marco Polo. Plus, it's open day and night, making it easy to take your kids for a swim if they're early risers.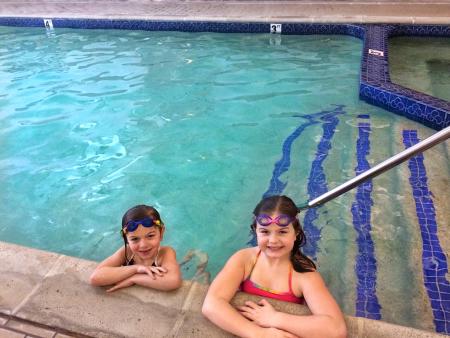 •  Cookies at Check-In: A fresh plate of cookies will greet you at check-in time. And right around the corner, you'll find a great tea and coffee selection. It's a nice touch that immediately makes you feel welcome.
•  Sweet Shoppe with ice cream and treats, as well as a player piano in the lobby, set the tone for a fun time away.
•  Friendly Employees: Fantastically, the people working at the Cherry Tree Inn are friendly and helpful, adding to the ambiance at this hotel.
Morsels
This little gem of a coffee shop is on the east end of Downtown Traverse City, nestled along the Boardman River. You can grab breakfast or lunch here, or stop in to sample their morsels – bite-sized baked goods that come in a variety of flavors. 
I'm a tea drinker, and found their Jasmine tea to be on point. The kids loved being able to try a bunch of different morsel flavors and just hang out. Morsels also has a cute little corner with kids books and a lovely fireplace. Their menu includes sandwiches, avocado toast, house-made soup, (pecan butter & honey sandwich for kids) as well as gluten-free offerings.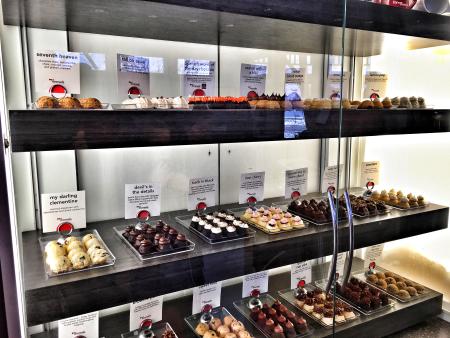 Handz on Art
Located in the Warehouse Market on the west end of downtown, Handz on Art was my youngest daughter's top activity pick. Painting fun pottery quickly became an activity the whole family loved. The owner, Julie, is super good with kids and helped them understand how the process works. There is no studio fee for painting; you simply pick out your piece (prices are clearly marked) and have at it. Your item will be available for pickup in about a week. If you need your item shipped they have a simple flat shipping rate to get your creative project into your hands after it's been fired.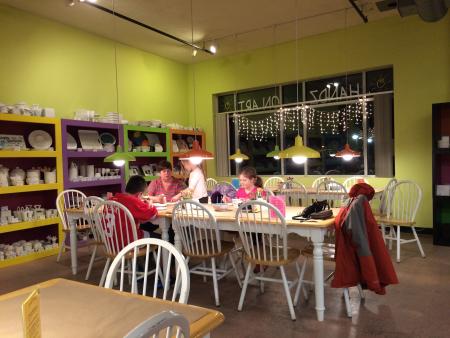 Timberlee Hills 
My son chose snow tubing as his top pick activity, so we headed over to Timberlee Hills. I'm not a big skier, but I found that tubing is something everyone can do- no balance or skills or equipment needed! Just be sure to dress for the weather and come with an expectation of fun, and your hour or two on the hill will fly by. If you like, ask the employees to spin you or link your tubes together for an added rush!
BONUS: There's no need to carry your tube back up the hill - their tow rope will zip you up to the top for your next run.
After you're done tubing, you can warm up by their fireplace and grab hot chocolate and pizza in their Hilltop Hideaway.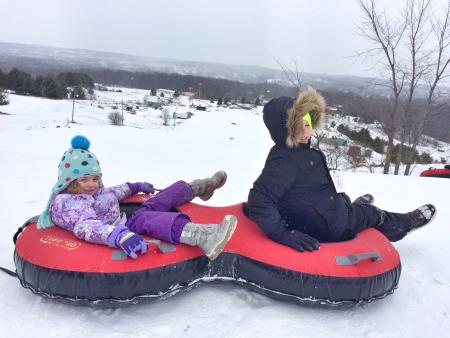 Howe Arena - Twilight Ice Skating
My middle child was excited to go ice skating on our trip. I knew she'd be happily surprised if our ice skating experienced happened under dimmed lights with a disco ball and loud music, so when I found we could go Twilight Ice Skating, I knew we had to do it.

Twilight skating is scheduled at one of the two ice rinks throughout the colder months of the year. Our session was at Howe Arena in the Civic Center. Other sessions are held at Centre ICE, which is south of town. You'll want to check the online calendar for upcoming sessions.Skate rentals and ice skating training aids (push bars for the kids) are available during Twilight Skates. Currently, the rates are $5 admission and $3 for skate rental.
TIPS
•    Arrive early for best skate size selection. 
•    Glow necklaces are passed out to paid participants. 
•    Parents who want to watch and not skate can sit on a bench.
•    Afternoon Open Skate is a great option for the younger or inexperienced skaters. Afternoon Open Skates are little less crowded and have the lights up so it's easier for little kids to see where they're going and for the parents to keep an eye on them.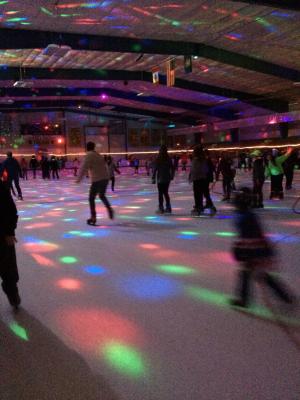 Blue Tractor Barbecue 
Bring your appetite, because Blue Tractor Barbecue serves up generous portions of burgers and barbecue. Situated in the renovated saloon of a historic building, this family restaurant has loads of character. Think roadhouse décor with family seating areas and TV's throughout. There is a great beer and wine selection for the adults in your group, too.

Dylan's Candy Bar
We drove out to the Grand Traverse Resort and Spa because we wanted to check out Dylan's candy bar. It's a tough decision for kids to make  – do you go for the candy, the ice cream, or the many other treats decking out this colorful store. Our kids went for the bulk candy and loved the chance to pick out their own special treat.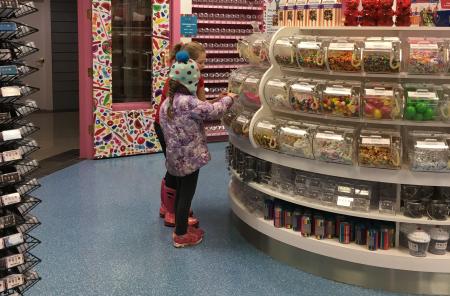 I hope these tips help your family have as much fun in Traverse City as we did. Enjoy!