For a community with slightly more than 15,000 residents, this town certainly makes a lot of beer. Last time I counted, this area had 19 craft breweries and brewpubs and is nationally recognized as a center of creative craft brewing.
All this panache is on display during the week of Nov. 11-17 at Traverse City Beer Week, a parade of tastings, dinners, games, workshops and lectures devoted to the area's celebrated craft beer industry -- particularly the many microbreweries, brewpubs and craft beer taprooms in the Traverse City area. But craft beers from all across Michigan are also featured, so it offers us locals a chance to see what's being done by brewers in other parts of the state.
Organized by Traverse City Tourism and several area beer distributors, Beer Week takes place in dozens of restaurants, bars, microbreweries and retail outlets. The object is to educate consumers about craft beers and ales while helping local brewers, restaurants and retailers get used to working more closely together. But it wouldn't still be going after four years if it weren't also a lot of fun.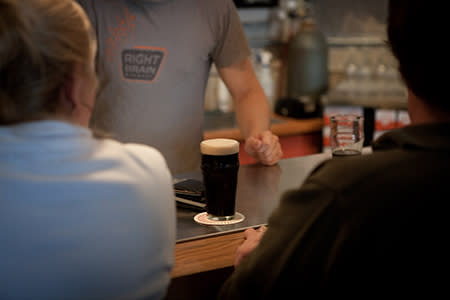 Every year, for instance, I wait for the start of TCBW's opening event -- the Friday night Pub Crawl through downtown Traverse City. Participants carry "beer passports" that can be traded in when completed for an official Beer Week t-shirt. Last time I checked, there were 10 different stops along the route, and it's huge fun walking with the groups from one place to another -- especially watching them interact with folks who just came in for a drink and have no idea what's going on.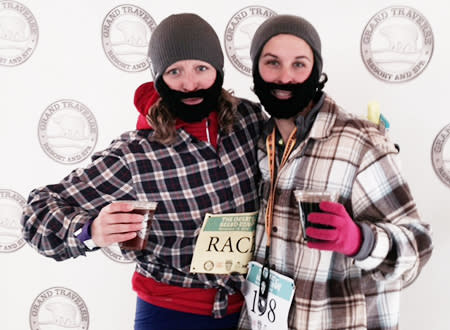 And although I'm not a runner, I AM a fan of beards -- so I agree with the organizers of the "Great Beerd Run" held on Saturday at the Grand Traverse Resort and Spa. It's an untimed 5k fun run designed to celebrate all things Beer and Beard, with on-course beer tastings from Beards Brewery, Short's Brewery and Right Brain Brewery -- but the big fun comes afterwards, in the post-race Beer Tent where they hold a Best Beard Contest (even beardless contestants may enter, since they'll provide you with a knitted "beard beanie") accompanied by snacks, music, and -- of course -- beer.
In past years, there've been all kinds of fun events -- and a few serious ones -- scattered throughout Traverse City Beer Week: beer dinners, first-time keg tappings, trivia contests, food pairings, panel discussions, tailgate parties, and even an after-dark scavenger-style "keg hunt." 
One of the big events at this year's Beer Week is a Nov. 17 "North vs South Brewery Battle" dinner between Short's Brewing Company of Bellaire and Detroit's Atwater Brewery. It's a beer-pairing dinner at Grand Traverse Resort and Spa, with five "battle stations" where brews from each of the two competing breweries are matched with a particular dish. Sounds like a fun and instructive evening.
I have to admit that I'm also fond of the many informal tasting events that take place around town -- sometimes in bars and taprooms and sometimes in package stores. Some of the people in attendance are there to see and taste the new offerings from their favorite brewery, but many are just folks who stopped in to get a six-pack or a sandwich and find themselves discussing the fine points of brewing with a representative of Right Brain, Founders or some other institution.
I try to take in three or four of these each year. It's that atmosphere of discovery and mutual interest, almost always in a relaxed setting where you can actually have a conversation, that appeals to me the most. Beer lovers talking about beer.
For updates on the schedule of Traverse City Beer Week events, click here or check "Traverse City Beer Week" on Facebook.
Get #HoppyinTC!