Today, featured blogger Kevin Farron of TC Cycle Pub and TC Ale Trail gives us plenty of reasons why the Traverse City beer scene stands apart from the rest. 
By KEVIN FARRON
You can imagine my delight upon returning to Traverse City as a young adult and self-proclaimed beer snob, to find it just as charming as I left it some 10 years earlier - with the same pristine beaches, breathtakingly-beautiful wineries, and delightfully-delish downtown. But something had changed. There were breweries. Good breweries! And they were everywhere.
Craft breweries are popping up all over the state of Michigan, yes, but there's something especially unique about Traverse City as a beer destination - something that brings it all together and raises Traverse City above other beer towns.
According to the TC Ale Trail - a little brochure program co-founded by Troy Daily that gives you a free prize for (get this!) drinking delicious craft beer - there are 10 microbreweries you can visit, all in little Traverse City. There are even more breweries* just outside of town that offer their beers on draft at local restaurants and pour houses, like 7 Monks (whom Draft Magazine recently named one of the country's "100 Best Beer Bars"). *Stay tuned for an in-depth look into all of our local microbreweries in our next blog post!
Daily, whose unbiased opinion on the brewery scene is not taken lightly, thinks that it's "the variety of styles that sets Traverse City apart," adding that "every brewery has something different to offer." He's got a point.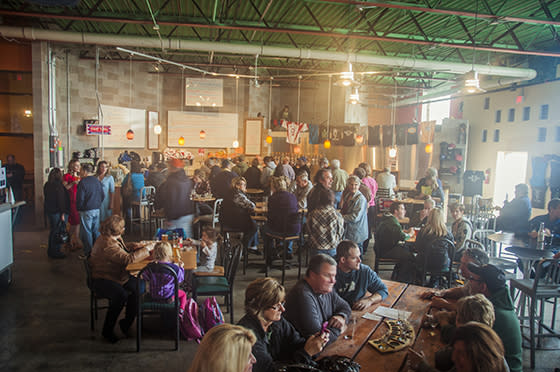 Look no further than Right Brain's award-winning Mangalitsa Pig Porter, certainly one of a kind. The Workshop Brewing Company has bragging rights too, as it's the closest of any brewery to any of the Great Lakes. Terra Firma's claim to fame is that it's the state's only agricultural brewery, where the local farm-to-table mentality is alive and well. But Terra Firma isn't alone in one regard - many of Traverse City's breweries use hops grown right here in northern Michigan.
What else? Well, there aren't many towns with a 14-passenger beer bike that you can pedal around from one brewery to the next. When asked about the beer bike, Daily, who manages the TC Cycle Pub and owns TC Brew Bus, says simply, "It's an awesome spectacle. You have to try it." When you're in beautiful northern Michigan, getting to your beer destination is half the fun.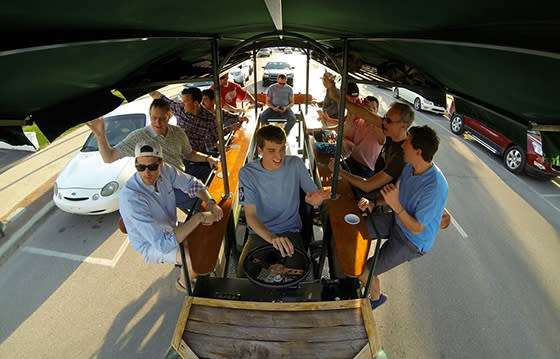 And then there are the beer events.
Sam Porter's Porterhouse Productions has done a phenomenal job at creating both a Winter Microbrew & Music Festival and Summer Microbrew & Music Festival in Traverse City, combining local and state brewery offerings and attracting outstanding musical talent (Michael Franti, O.A.R. and Dierks Bentley to name a few).
In 2013, Traverse City Beer Week had its inaugural debut. The week-long celebration of all things craft beer filled local breweries and restaurants and gave the community opportunities to meet, chat and learn from the masterminds behind many of Michigan's favorite brews.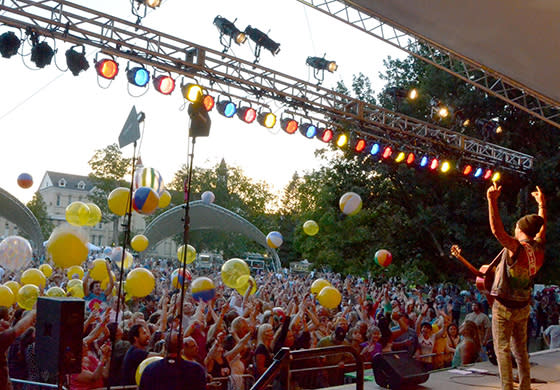 Michael Franti rocks the crowd at the 2013 Traverse City Summer Microbrew & Music Festival! (photo courtesy of John Stocki Photography)
There's also a popular organized river float (Paddle for Pints) where beer lovers paddle the Boardman Lake and Boardman River, sampling brews along the way from a half dozen microbreweries, all accessible from a water route. Paddling not your strong suit? Not to worry because there are plenty of events incorporating other physical activities such as Mud, Sweat & Beers, Suds & Snow and Shanty Creek's Beer + Boards Brewfest.  Add all this to the simple fact that the beautiful and already-desirable destination of Traverse City simply has phenomenal craft beer and now you're starting to see the picture.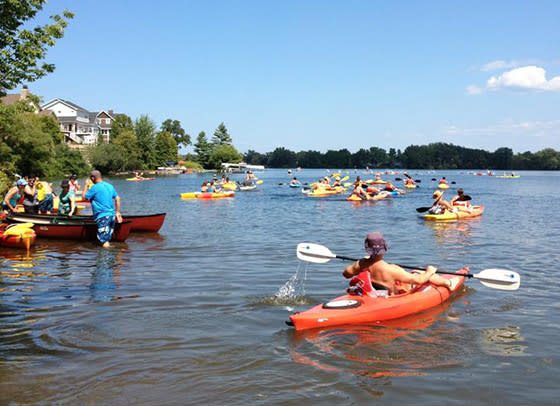 But don't take my word for it. TC was recently named one of Travel Channel's list of "Top 7 Beer Destinations". Back in 2012, Draft Magazine, the leading publication the craft beer world, deemed Traverse City one of three Emerging Beer Towns to keep tabs on.
Well, let me give Draft Magazine and anyone else who hasn't been to Traverse City in a few years an update: TC has emerged, and is still boasting the same beauty, charm and local eats, but now is overflowing with delicious pints of locally-brewed craft beer.
Come back for a taste; what you'll find may surprise you.
BIO: Kevin Farron is the co-founder of the TC Ale Trail and co-owner of the TC Cycle Pub. Born-and-raised in Traverse City, Kevin now splits his time between Bend, OR and TC, two towns of "remarkable similarity." Kevin's favorite activities and beers, by the seasons, are as follows: Catching Long Lake walleye through the ice with a 10lb Sledge IPA growler from The Workshop Brewing Company; finding morel mushrooms near…(ha no way he's telling!) with a bottle of North Peak's Nut Brown Ale; disc golfing Hickory Hills and making the loser buy a round at Right Brain; enjoying the fall colors on the Peninsula while sipping Jolly Pumpkin's seasonal treat, the La Parcela #1 Pumpkin Ale.