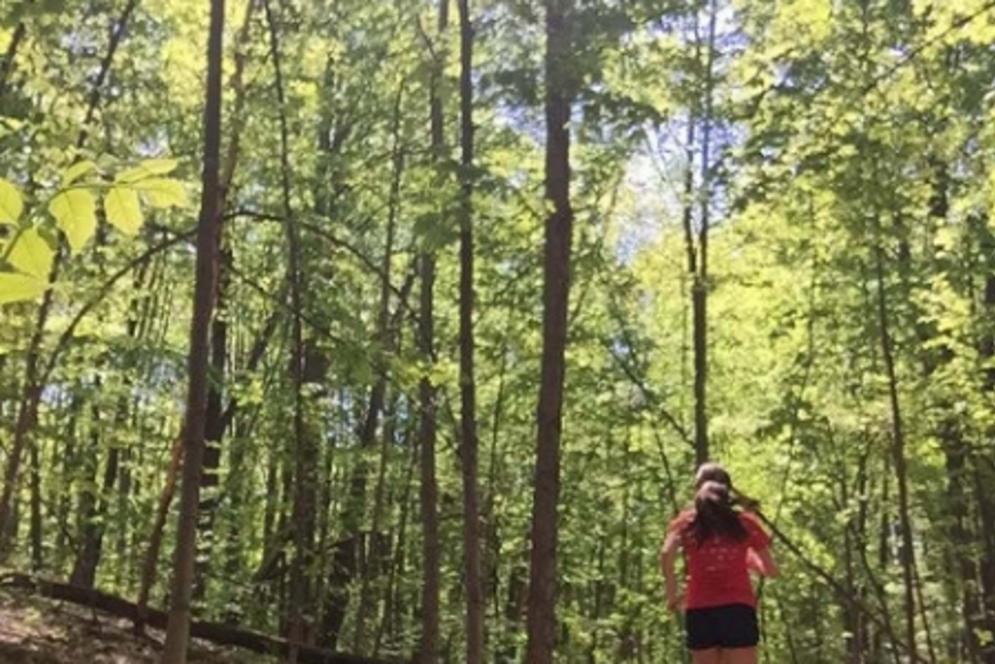 In the midst of the morning rush—breakfast-making, backpack-grabbing, everyone scattering in different directions for the day—I remember to pull out a favorite pair of black running shorts and a red short-sleeve top to take with me. And shoes. Don't forget your running shoes. While I often log miles from my house on the east side of town, I like mixing up my running routine and will head to favorite routes throughout Traverse City.
On this warm, clear blue sky day, the west side is calling me. I'm thinking about the winding, wooded paths around the Village at Grand Traverse Commons, and how my favorite 5-mile loop takes me not only through towering trees and over wood-planked bridges, but also on paved paths, through a tunnel of mature pine trees and onto a half-mile stretch that includes a bubbling creek. It's a perfect mix of trail-and urban-running given the natural surroundings part of the historic, renovated Commons and its smattering of eclectic shops, cool office and living spaces, eateries and coffee shops, and my favorite yoga studio. I'll finish this run on 11th Street, close to Cuppa Joe, where I can grab lunch. (My go-to sandwich: CJ's Tuna, paired with a cup of coffee on colder days or a glass of "on draft" kombucha when it's warmer outside. A later-in-the-day run may end at Left Foot Charley—nothing like soaking up the sunshine with a glass of Murmur or pint of Cinnamon Girl cider on this urban wine bar's front patio after a run.)
No matter your running preference—hitting the trails or sticking to the roads, or combining the two—Traverse City's landscape is a runner's paradise, year-round. Come spring, we're all outside any chance we get, of course, and I swear the Bay's varying hues of blue don't get much more vivid than they do on a cool, sun-filled May morning. Catch the colors while running the TART (Traverse Area Recreation and Transportation Trails) along West Bay between Clinch Park and Tom's East Bay grocery store at the intersection of M-22 and M-72. Or, sign up for our city's unofficial start-to-summer race, the Traverse City Track Club Bayshore Marathon, Half Marathon and 10K over Memorial Day weekend, with its scenic course hugging the shoreline of East Bay—just be sure to sign on quick, when registration typically opens in early December, to snag a coveted spot.
Summertime running is all the sweeter when you've got freshwater to jump into at the end of some tough miles, whether this refreshing dip is in East or West Grand Traverse Bay or one of our many inland lakes. I'm partial to Spider Lake, a smaller body of water on the east side; a 10-mile loop around the lake includes rolling hills, making that jump from the dock at my dad's house post-run something my legs are yearning for starting at about miles 7, 8, 9 … Another essential when I'm running near here: a stop at Breakaway Cafe, on Four Mile Road, for coffee or, more often than not, their delicious grilled cheese.
While fall and spring may just be the most ideal running weather here in Traverse City, I embrace getting outdoors even when it's frigid outside. It's all about the right clothing, and thankfully our local trail system staff and volunteers make it easier to stay active by keeping much of the TART clear all winter long. Great area races, like the Farmland 5K Run and Free for All Bike in early December, the Frozen Foot 5-Miler and Bigfoot Snowshoe 10K and 5K in January, also remind us of the outdoor fun available to us.
Back at the dirt paths at the Commons, I breathe in the cool morning air, letting my feet guide me as I dodge small, twisty tree roots and hear the calming sound of the breeze circling through the overhead tree branches. A dark brown sign with purple trail markings suggest one way to continue, while a second sign stating "Old Orchard ½ Mile" proposes an alternate route—one with a serious climb. My legs and lungs feel strong today, and though steep and tough, this path up, up, up promises lovely views of forest-floor flowers, not to mention immense gratification at the top for having completed such a feat.
I remind myself, too, of the additional views of nature ahead, after reaching the top, and the steaming cup of coffee and yummy food waiting for me at the very end. I take a deep breath and keep on running.