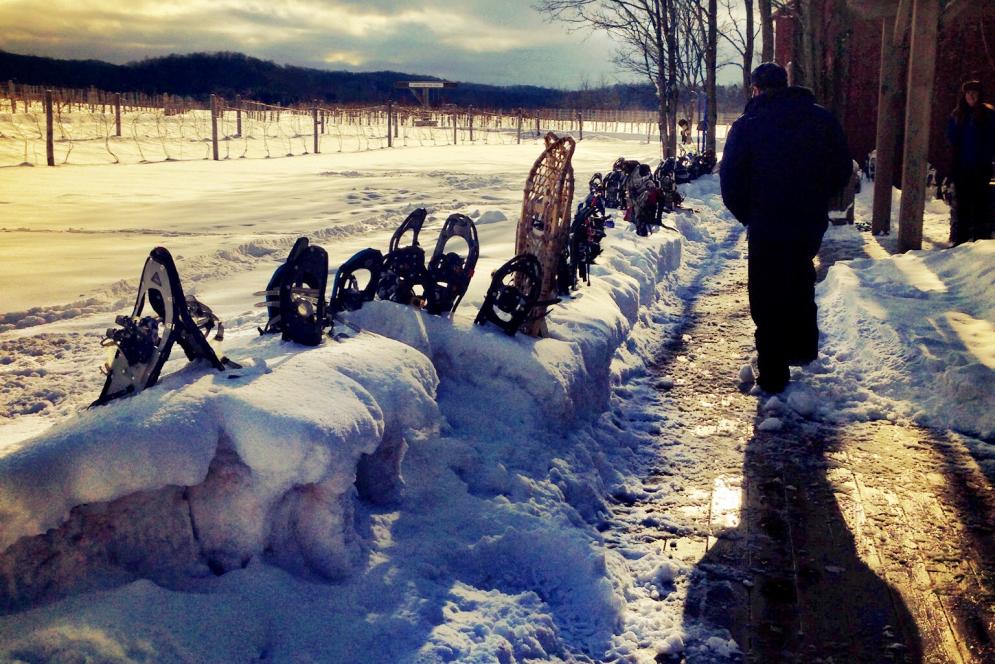 By MIKE NORTON
Winter or no winter, you somehow just feel more like heading outside when the sun is out. And what better way to enjoy the beautiful rolling scenery of the Leelanau Peninsula than to do a little winter wine touring?
Even though winter snows look like they'll continue to cover the rolling hills of Traverse City wine country for the foreseeable future, most wineries on the Leelanau Peninsula are open all year round – at least on weekends. 
What's more, several Leelanau Peninsula wineries have responded to this long winter with a new approach to touring and tasting: a vineyard-to-vineyard ski and snowshoe trail. The 7.5-mile groomed trail connects Forty-Five North Vineyard & Winery near the village of Lake Leelanau and Tandem Ciders north of Suttons Bay, winding through a landscape of snow-blanketed vineyards and orchards about 15 miles from Traverse City.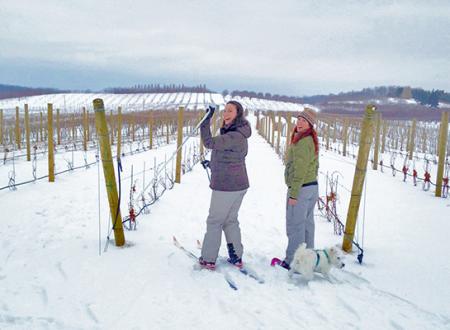 "It's a really cool idea," says Nick Wierzba of Suttons Bay Bikes, who rents skis and snowshoes to users of the new trail. "You can get out and explore the vineyards, then go inside to warm up by the fire and taste some wine, and move on to the next place. We're getting a lot of calls from people and groups who want to find out about it."
Wine touring is an increasingly popular activity in the Traverse City region, allowing visitors to sample the area's award-winning Chardonnays, Rieslings and Cabernet Francs while enjoying the charming landscape that nurtures them.
The Leelanau Peninsula alone is home to more than 25 wineries – so many, in fact, that the local vintners' association decided last year to divide their wine trail into three separate "loops" to make it easier for visitors to plan their trips and to encourage them to try some of what grower Matt Gregory calls the "hidden treasures of Michigan's Wine Coast.
The Grand Traverse Bay Loop (probably the most accessible to travelers staying in Traverse City) includes nine wineries along the east shore of the peninsula from Traverse City to Suttons Bay: French Valley, Boskydel, Black Star Farms, L. Mawby, Ciccone, Willow, Chateau de Leelanau, Shady Lane and Brengman Brothers. It's a lovely area encompassing a long stretch of beautiful shoreline, some marvelous hilltop views and a broad interior valley filled with orchards, vineyards. Cyclists can even tour some of  these wineries on the nearby Leelanau Trail.
The Sleeping Bear Loop takes visitors to six wineries on the peninsula's western shore: Cherry Republic, Bel Lago, Longview, Chateau Fontaine, Good Harbor and Laurentide.) It contains some of the most beautiful countryside in Leelanau County, including the magnificent Sleeping Bear Dunes National Lakeshore, as well as the charming resort community of Glen Arbor and the vibrant inland villages of Cedar and Lake Leelanau.
The Northern Loop covers 10 wineries in the less congested northern half of the peninsula -- a place of great variety that includes quaint lakeport villages like  Leland, Northport and Omena, remote beaches, rugged valleys and attractions like the century-old Grand Traverse Lighthouse. Its wineries include: Boathouse, Verterra, Gills Pier, Good Neighbor, Leelanau Wine Cellars, Silver Leaf, Raftshol, Tandem Ciders, Forty-Five North and Blustone.
Lots of wineries. Lots of wonderful wine. And the landscape is just gorgeous this time of year. Get on out there!