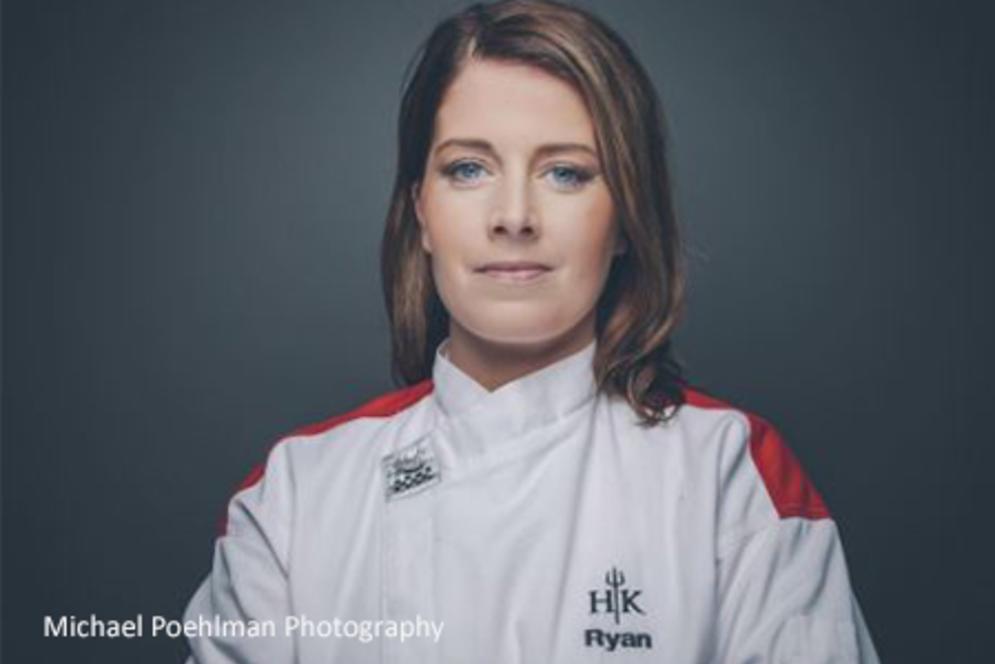 This is the week when Traverse City viewers find out if their favorite local chef takes top honors in Hell's Kitchen.
Since late September, they've been watching Chef Kim Ryan of Alliance compete with 17 other chefs in the grueling Gordon Ramsay cooking series, and she's now one of two remaining finalists. (The other finalist is Heather Williams of Easton, PA.) If she wins, she'll receive a $250,000 grand prize and a job as head chef at Yardbird Southern Table & Bar at The Venetian Las Vegas.
Ryan, 31, is a Traverse City native who studied at Michigan State University and Muskegon's Culinary Institute of Michigan, then returned him to take an internship at The Cook's House. (She still credits Chef Eric Patterson and Chef Jen Blakeslee for helping her to develop her own style.) She took jobs making pizzas at the Filling Station, cooking veggies at the now-defunct Om Cafe, and learning to cook for large events at Black Star Farms.
For the past year, she's been cooking at Alliance, the talked-about restaurant in Traverse City's Warehouse District created by Pete Peterson (creator of Ellsworth's iconic Tapawingo) and James Bloomfield. She and Bloomfield are good friends and worked together at The Cook's House. In December,  Alliance was cited favorably in a New York Times review. "We left feeling as if we had shared thought-provoking courses — served in a well-paced order — that added up to an uncommon and satisfying meal," wrote reviewer Betsy Rubiner.
Ryan wasn't the only Traverse City area chef to compete on the current season of "Hell's Kitchen." Aaron Smock, a banquet chef at The Homestead Resort in Glen Arbor – was also accepted as a contestant but was eliminated late in October.
In the opening episode, Ryan told Ramsay that she had entered for her four-year-old daughter. "I wanted to show her you don't need to work at a job you hate," she said. "You can find what you love to do."
In actuality, the competition has been over for quite a while, but contestants have to stay quiet about what happened until the results air on TV. But Chef Ryan has enjoyed the community support she's gotten in Traverse City, where several special events have been held in honor of the show – including themed dinners at The Cook's House and The Parlor, and viewings at The Little Fleet and Traverse City Whiskey Co.
The final episode of Hell's Kitchen airs Thursday at 8 p.m. on Fox.