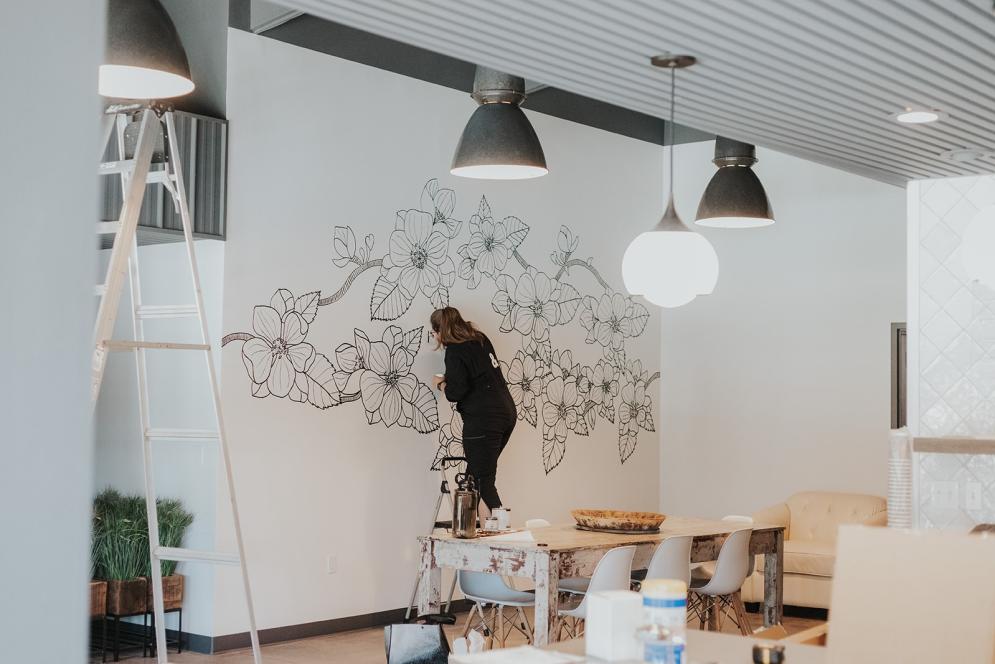 Northern Michigan is a hub for talented artists, with galleries and museums to explore, street art to admire, and a gorgeous natural backdrop to it all. We caught up with local artist Heather Spooner of Ampersand Lettering Lab to get the scoop on the TC art scene.
1. Tell us a bit about yourself and Ampersand Lettering Lab. 
I am Heather Spooner of Ampersand Lettering Lab. I focus on the art of hand lettering, painting murals and teaching lettering workshops. I have built my business on the simple idea that you don't have to have the fanciest set-up or coolest new tools to make really great stuff. I want art to be accessible to everyone. I am a lifelong letter lover and can find any reason to paint letters on something. I am a former teacher who made the turn to small business ownership a few years ago and haven't looked back.
2. What makes the TC art scene special to you? 
The northern Michigan art scene is the best! What makes this area so cool is that people here appreciate not only the art, but also the artists. There is a huge community of people who support artists and show up for events in town that support the arts. To live in a community that values art in all aspects is so refreshing and empowering.
3. If someone is visiting the area for the first time, what are a few of your must-visit places? 
I would encourage folks to make a stop at Crooked Tree Arts Center and to pop into West Bay Handmade to get a true picture of what the handmade art community looks like in northern Michigan.
4. Who is a local artist you admire?
I am a big fan of Em Randall. I think her work is always a true depiction of empowerment and sisterhood. She has an instantly identifiable style and the cleanest lines. She is also a really great human and friend.
5. Where is your favorite place to go for artistic inspiration? 
I draw most of my inspiration from the people here and the ideas that I want to see grow here. I gain a ton of inspiration from having conversations with people. I also love to spend time outdoors. If I'm not in my studio you can usually find me swimming in the bay or hiking a nearby trail.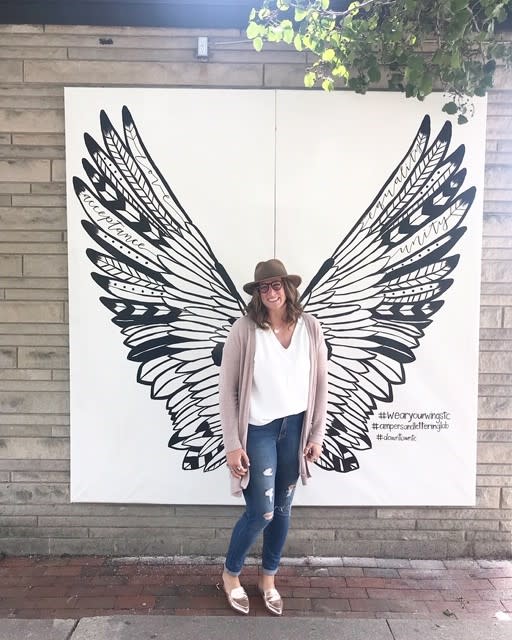 6. Tell us about a project in NoMi that you're especially proud of. 
The wing mural on the corner of Boardman Ave. and Front St. is a project that has meant so much to me. I painted the wings live in the summer of 2018 in the middle of Front Street as part of the August Friday Night Live. 
The wings were the first big project I took on when I moved to TC. They were a way for me to thank this place for being open and welcoming to me and I wanted other visitors to feel the same way. There were hundreds of people who watched me paint them. Now that they have a permanent home, people take countless photos every week in front of them with their arms flung wide open and the most glorious smiles on their faces and post them on Instagram using #wearyourwingstc. It has been such a source of joy to see people pose in front of the wings and to hear stories of what the wings mean to them.
7. Where can people find your work in person and online? 
People can find my work in person as they wander around downtown, online at www.ampersandletteringlab.com, or on Instagram @ampersandletteringlab.