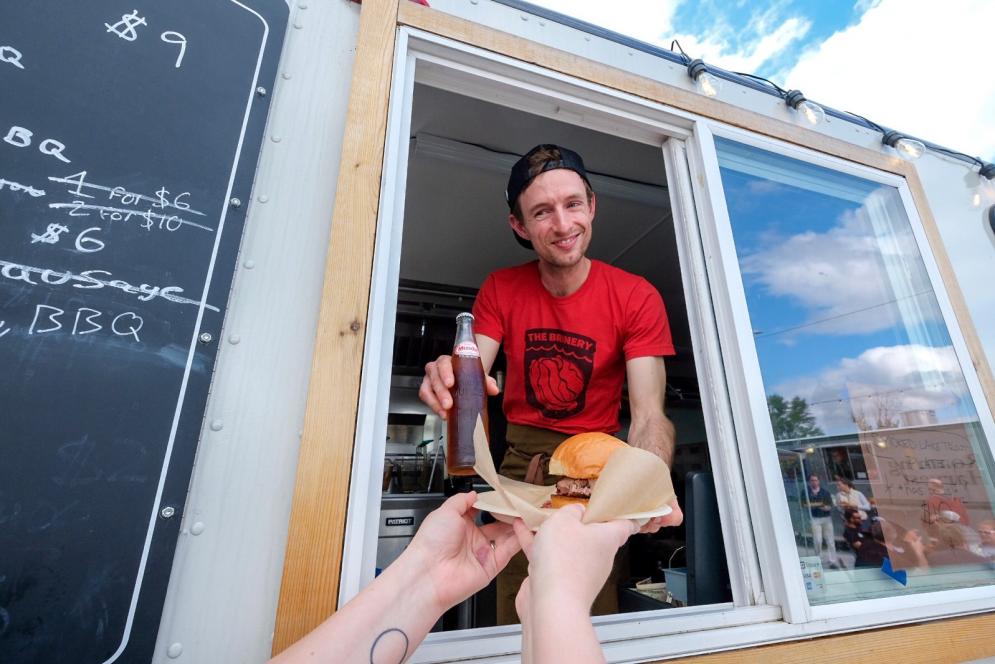 It was a Thursday evening in late May, and as I looked around The Little Fleet I felt an overwhelming sense of pride. The setting sun was glowing pink, the guitars were humming and there was a packed house. The energy felt different and alive. The patio was packed and there was an exciting feeling for summer. 
Watching the crowd I noticed that everyone seemed to know each other and there was a strong sense of community and togetherness -- complete with big smiles all around. Perhaps it was the warm spring air, or the Friday eve vibes, either way it felt good!
Welcoming locals and visitors alike, we deem that The Little Fleet season has officially begun! This year we have some very exciting updates to share. We've added trees, hops, and repaved the entire property giving it a solid urban patio look and feel. In addition, we've enhanced our events calendar to include more live music, including Friday night shows on the patio and Saturday nights with a DJ spinning vinyl.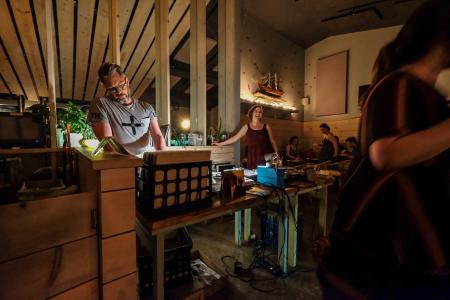 Most of the same food trucks are returning from last year, all with expanded hours (some of them are even open seven days a week, and every Friday and Saturday is Late Night Eats). The Daily Blend is serving smoothies, salads, and rice bowls; Happy's Tacos specializes in tacos and burritos including the bartender favorite lamb cheeseburger taco; Pleasanton Pizza is making wood-fired 9" pies and a killer burrata salad; White on Rice is rolling fresh sushi and ramen bowls; Anchor Station is back with burgers and nachos, adding an adult grilled cheese and a homemade black bean burger; Traverse City's original food truck Harvest is keeping it real with their craveable Korean Beef Taco and Blackened Whitefish Taco, both served with homemade chips; and the newcomer to the lot is Cordwood BBQ featuring brisket, pork, tempeh tacos and tamales. There's definitely no shortage of food options and they are all spot-on, with something to please everyone.    
 
The Big Squeeze is also back and centered in the middle of the trucks so you don't have to go far for your beverages. Serving freshly squeezed margaritas, colorful drinks, can and draft beer and wine, this alfresco bar is a hot spot in the summer. Snag a bar stool, and don't miss the Modelo East LA Style -- a Modelo served with Tabasco sauce, a squeeze of lime, and salt added to the rim -- it is hot, zesty, and refreshing.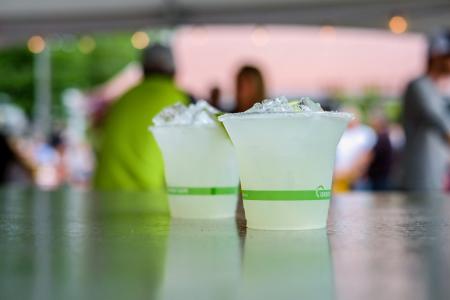 If specialty cocktails are your thing, check out the indoor bar. We will be shopping at the Sara Hardy Farmers Market every week to source ingredients for a different farm-fresh libation. Serving summer in a glass and always keeping it fresh, we will see you at the Little Fleet.