If you've ever looked out onto West Grand Traverse Bay on a summer day it's fairly certain that you've seen a majestic schooner sailing through the waves with her sails raised high and her compass set for True North. Today, we're talking to Dave McGinnis - Owner, Senior Captain and the man behind the scenes of the mighty vessel, Tall Ship Manitou, and Traverse Tall Ship Co.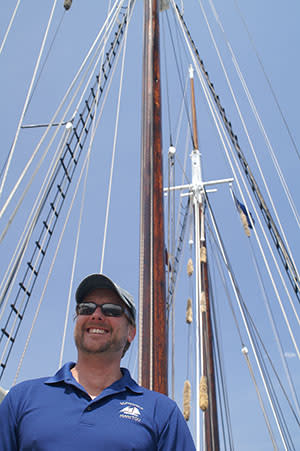 TCT: "How did you end up making your way to Traverse City?"

DM: "The Manitou, actually.  She was originally out in Burlington, Vermont and I was her First Mate. In 1990, when John Elder, the previous owner of Traverse Tall Ship Co., purchased her and needed to sail her back to Traverse City, I jumped at the chance to be a part of the crew. I was made Captain of that trip, sailed her through the St. Lawrence Seaway and around the Great Lakes and brought her here to Traverse City."

TCT: "And what was your first thought of Traverse City when you got here?"

DM: "When I first heard the boat was headed to the Great Lakes I pictured it sailing around in an "industrial rust belt".  I had absolutely no idea how beautiful Michigan was, Traverse City especially.  There was a short time where I moved to Maine for work and once I was away from Traverse I realized even more how special it was - so I came back fairly quick!"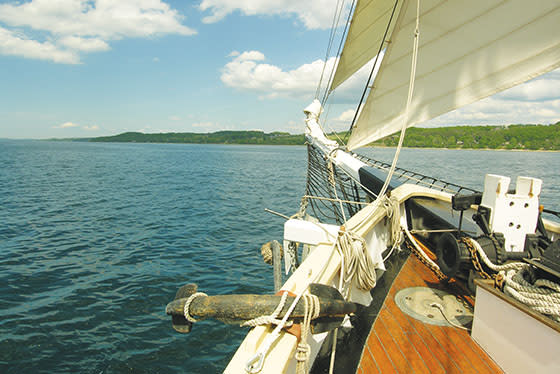 The Tall Ship Manitou sails north through West Grand Traverse Bay

 

TCT: "What are some of those reasons that makes Traverse City so special to you?"

DM: "I am in love with this town and this area - the beaches, the blue waters, the food and the culture that we have (especially for the size town that we are) - you couldn't ask for a more well-rounded place to be."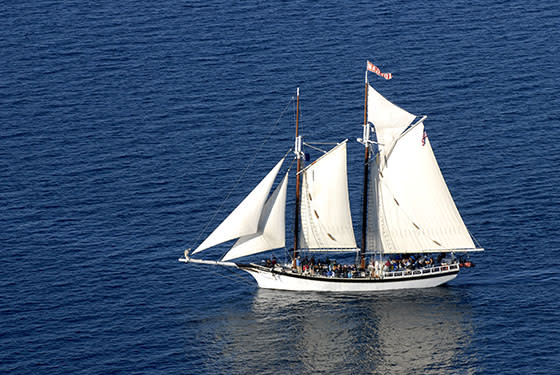 A perfect day for a sail on the Tall Ship Manitou in West Grand Traverse Bay.

 

TCT: "How is it that you pursued sailing as a career?"

DM: "I grew up in New Jersey heading to Normandy Beach every summer to our summer home.  That's where I really fell in love with the water (after being fairly tentative around it during my early years - I actually didn't learn to swim until I was nine years old). I went to college to study photography and I came across the windjammer overnight cruises you could go on.  After saving up as much money as I could I went out on my first trip, and then another one.  When the ship had an opening in their crew a couple years later, I went for it.  By then, the captain knew who I was and knew that I was serious about sailing and being on the boats. I've been sailing ever since."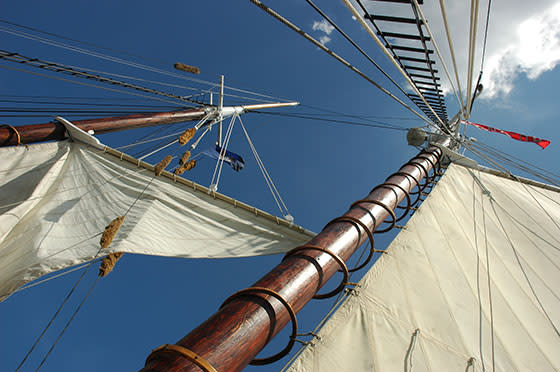 A fantastic shot looking up at the craftsmanship of the Tall Ship Manitou.

 

TCT: "What do you find to be the most rewarding part of your job?

DM: "I honestly fell in love with the romance of these classic schooners. I'm somewhat of a history buff and these old vessels give people a taste of what it was like to sail the seas 100 years ago. I feel lucky every day that I can offer an opportunity for average citizens and visitors to have access to the bay."

TCT: "We have to ask (as we do with any of our community guest profiles) - any fun facts that most people don't know about you?"

DM: "Hmm. I love Japanese monster movies (especially anything with Godzilla) and I hate rats. I've also started to learn about and drink single malt scotch - which I really enjoy!"