Some might say it's the cerulean blue waters that surround us that make Traverse City such a vibrant place to be. Or the miles of stunning shoreline that act as a constant reminder to take a step back and enjoy what Mother Nature has to offer. For some, it might be the endless opportunities for outdoor fun- whether that's slashing through the waves in the summer or carving through the snow in the winter.Others might think that it's the amazing wineries, microbreweries and restaurants that give the area a true cultural foodie experience. Not to mention the continuing growth of festivals and events.
We agree with them all. But there's one underlying element that makes this area such a vibrant and lively place to be - the people. So, with a passion for true Midwestern hospitality, we're going to start the introductions.
This week we're talking to Chef Anie Driscoll, sous chef at Aerie Restaurant & Lounge, to hear her story on how she came to Traverse City and (more importantly) why she's happy she did!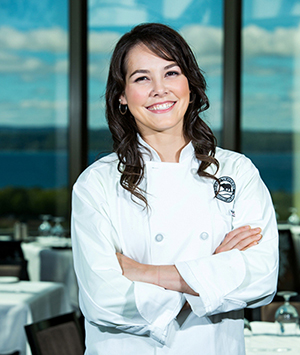 TCT: "You made your way to Traverse City but it wasn't exactly on purpose. Is it true that you were driving up US-31 and your car died outside of
Grand Traverse Resort and Spa
?"
CHEF ANIE: "Yes! I ran out of gas. After one semester at University of Michigan as an English major I decided it wasn't what I wanted. My father had passed away two days before I was supposed to start college and I was put into a single dorm room and obviously didn't know anyone there. I'm a pretty shy person anyway, and at that time in my life I didn't necessarily feel overly "social" and wasn't too interested in making friends. So I packed up and headed North. My family didn't understand. I had given up an enormous opportunity at a major university and according to my grades I was thriving. I felt I couldn't stay at home so I packed up my jeep. I ran out of gas on the corner of US-31 and M-72  and didn't have enough money to fill up, so I ended up at GTR asking for a job and I landed a spot as a barista at the coffee shop."
TCT: "From a barista to a sous chef is an impressive accomplishment. What do you love most about being a part of the culinary scene here in Traverse City?"
CHEF ANIE: "I think one of the things I love best is the local appreciation of food and creativity. Most people believe chefs cook because they love food or love to eat. To me, that's not what its about at all. Sure, I love food and cooking and everything about it, but nothing makes you feel better or more accomplished than a compliment from a guest. I pour everything I have into what I create, it's like painting a portrait or sculpting a sculpture; its just a different form of art. To have other people appreciate something that means so much to you is the greatest feeling! I can't even describe it, but that's what makes me want to come into work and do what I do every day.  I could never get tired of it."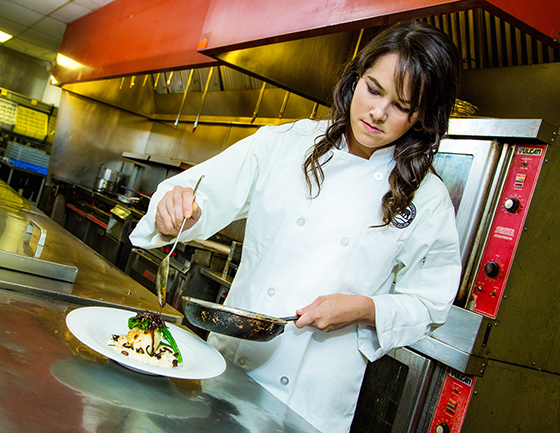 TCT: "How do you funnel that passion and your passion for the area into your cooking?"
CHEF ANIE: "I'm not so much sure my passion for the area is what inspires me as much as it is my Dad. I grew up cooking with my father from the time I could walk. During my early teen years my father was diagnosed with cancer and I suffered a sports injury that triggered a nerve disorder and kept me from going to school. All of our days together, aside from doctor appointments, were spent cooking and experimenting in the kitchen. We had so much fun cooking together and it kept our minds off of the things we were struggling with.  My Dad inspires so much of what I do, whether it's thinking about the things he used to love to make or eat, or even using some of the recipes we made together on some of my menus."
TCT: "It sounds like your father was a very integral part of who you've become. What else makes up Chef Anie - what are some of your interests outside of the kitchen?
CHEF ANIE: "I love going hiking at Hickory Hills and up around the Village at Grand Traverse Commons. It's beautiful there, especially in the spring and fall. Not to mention great places to find morels and wild ramps for some great cookin'!"
TCT: "And do you take someone specific with you (we heard you're the proud owner of an English Bulldog named Kevin?)"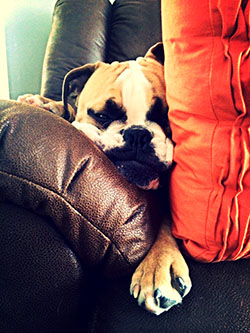 CHEF ANIE: "I am super excited you asked this question! My life outside of work completely revolves around Kevin. He is an awesome dog that acts like a human (probably because I treat him like one). He goes everywhere with me and we are so blessed to have such a pet friendly city. We always make a point of going to the Traverse City Dog Park on my days off as well as making regular visits to The Dog Bakery and some of the stores Downtown.
TCT: "What's something many people don't know about you?"
CHEF ANIE: "My Grandma was a music teacher and started me off playing a variety of instruments when I was three. I excelled very quickly and turned into a pretty good musician. By the time I was 7, I was in the high school honors band and studying privately with a music professor at the University of Michigan.
Also, I can eat a lot. I may or may not have eaten two five-pound "Big Juan" Burritos from La Senorita in less than a half hour - it was a competition, though. I also ate 19 hot dogs once, and then a gallon of milk with a box of Oreos."
TCT: "What do you love most about Traverse City?"
CHEF ANIE: "There is so much I love about this city. The people, the water, the beaches, the abundance of activities and fun places to go, the creativity (especially in the culinary industry). It seems like there are opportunities here for anyone. I love this place."
Thank you, Chef Anie. We second that opinion!