By MIKE NORTON
Among the many high points of my job are the opportunities to get out of the office and actually meet some of the people who make Traverse City such a fun place for people to visit.
I've gotten to know people at every level of the local hospitality and tourism industry, from hotel managers and chefs to desk clerks and housekeepers. And some of the loveliest among them are the folks who operate bed & breakfasts.
Personally, I'm not a B&B guy; I prefer to travel as anonymously and impersonally as possible. That's just how I roll. But I do understand the charm of staying in a place that's filled with personality, warmth and a certain amount of romance.
And visitors to Traverse City certainly seem to revel in the diverse experiences offered by our bed & breakfasts. They include the palatial townhouse of a turn-of-the-century lumber baron, a historic country inn whose guests once arrived by steamship, a laid-back "Up North" retreat surrounded by miles of wilderness, and a winery chateau with breathtaking views of water, sky and vine-covered hills.
"There's certainly a lot of variety in this area," says Dave Olsen. He and his wife, Melanie, own the rustic Lake 'N Pines Lodge, tucked away on a nearly uninhabited lake 15 miles from downtown Traverse City that's surrounded by 6,000 acres of state forest – a designated wildlife sanctuary where loons, swans, beaver, eagles and osprey are frequently spotted. "We're all about the nature experience; wives bring their husbands here to show them that B&Bs don't have to be all frou-frou."
A pair of "urban refugees" from the Detroit area, the Olsens have operated the Lodge since 2009. Its five units range from a two-bedroom cottage to a 900 square-foot suite -- and in keeping with their wilderness theme, they offer guests the free use of their fleet of canoes and kayaks. (They're also proud of their unique "made to order breakfast" menu.)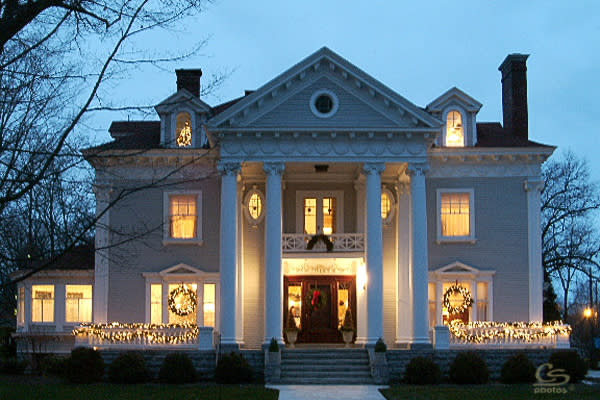 At the other end of the scale is Traverse City's most "urban" B&B: the historic Antiquities Wellington Inn. A magnificent neoclassical mansion built in 1905, it stands in a quiet residential neighborhood just outside the city's bustling little downtown. Owners Hank and Barb Rishel spent the better part of five years restoring, redecorating and refurbishing its nine guestrooms, common areas, and a third-floor ballroom.
The results are spectacular: intricately hand-painted and stenciled walls, elegant draperies and soaring ceilings, with every piece of furniture carefully chosen for its authenticity. This isn't for visitors who've come north to listen to the coyotes howl at the moon -- it's for people who prefer to be close to the boutiques, galleries, restaurants and nightlife of downtown Traverse City.
Just as passionate in their pursuit of historic authenticity – in a very different setting – are Bruce and Angie Jensen of the 1869 Old Mission Inn, the region's oldest continuously-operating hotel. Located in the picturesque harbor town of Old Mission, the rustic green-and-white hotel with its long veranda and gabled windows is a rare surviving example of 19th century vernacular-style resort architecture.
Like the Rishels, the Jensens spent years restoring the hotel, and today its 13 guestrooms are filled with reminders of its former life as the village post office, telephone company and stagecoach stop. But in spite of its impressive pedigree, the Inn is still very much a relaxed and informal place where guests laze under the broad verandah on hot afternoons and gather around the bonfire to share s'mores and stories on summer nights.
Only a few minutes away, perched atop a high ridge above Grand Traverse Bay, is the elegant Chateau Chantal Winery B&B, a working Old World-style surrounded by amazing 180-degree views of the 65 acres of vineyards that surround it, sloping down to the water below. Built in 1993 by Bob and Nadine Begin, it was originally designed as a three-room bed & breakfast and later enlarged  to 11 rooms – each designed with a particular Impressionist painter in mind, and provided with stunning vistas of the surrounding countryside.
The Begins named Chateau Chantal after their baby daughter, Marie-Chantal, who's grown up to be the winery's marketing director. One of the B&B's big strengths, she says, is its strong commitment to the connections between wine and food. Chateau Chantal offers regular cooking classes, wine seminars and a series of wine dinners and "tapas tours" open to guests and visitors alike.
See? A little something for everybody.