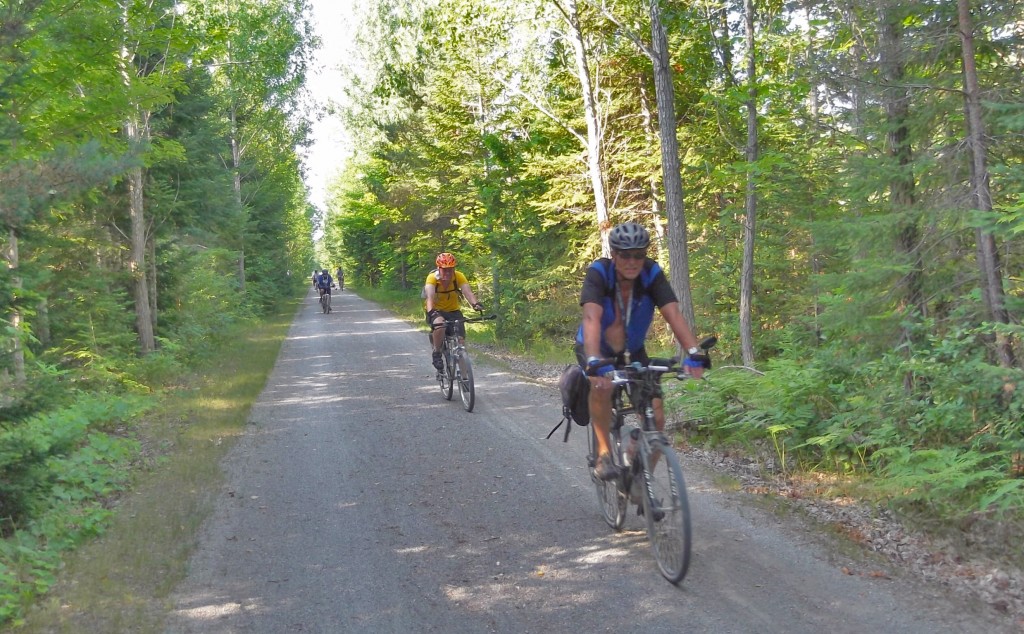 For 22 years, cyclists have braved all kinds of weather, sleeping in tents and riding on old railroad beds, in the Michigander Bicycle Tour, the nation's first, and longest, rails-to-trails cycling event. This week, the latest edition of this popular tour will pass through the Grand Traverse area. In this story, guest blogger Ron Campbell recounts the dramatic beginnings of the 'Gander and offers local cyclists a last-minute chance to join the fun. (Photo above: Newspaper columnist Les Rosan of Alma rides on the North Central State Trail near Indian River during the 2013 Michigander. Photo by Ron Campbell.)
By RON CAMPBELL It all began 22 years ago, with a Detroit Free Press Magazine article called "The Bike Trip From Hell." I can still remember the cover illustration of bicyclists on a trail that caught my eye one Sunday morning. Then the headline of the story drew me in: "This Will Be a Hoot in August."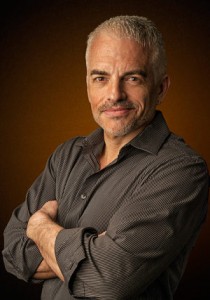 That March, some crazy dude with a pony tail had ridden 275 mostly-solitary miles across Michigan's Lower Peninsula, from South Haven to Rochester, on icy roads and rail trails – abandoned railroad corridors converted into multiuse recreational trails – through a blizzard and sub-zero wind chills. He was Free Press reporter Neely Tucker, and he'd just ridden the inaugural route of the Michigander Bicycle Tour. This week the "True North" version of that ride -- the 23rd annual Michigander -- rolls through the Sleeping Bear Dunes National Lakeshore, across the Leelanau Peninsula and through Traverse City. It's the Michigander's fifth visit to the area, but its first return visit since 2008. It's also my 18th 'Gander ride -- and a considerably warmer one than that first ride of Tucker's. "We're delighted to see this great event return to Traverse City, and not just because the riders buy lots of stuff. There's only so much you can carry on a bike, after all," said Mike Norton of Traverse City Tourism. "We like to think of ourselves as a cycling town, and the True North 'Gander lets a lot of us live out our long-distance fantasies by chatting with the riders at the Civic Center and watching them go through town."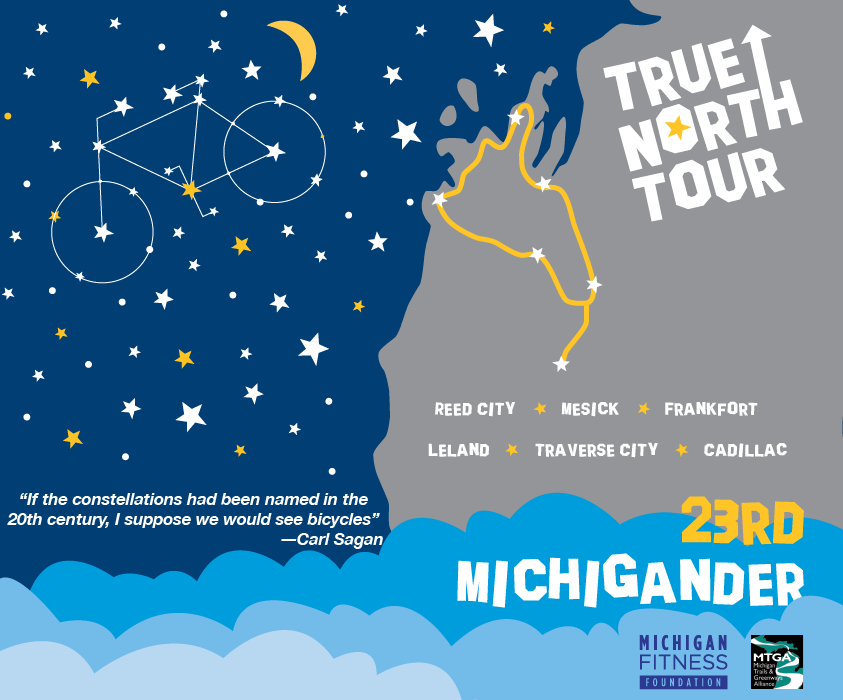 The 258-mile 6-Day and 293-mile 7-Day tour options begin in Reed City and Farwell, respectively, traveling on M-22 – the sublime subject of all those trendy bumper stickers – back roads, the Fred Meijer White Pine, Betsie Valley, Leelanau and TART (Traverse Area Recreational Trail) rail trails. Riders will set up tent cities in the tiny village of Mesick and the quintessential Up North resort towns of Frankfort, Leland, Traverse City and Cadillac. Over 660 riders have signed up for one of the tour's three options, including the family-and-beginner-friendly 2-Day ride, which starts in Farwell and takes riders 35 miles along the paved Pere Marquette State Trail to their overnight camp in the crossroads town of Reed City, an old Michigander favorite, and 35 miles back to Farwell the next day.
In the classic story that introduced readers to the tour, Tucker wrote about his frozen misadventures on the inaugural route. The main event in August was sponsored and covered by the Free Press after the Michigan Chapter of the Rails-to-Trails Conservancy asked the paper to join them in a project to raise awareness of and funds for the rails-to-trails campaign.
"I was dumb enough to keep pedaling, lucky enough not to get hurt, and numb enough to undergo heart surgery without anesthesia," Tucker wrote then. "Even now, with the chill lingering in my bones, I can imagine that it might be fun to do this in August. But in early March the Free Press Michigander was the Bike Trip From Hell. After all, I did pedal through it. (The route passed through the community of Hell, 15 miles northwest of Ann Arbor.) And just as I suspected, it was frozen over."
This year's Michigander route promises to be one of its most spectacularly scenic ever, and members of the tour's famously close-knit "cycle-logical" family are counting down the days with breathless anticipation. Count me among them. Nancy Krupiarz, the executive director of the Michigan Trails & Greenways Alliance (MTGA) – the Lansing-based nonprofit group that now oversees the ride – is pretty stoked as well. "It's wonderful to be able to return to the well-loved trails of past Michiganders," she said. "But this year, to be able to add the Sleeping Bear Heritage Trail, set in the beautiful and unique surroundings of the Sleeping Bear Dunes, is really exciting." The Sleeping Bear Heritage Trail runs 10 miles from Empire to Glen Arbor through Sleeping Bear Dunes National Lakeshore, which "Good Morning America" named "The Most Beautiful Place in America" in 2011.
"I had no idea it would turn into something that would last this long," said Tucker, who's now with the Washington Post, and on a national book tour promoting his highly-acclaimed first novel, "The Ways of the Dead." "The Michigander I did with everybody else was a nice, laid-back, days-in-the-sun hangout," he said. "You never had to come indoors. It was great. The trip I did solo in March? Well, I don't recall being much colder, whether it was Poland or Bosnia or the mountains in Georgia. But (on the '92 Michigander in August), everybody spoke English, and nobody was shooting at me, so it was still pretty low key. But God, my butt hurt." He wished the riders on the True North edition well. "Good luck and Godspeed," he said. "It wasn't like that in the old days!" He added that his experiences made up for the chilled bones and sore rear end he got during his long rides in March and August, 1992 – because they gave him so much more. "You don't get rich in this job," the Mississippi native and award-winning writer said. "You just wind up with a lot of great stories. And the Michigander – and that, by luck of the draw, I got to pioneer it – is a great story to tell." Here's your chance to become part of the Michigander story yourself.
Why miss out on all the fun? Life is full of uncertainties, but both Tucker and I are pretty sure about one thing.
This will be a hoot in July.
--Berkley-based freelance writer and Michigander veteran Ron Campbell can be reached at 
roncamp22@juno.com
.  For more information about the MTGA, go to 
www.michigantrails.org
 and 
www.michigantrails.org/michigander-bike-tour
.