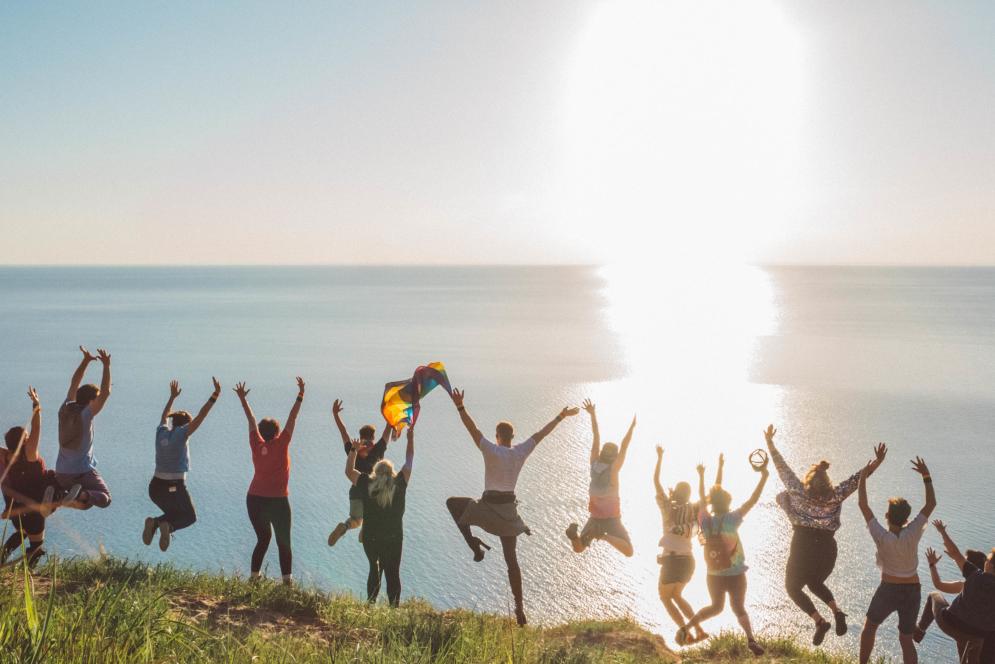 Just when you think you've seen Traverse City in all its sparkly sheen, you see it literally sequin studded. A few weeks back I joined some leaders behind Traverse City's LGBTQ+ community and embarked on a hike that would be unlike any other. Wyn (aka Pattie Gonia) met us at the Empire Bluffs Trailhead in Glen Arbor where we all started with a little meet-and-greet/circle stretch. He asked us to turn to our neighbor and tell them one thing we're proud of. Um, WOOF. When was the last time you looked at yourself with grace, patience and love rather than ridicule? It's not always an easy thing to do in a world that says productivity is king. Do you know what you're proud of? I'm still chewing on mine today.

The crew was about 20-something in stride and we headed up the trail some time around 7 pm. The mission, which we OBVI chose to accept, was capturing Sleeping Bear Dunes in its magical golden hour. Come June, that's right around 9 pm. But we weren't just getting there. We were getting there in style. Music a-bumpin', rainbows abound, this crew was celebrating every minute of the experience. As a local, it's always a special thing to watch somebody else really see this place for the first time. When we got to the crest of the overlook, Wyn was awestruck. And then Pattie Gonia came out. What's typically a boardwalk transformed into a runway 400 feet above Lake Michigan—and everybody had a moment to strut their stuff. We even grew in numbers when a few friendly hikers joined us along the way. To be honest, I don't think I'll ever return to that trail without craving a little Whitney Houston "I Wanna Dance With Somebody." For real though, it's the perfect catwalk soundtrack. 
We ended the night with a quick jaunt over to Pierce Stocking Scenic Drive just in time for all the hot pinks that take over the sky. There's an unspoken vow of silence (lol perhaps as any vow of silence should be…unspoken…duh?) when you come upon Lake Michigan Overlook at sunset. There were easily 30 cars in the parking lot and not more than a whisper of voices on the sand. The dunes still warm from the day's earlier heat, we settled in and watched the sun do what it does best—move on to share warmth with new faces elsewhere. And the same can be said about Pattie. Just days after being in TC she made an appearance at the 2019 Tony Awards. And after that, on to festivities in NYC, Denver, Chicago and Seattle. See you soon, Pattie! Thanks for helping us spread word of our pretty great place.