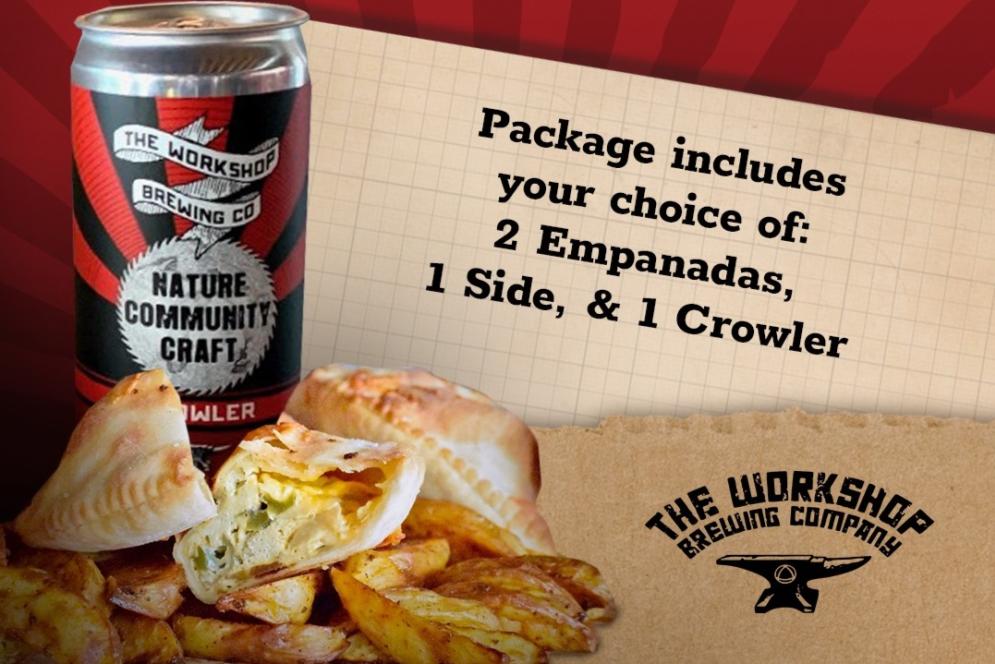 2020 is the year of the takeout revolution, and plenty of northern Michigan restaurants have risen to the occasion. We encourage you to get takeout from your favorite spot whenever you can, but also take a look at these unique to-go options. From heat-at-home dinners to collaborative brunches to holiday meals on the go, there are so many great tastes in Traverse City.
Workshop Brewing Company Brunch
Head to the Warehouse District on Saturdays and Sundays to catch a true Traverse City brunch. Workshop Brewing Company has teamed up with Mammoth Distilling and Morsels to bring you a unique and delicious morning meal. Workshop's beloved empanadas (veggie or chorizo) pair perfectly with a cocktail from Mammoth and coffee from Morsels. Order here.
Pro tip: for another cool brunch option, check out the 2-person brunch kits offered by the Little Fleet in partnership with Modern Bird Bakery, Common Good Bakery, Bubbie's Bagels, and Ponyboy Bake Drop.
Meal Kits on the Move
Feeding a family…or just want to stock the fridge with yummy lunches and dinners? Check out meal kits from Mama Lu's (tacos), the Flying Noodle (pasta), and the Good Bowl (Vietnamese). The taco kit from Mama Lu's runs at $60 and includes 20 tortillas, choice of two meets, and then all the toppings you can imagine—including chips and salsa! The Flying Noodle's pasta box also clocks in at $60 with two sets of noodles and sauces, an option for meat, plus cheese bread and salad. Finally, snag a "Good" Meal Special from the Good Bowl with everything from a kids' box to a lunch kit to a ribs, wings, and beer box.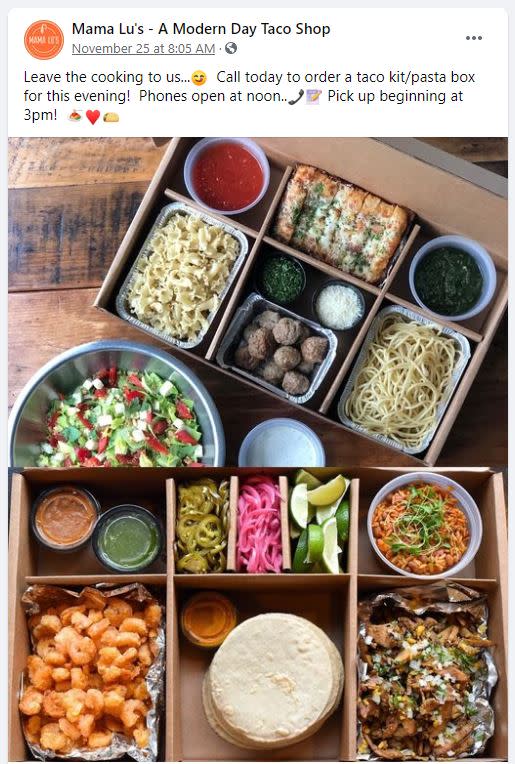 Craft Cocktails to Enjoy at Home
If you're picking up dinner, you might as well get drinks too! Head to the Little Fleet for cocktails, variety packs of beer and wine, and other tasty treats. Or, if you have holiday gifts on the brain, take a look at the cocktail kits from Iron Fish Distillery for a classy—and delicious—touch.
Dish Cafe Heat at Home Market
Still want to experience a home-cooked meal without, well, cooking? The Dish Cafe offers Heat at Home meals, where everything is ready for a warm-up in the oven at dinnertime. The meals serve two (with the promise of leftovers) and range from burritos to short rib to lasagna. Each meal comes with a quart of tomato basil soup or a side salad, and meals range from  Order—and add delicious sides—here.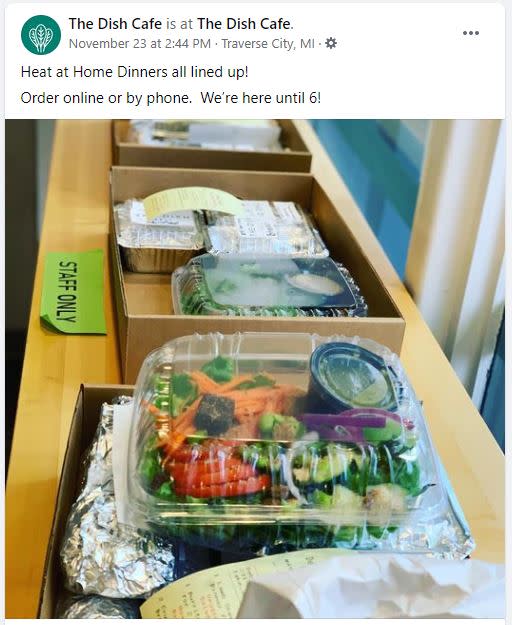 One Stop Shop
Your busy schedule—and your tastebuds—will thank you when you pop over for takeout at Short's Brewing Company. They have you covered from lunch to dinner with your favorite menu items or their "Take Out for a Crowd" that can feed up to 20 people (socially distantly of course!). And, of course, there is no shortage of beer, cider, or seltzer to take home too.
Christmas Dinner to Go
Already looking forward to Christmas dinner? Skip the hours in the kitchen (and the clean-up!) with Christmas dinner takeout from one of these incredible restaurants.
Aerie Restaurant & Lounge at Grand Traverse Resort and Spa