The Great Lakes Equestrian Festival is returning to Traverse City for its second year, with a weekly, action-packed Grand Prix, a $25,000 International Hunter Derby, rider meet-and-greets and even some face painting. This exciting and family-friendly festival draws Olympic-level athletes from across North America and Europe, all looking to race and jump their way to victory in thrilling competitions expanding across a full seven weeks. 
The highlight of each week is the Sunday Grand Prix, a riveting two-round race perfect for a fun first date or an exciting fiftieth. The first course alone is a nail-biter, with horses and their riders jumping rails over 5 feet tall and where a single slip-up could mean disqualification. The second round features a "jump-off" on a shortened course and manages to be even more suspenseful than the first – the fastest horse with the fewest faults can take home a purse of up to a whopping $100,000!
If the Grand Prix alone doesn't leave you breathless, the festival will also feature the US Hunter Jumper Association International Hunter Derby, a test of beauty and grace with a classic American feel that will keep you on the edge of your seat from start to finish line.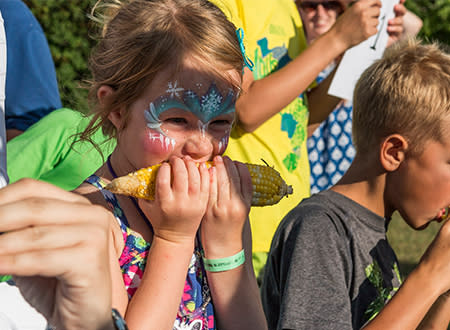 Not up for all the excitement and commotion? No problem. In addition to fast-paced action, the festival will feature family-friendly fun such as face painting and balloon artists, as well as plenty of shopping and food vendors to explore. You'll even get a chance to meet the stars of the show with rider meet-and-greets and full-day horse showings!
Whether you want to shout from the bleachers or relax on the grass, the Grand Prix and the International Hunter Derby both offer general admission tickets for as low as $10, with a special opportunity to win VIP seating in the Raymond James VIP Tent. This exclusive ringside table gives you the chance to get the full racing experience in a truly unforgettable way – and also includes lunch and beverages. (Valid for up to six people.)
The Great Lakes Equestrian Festival kicks off July 6 and runs through July 31, with a second half featuring international accreditation from August 10 to 28.
Featured competitions include:
July 10, 2 p.m.: $50,000 Grand Prix of Traverse City presented by North Face Farm
July 17, 2 p.m.: $50,000 Grand Prix of Michigan presented by Peninsula Capital Management
July 24, 12 p.m.: $50,000 Great Lakes Grand Prix presented by The Ingram Family and the WTCM Family Fun Day 
July 30, 4 p.m.: $25,000 USHJA International Hunter Derby presented by The Gochman Family and Baxter Hill Farm
July 31, 2 p.m.: $50,000 Flintfields Farm Grand Prix presented by Meijer
August 14, 2 p.m.: $50,000 Grand Prix of Williamsburg
August 21, 2 p.m.: $50,000 Grand Prix FEI
August 28, 2 p.m.: $100,000 Grand Traverse Grand Prix
General admission tickets are required for the Sunday Grand Prix events, as well as the Saturday, July 20 USHJA International Hunter Derby presented by the Gochman Family and Baxter Hill Farm. 
For a complete list of events, competition schedules and more visit the Great Lakes Equestrian Festival website. Tickets available here.