Even though it's only 46 years old this year, the Sleeping Bear Dunes National Lakeshore is going all out to celebrate the 100th birthday of the National Park Service. For more than a year, folks here at Northwest Michigan's own national park have been holding events to mark the NPS Centennial, and those efforts are moving into high gear as we get closer to Founder's Day on Aug. 25.
"Even our regular events will have a centennial theme this year," says lead park interpreter Lisa Griebel. "The Port Oneida Fair, for instance, will be built around the year 1916, and so will this year's Glen Haven Days celebration. We're really trying to reach that next group of park visitors, supporters and advocates with a whole series of outreach programs involving schools and other groups."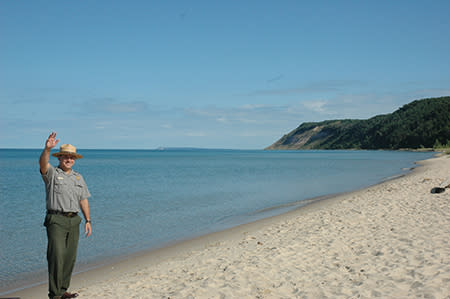 That will mean capital improvements like new wayside exhibits along the Pierce Stocking Scenic Drive, as well as innovative ideas like a new Wilderness Ambassador program that will take middle school and high school kids out for a backpacking "immersion experience" in the park's front-country and the Manitou Islands, and the "Bark Ranger" campaign that enlists canine visitors and their owners to spread the word about leash laws and wildlife protection to other dog owners.
And although the park's complete calendar is still taking shape, there's a whole slew of Centennial-themed events, workshops, concerts and outings coming up this season – from a new Astronomy Festival to a free concert in Traverse City's State Theatre. 
It all gets rolling this coming weekend – which, not coincidentally, marks the start of National Park Week, when all park entrance fees are waived. (The special Park Week events are also free.)
On Saturday afternoon, there's a display at the Philip Hart Visitor Center in Empire called Find Your Art in the Park celebrating all the ways in which artists have been inspired by Sleeping Bear. (A highlight of the program will be the unveiling of Ann Loveless's 20-foot four-panel textile landscape of the park, which won the 2013 Grand Rapids ArtPrize and will now hang in the center's permanent collection.)
That evening also marks the April installment of the park's popular Star Party series: from 9 to 11 pm, participants can view the moon, Jupiter and Mercury from stop #3 on the Pierce Stocking Scenic Drive. Other star parties are scheduled for May 9, May 21, Aug.13, Sept. 3 and Oct. 21, but the big celestial event will happen July 23 when the park puts on a full-day Astronomy Fest from 1 to 11 pm. Among a host of ranger-led astronomical activities, visitors can meet members of the Grand Traverse Astronomical Society, view the afternoon sun from Platte Point and peer at Saturn, Mars, Jupiter, Venus, and Mercury after dark.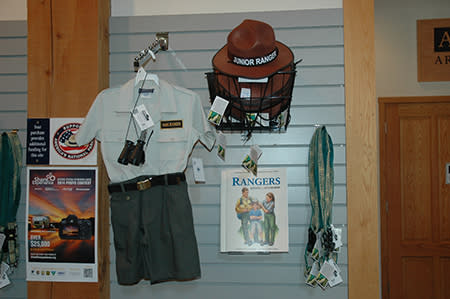 April 23 is Junior Ranger Day. This year, young participants will get the chance to become "Centennial Junior Rangers" by learning about Sleeping Bear Dunes and other National Parks across the nation. (The program takes place all afternoon in the log cabin at the D.H. Day Campground.) For Instagrammers, there's also a Find Your Park Instameet! starting at 10 am at the Glen Haven General Store, where you can enjoy taking pictures in the park, exploring a historic area, and connecting with other IGers Participants are encouraged to share their photos on social media using #GlenHavenIM #FindYourParkInstaMeet #FindYourPark #NPS100.
April 24 is Park RX Day, devoted to the ways in which national parks can contribute to health and fitness, and it will be observed with a morning yoga session on the beach at Glen Haven and an hour-long, ranger-led afternoon run.
On May 14, the Park Service and the Bright Star Touring Theatre will present a live musical performance of Lift Every Voice at Traverse City's State Theatre. The dramatic production celebrates both the NPS Centennial and the role played by black Americans in America's heartland – from the first black homesteaders in Nicodemus, Kansas to the Little Rock Nine on their first day of school.
Music and drama will continue through the season as part of this year's special Find Your Park Concert Series, held alternately in the Platte River or D.H. Day campground amphitheatres. The opening concert in the series is June 24 with Who Hit John? a five-member acoustic "old-time" ensemble performing at Platte River; other concerts will include Jen Sygit on June 25 a D.H. Day, Brett Mitchell on June 30 at D.H. Day, Dana Falconberry July 28 at Platte River, Mark Lavengood Aug. 17 at D.H. Day, and Rachel B on Sept. 4 at Platte River. (There's also talk of an August concert by the New Orleans Jazz Band, but details are still being worked out.)
The two-day Port Oneida Fair in August is a perfect fit for the NPS Centennial, since the former German-American farming community north of Glen Arbor was at the peak of its activity when the Park Service was getting started. All its usual features – from harvesting and baling hay and learning traditional home crafts to watching teams of oxen and horses at work – are well-suited to imaging life in 1916. This year's fair is being held Aug. 12-13
The Big Day of the year, however is Aug. 25 – Founder's Day – which commemorates the day when President Woodrow Wilson signed the "Organic Act" establishing the Park Service to "conserve the scenery and the natural and historic objects and wildlife therein, and to provide for the enjoyment of the same in such manner and by such means as will leave them unimpaired for the enjoyment of future generations." And that's going to be observed starting at 1 pm at the Visitor Center in Empire with a still undisclosed panoply of pomp, ceremony and fun.
I hope there'll be cake. Or maybe cookies.
(I'm partial to pecan sandies, myself. Oh, and Lorna Dunes.)