By MIKE NORTON
I'm not sure why, but I think September is my favorite month of the year. There's usually a bit of summer warmth left in the air and water, but the nights start to get cooler and sleeping comes easier. Sunny days are easier on the eyes, with a little more of that hazy blue dreamlike quality to them; looking south from Old Mission, there's almost always a shimmering sparkle on the water.
It's quieter now, too, in this little breathing space between Labor Day and the start of autumn color season. More smiles on the faces of friends and neighbors, more contented looks between husbands and wives, parents and children. Everyone suddenly looks a little more relaxed.
Best of all, it's the season of harvest, as the bounty of our fields and orchards suddenly begins to appear. And it's been an awesome year for fruits and vegetables in the Traverse City area. Our neighbors stopped in the other night to chat, bringing a lovely box of fat ripe tomatoes and young potatoes with them, and I'm dreaming now of many caprese salads to come. (The basil plants on our ledge are enormous.)
Sometimes we in the tourism business get so caught up in our own particular contribution to the local economy that we forget the other pillar of Traverse City's prosperity: its astonishing agricultural wealth. Michigan is the second most agriculturally diverse state in the Union -- only California can boast a wider range of crops – and an amazing array of fresh, tasty food items are available right now.
Stop in at the Sara Hardy Farmers Market on a Wednesday or Saturday morning and stroll along the stalls – you'll see what I mean. Bushels of apples, plums and peaches, quarts of dusky berries, fat melons, dewy lettuces, vast cabbages, gleaming cukes and green heaps of sweet corn still snug in their leafy husks. Bouquets of summer flowers and bundles of sweet-smelling herbs.
Now that cherry season has ended, everybody seems to be talking about this year's apple harvest and how prodigious it's shaping up to be. And the vintners of the Old Mission and Leelanau Peninsulas are smiling quietly about the vintage, knowing that there are still some vitally important weeks to go before this year's grapes can be brought to the winepresses.
If you can't wait for the regularly scheduled farmer's market days, there are innumerable markets and stand around the area. It's easy for us to stop and a stand or two on our way home from work and pick up some tomatoes or summer squashes. Most of these places are run by small-scale farmer or gardeners who rely on the honesty and good manners of their customers. (My wife, a natural forager, loves to go to one of the many U-pick farms in the area to fill a basket or two with blueberries or peaches.)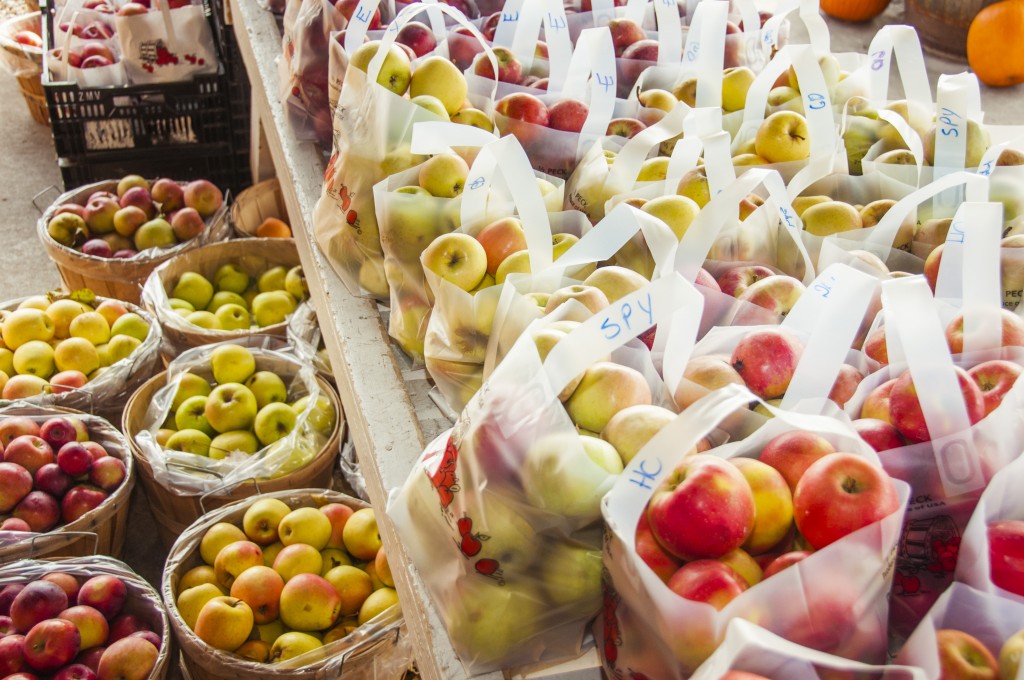 Anyway, for those of you who don't know your way around, here aere a few places I know of – feel free to add your own favorites, too!
The Sara Hardy Farmers Market in Traverse City is located between Cass and Union Streets across from Clinch Park along the north bank of the Boardman River. (Look for the blue awnings!) They're open Every Saturday, mid-May through October and Wednesdays from mid-June thru September.
There's another farmers market in the Village at Grand Traverse Commons (it's indoors in winter and outdoors in the piazza during the warm-weather months) at 830 Cottageview Drive. It is held on Mondays from 3-7 on the Piazza. They even have live music for entertainment.
For outdoor farm markets, the big one west of town is Gallagher's Farm Market on M 72 West. They've got fresh fruit and vegetables in season, plus baked goods, homemade jams and jellies, local wines & cherry products and a petting farm. And in the fall (it's not that far off) there's a corn maze, cider, pumpkins and donuts.
East of TC, there are two good candidates I know of. One is Hoxsie's Farm Market on M-72 in Williamsburg, which has apples, pumpkins, pies, breads, cookies, and other baked goods, jams, salsas, dried cherries and cherry products – and yes, a corn maze. They also offer wagon rides to their u-pick apple orchard and pumpkin patch. Open July- Oct. seven days a week. The other is Rennie Orchards on Munro Road in Williamsburg. They're a long established fruit farm with more than 15 varieties of apples.
Nearer to home, on the Old Mission Peninsula, is one of our favorite u-pick operations: Buchan's Blueberry Hill on Nelson Road. In addition to blueberries, they have peaches, apples and some seasonal vegetables – and their ice cream is to die for!
Got it? Now get out there and start picking!