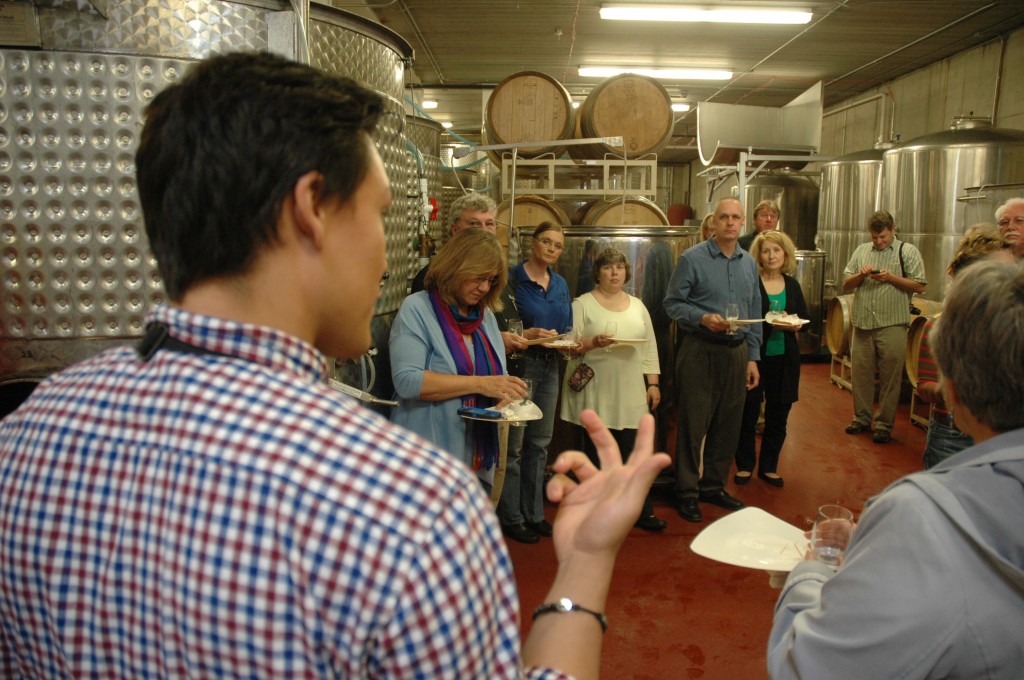 By MIKE NORTON
Did you know that a glass of wine can taste really different depending on what kind of music you're listening to? Or that it's pretty darned difficult to tell if you're drinking a red or a white wine if you can't see the wine as you're drinking it?
Neither did I -- until I took the new "Sensory Treat Tour" at the Chateau Chantal Winery last week. Together with 30 other human guinea pigs, I participated in an educational experiment devised by the winery's hospitality director, Brian Lillie, so show us that our appreciation of wine has as much to do with our senses of smell, hearing, sight and touch as it owes to our sense of taste.
"Wine-tasting can be influenced by the things we hear, the things we smell, the things we touch and by the other things we're tasting," he said.
The new two-hour tour is being rolled out next month as a replacement for the winery's popular "Tapas Tour," where participants learned about Chateau Chantal's wines while tasting them paired with various foods. After eight years, the program was starting to get a bit old, said Brian: "We needed something new for the guests that return to us each year, as well as something unique for our region."
The tour began with a blind tasting in black wineglasses that completely concealed the color of the wine. (In my own clumsy way, I got an unexpected assist by spilling some on my shirt while examining the glass, which is really not black but an intensely dark crimson.)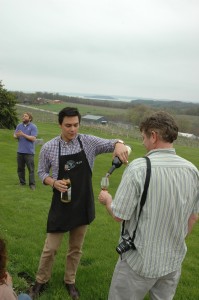 Then, after another experiment involving music (which reinforced my loathing for "tasting rooms" where there's a loud TV blaring in the background)  Brian turned us over to tour guide Kyle Brownley, who took us on a roundabout series of visits to the vineyard, cellar, and bottling area for several interesting food/ pairings. In all, we got to taste eight different Chateau Chantal wines along the way – including a couple that I'm going to be looking at a little more closely in the future. (I've never been a Pinot Gris fan up to now, but I could be persuaded…)
The new tours start for real after June 18, and the winery will be running them twice a day -- at 11:30 am and again at 1:30 pm – seven days a week.  It's not really an eating tour – these are small samples of food and wine – but you can always order a light lunch before or after the proceedings. Only 20 people are accepted per tour, and tickets are $20 per person.
Speaking of food (and substantially more of it) Chateau Chantal is also bringing back its sumptuous Wine Education Dinners this year -- on Wednesdays and Saturdays from June 18-30; on Tuesdays, Wednesdays, Fridays and Saturdays in July and August; and Wednesdays, Thursdays and Fridays in September and October. These are real seven-course meals prepared at the winery by Chef Brian Figueroa and paired with Chateau Chantal wines. There's a tour included, too – all for $75 a person.
Advance reservations are requested for any of these events, and can be made by calling 1-800-969-4009 or booking online at www.chateauchantal.com.