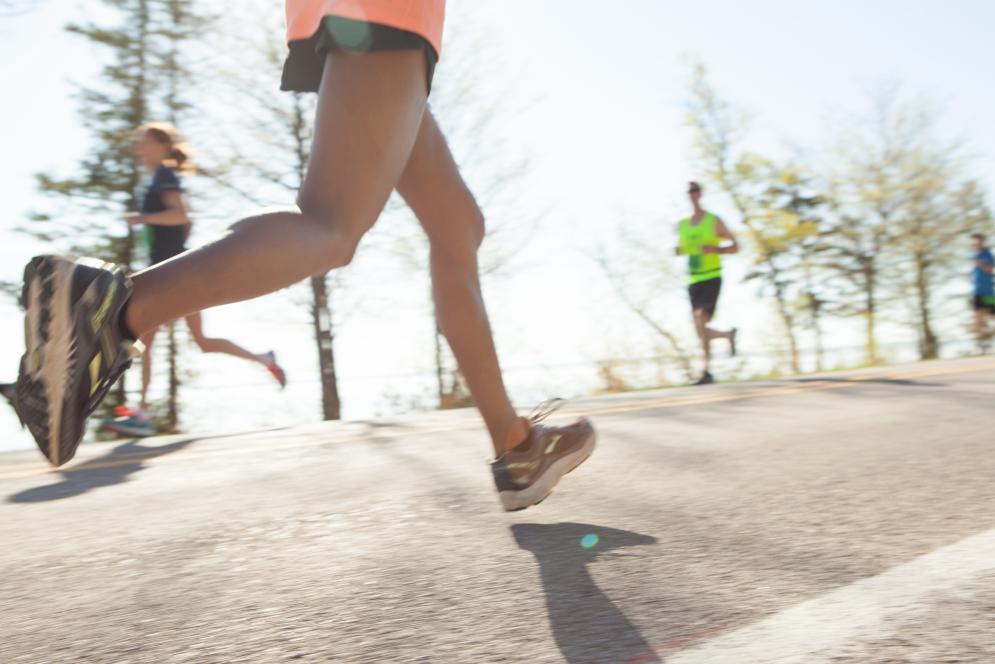 As the northern Michigan race scene gets back on its feet with pandemic restrictions loosening, those of us who have greatly missed toeing start lines, cheering one another on through the miles and triumphantly crossing finish lines are eagerly anticipating summer events — road and trail races, and maybe more low-key "races/runs" we take on with a few of our running friends. 
Whichever way you're looking to get outside and log some miles, on this National Running Day we suggest these in-person races to check out and these local routes to explore. 
Return to racing
 
Meijer Festival of Races, Saturday, July 10. This beloved summer tradition is back in 2021 with both virtual and in-person race options in the half marathon, 15K, 10K and 5K (race organizers recently opened up more spots in the half marathon, which starts at Old Mission School on Old Mission Peninsula). These races are part of the National Cherry Festival, which returns this year as well, July 3-10. Held on the final Saturday of festival week and presented by Cherry Bay Orchards and Priority Health, these races take you along West Grand Traverse Bay with a finish at downtown's Open Space. And yep, you'll get cherries once you complete your run. Learn more and register here. And don't forget about the Festival's virtual challenge run — the Michigan Harvest Challenge — happening now through October. Get details here.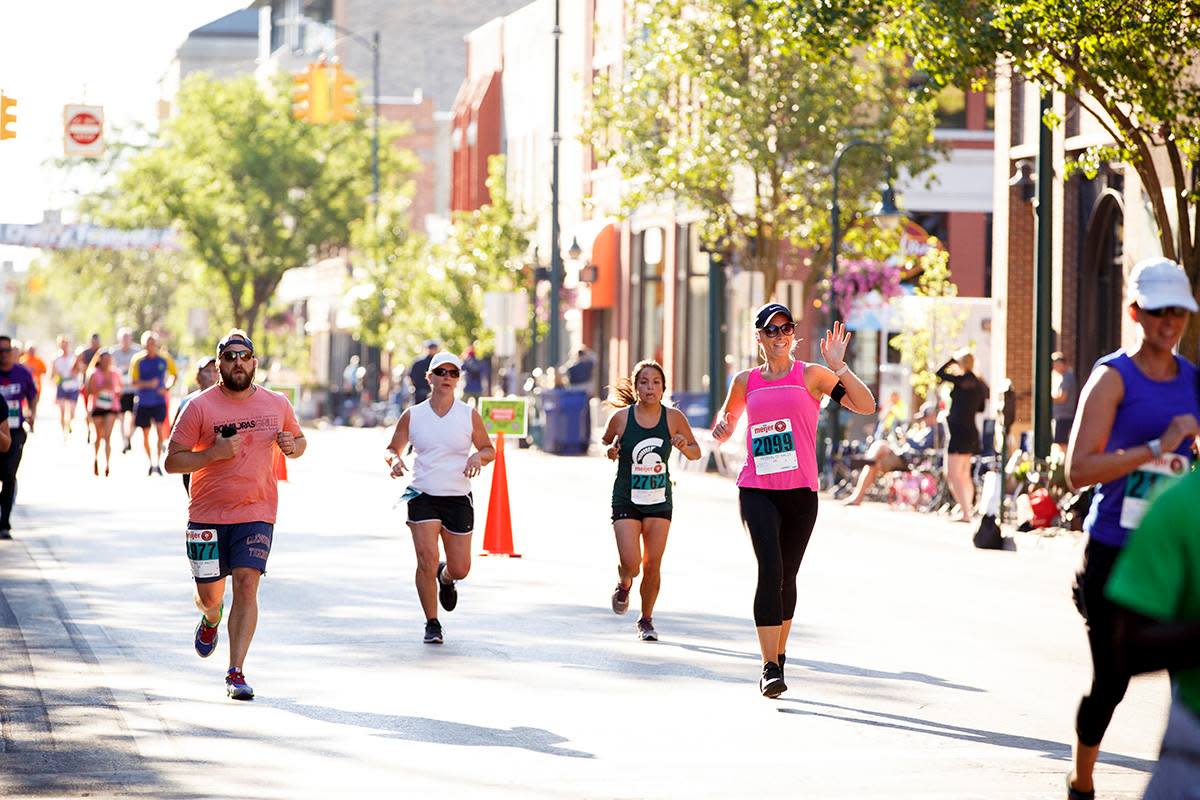 Photo: National Cherry Festival
Map your own 5K, 10K (or longer distance)
 
If you're looking for a paved trail experience, the TART Trail is for you. This is a 10.5-mile "urban transportation corridor" with an eastern end point of M-72 (Bates Road) in Acme Township and a western end point at the M-22/M-72 intersection in Traverse City. It's flat and easy to navigate—I've logged many longer runs along this path that treats you to views of both East and West Grand Traverse Bays, through neighborhoods and the Mitchell Creek watershed. A favorite 4-5 miles: Start at the public library on Woodmere, head north toward the water, travel along West Bay and through Clinch Park, and turn around at the 2 or 2.5-mile mark.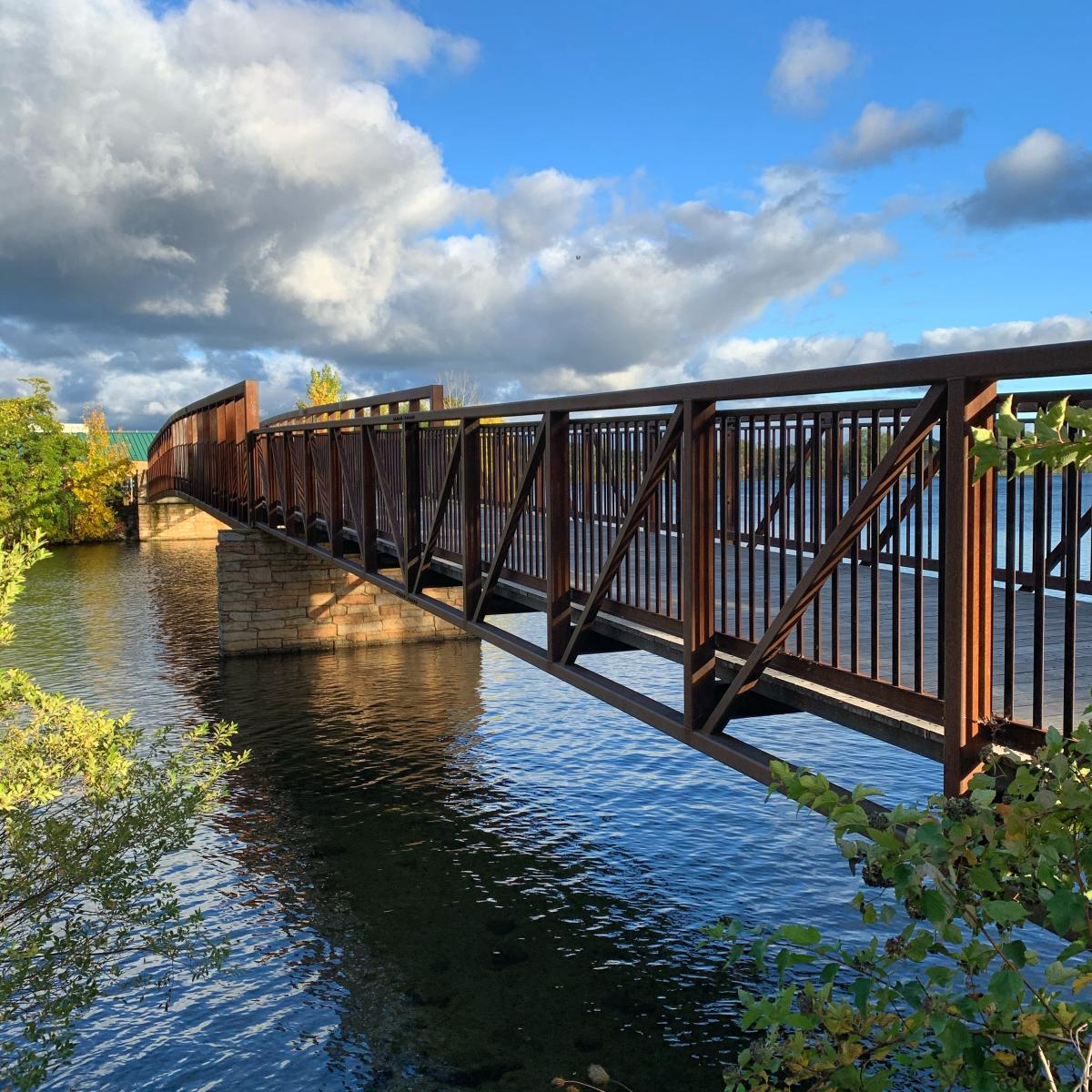 ​Photo: TART Trail Boardman Lake Bridge
Want even more water views throughout your run? Start at the base of Old Mission Peninsula and head out East Shore Drive, also known as the beginning of two well-known local races: the Bayshore and the Cherry Festival 15K (more details on this race below). The first four miles of this route take you right along the water—head out early to catch the breathtaking sunrise. If you're feeling especially ambitious, take a left onto McKinley (Mt. McKinley as it's called during the 15K) and go up, up, up before crossing Center Road and going down a steep decline to Bayshore Drive—you could head back toward town along this road, catching views of West Grand Traverse Bay and finish where you started for a 10K distance. Option #2: Check out the west side of the peninsula by starting at Bryant Park, at the base of the peninsula, and follow Peninsula Drive for a picturesque out-and-back.
 
The Village at Grand Traverse Commons is one of my most favorite places in northern Michigan, not just for its delicious offerings and ultra-cool vibe (the area, once a state hospital, is home to independent businesses like coffee shops, eateries, restaurants, clothing boutiques, art galleries, a yoga studio, professional offices AND hip residential spots), but its impressive trail system. These 480 acres of preserved parkland are the perfect place to lose yourself in a run. You could run a hundred different ways, there's that many twists and turns to these paths. Check out this printable map of the trail system.
You May Also Like