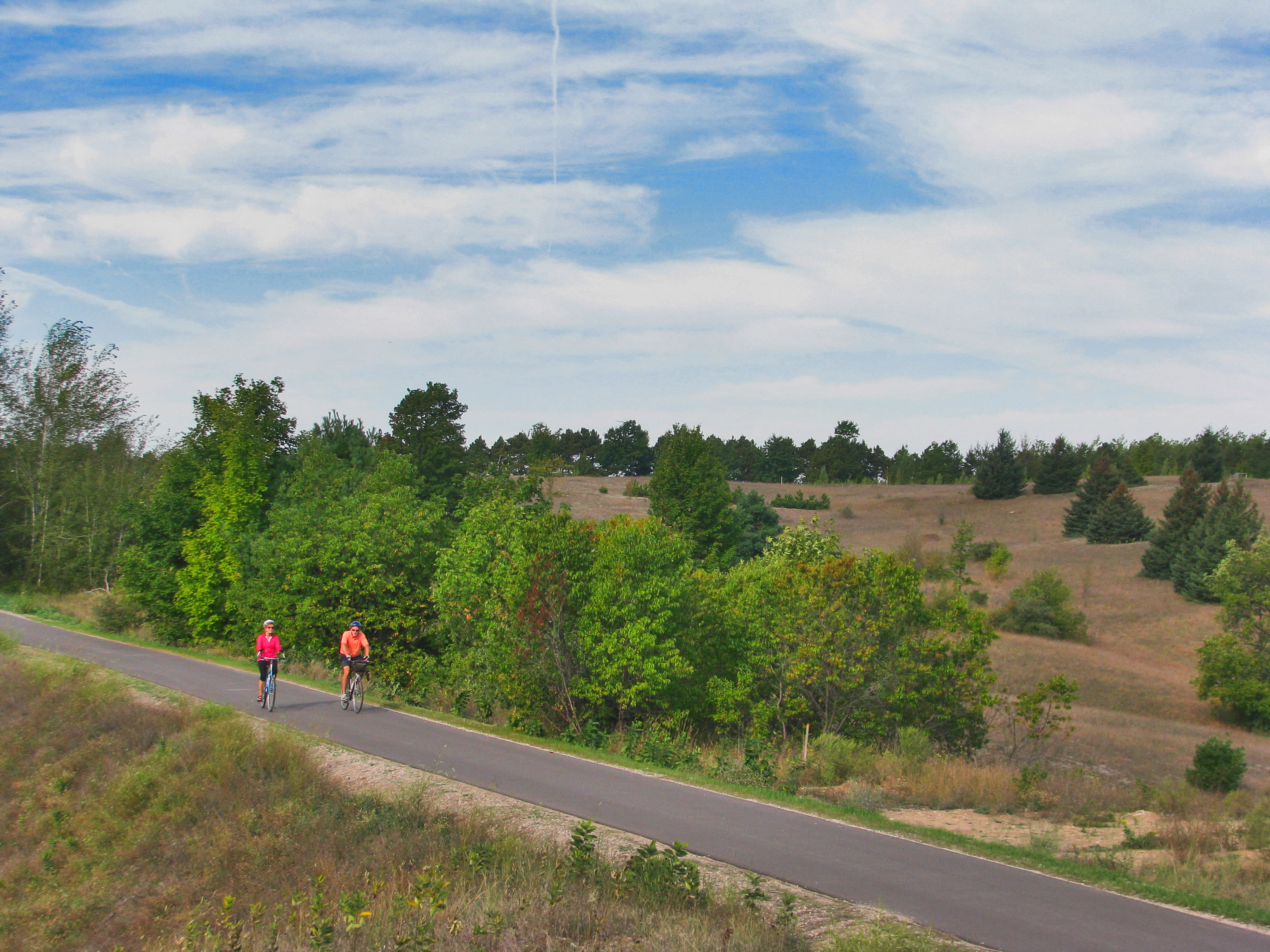 By MIKE NORTON
Fall color still hasn't quite arrived in Traverse City yet, but there are little hints of it here and there. For a while, we were worried that the lack of rain and the hot dry summer would mean no autumn color at all, but now we've had a couple of good soakers – and although you can see a scattering of scorched and stressed trees, the vast majority seem to be taking things in stride, and I think we're going to have a pretty nice autumn after all.
I was noticing all this last week on a solo cycling trip along the Leelanau Trail from Traverse City to Suttons Bay and back. I'd wanted to check out a significant improvement to this 15.5-mile trail -- the paving of its middle 6.2 miles – which should really increase its popularity with cyclists and skaters. (Hikers probably never minded that middle stretch, since it had a nice gravel base, but I must report that the pavement makes a BIG difference when you're doing the route by bike.)
If you've never ridden this lovely trail, you're in for a treat. To my mind, it's the most beautiful trail in the entire TART system. (I really like the Boardman Lake Trail, too, but it's just too darned short right now.) And although it's a splendid trek all year long (when the snow is right, it's great for skiing) I think it really shines best in September, when the air is cool and the sun is still warm.
I decided to get the jump on the hundreds of cyclists who were out on the trail over the weekend for the annual Leelanau Harvest Tour, a wonderful event that's actually a very effective fundraiser for our area trail system. Truth is, I'm not a very social cyclist. I like to chart my own course and set my own pace, and (to be blunt) I go bicycling to get away from other people. Nothing personal – I'll wave and say hello, but I've never ridden with the pack and I never will. It's how I roll.
Except at its very beginning and end, the Leelanau Trail has none of the jaw-dropping views of West Grand Traverse Bay that you get if you drive M-22 from TC and Suttons Bay. Like many recreational trails, it follows the route of a century-old railroad that served the farms and villages of the eastern Leelanau Peninsula, and much of it is classically rural. (In fact, it's a relaxing contrast to the beach-and-boutique landscape that characterizes much of the peninsula's shoreline.)
At its southern terminus, the trail ducks almost immediately into the forest that runs west of Traverse City's waterfront district, a shady thoroughfare punctuated by tiny gurgling streams -- close enough to town to bring out moms with strollers and older folks from the nearby retirement villages. It skirts the edge of the DeYoung Natural Area, a complex of open meadows and spooky cedar forest with great views of Cedar Lake.
Soon, though, the trail begins its slow climb to the rolling farm country that lies between Lake Leelanau and the bay, passing vineyards and orchards, horse farms and cornfields. Past the settlements of Bingham and Keswick, through cool glades and sunny fields. This time of year, the path is bracketed by wildflowers aplenty – billowing masses of asters, spires of goldenrod  and silky clematis -- and since it's September, the whining of the cicadas has given way to an endless chirping of crickets.
There was other wildlife, of course. I spotted the occasional turkey vulture circling overhead (a sight guaranteed to make to check your water bottle) counted several hawks, and came upon a nonchalant flock of wild turkeys munching their way through the unmowed grass of a cherry orchard.
At the end of the pathway – all too soon – was busy little Suttons Bay, whose shops and restaurants have gotten a nice little windfall from this year's improvements to the trail. I bought some liquid refreshment and rode down to the docks to watch the schooner Inland Seas coming into port. It was a wonderful ride – and I didn't even mind knowing that I was going to turn around and do it all over again in the opposite direction!