"Life inspires my work - I live simply, work passionately and observe constantly." - Bill Hosner The Traverse City region is rich with sources of inspiration. The awe-inspiring scenery, incredible beaches, delectable dining, and award-winning wineries are just a few things that fuel creativity for many of the area's artists. On living and painting here, local artist
Bill Hosner
states, "My work is now featured in national and international museum collections and exhibitions, but it is here that I return to center myself and do some of my best work." A recent visit with Bill provided a behind-the-scenes perspective on living and creating in Traverse City. During the visit, simplicity and minimalism were themes Bill continually wove into the conversation about his lifestyle. His gallery, studio and home are all one unit in the newer, multipurpose usage buildings off Woodmere Avenue. The gallery is pristine and features his paintings, library, local artisan furniture and selected inspirational quotes. The studio is half bedroom and half work space speckled with other artist's paintings as well as Bill's sketch wall. The simplicity of his lifestyle is what allows him to travel, teach, and continually create.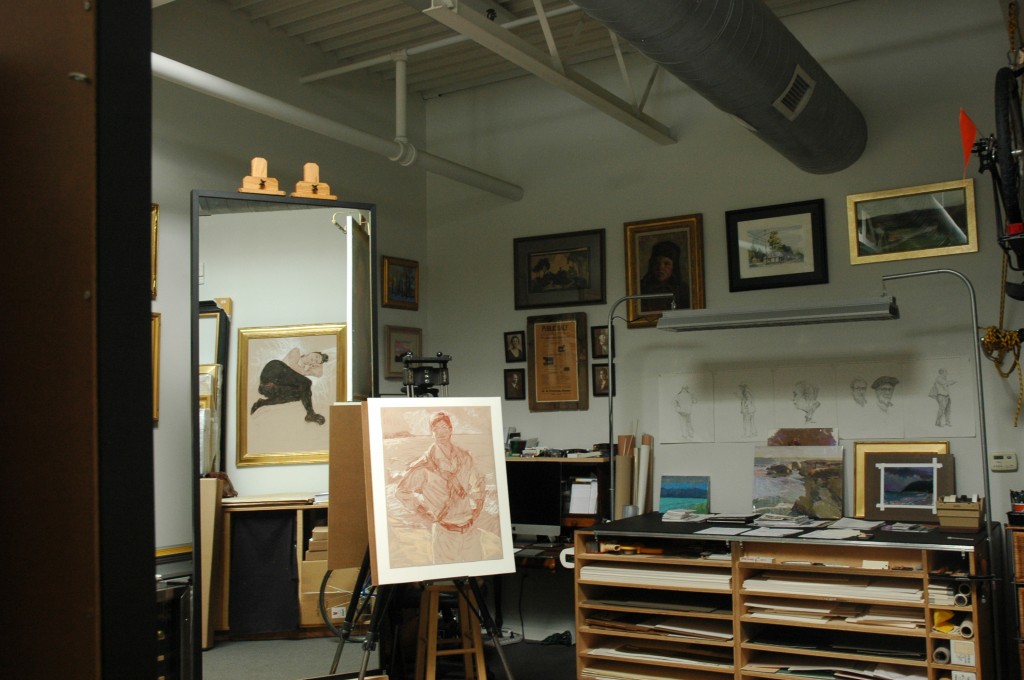 As a plein-air artist Bill's work is done entirely outside (with the exception of his daily sketches). Nature, water, and individuals dominate his works that are rich with texture, color, and hidden depth. He is continually inspired by the landscape, the people, the light and the energy in Traverse City.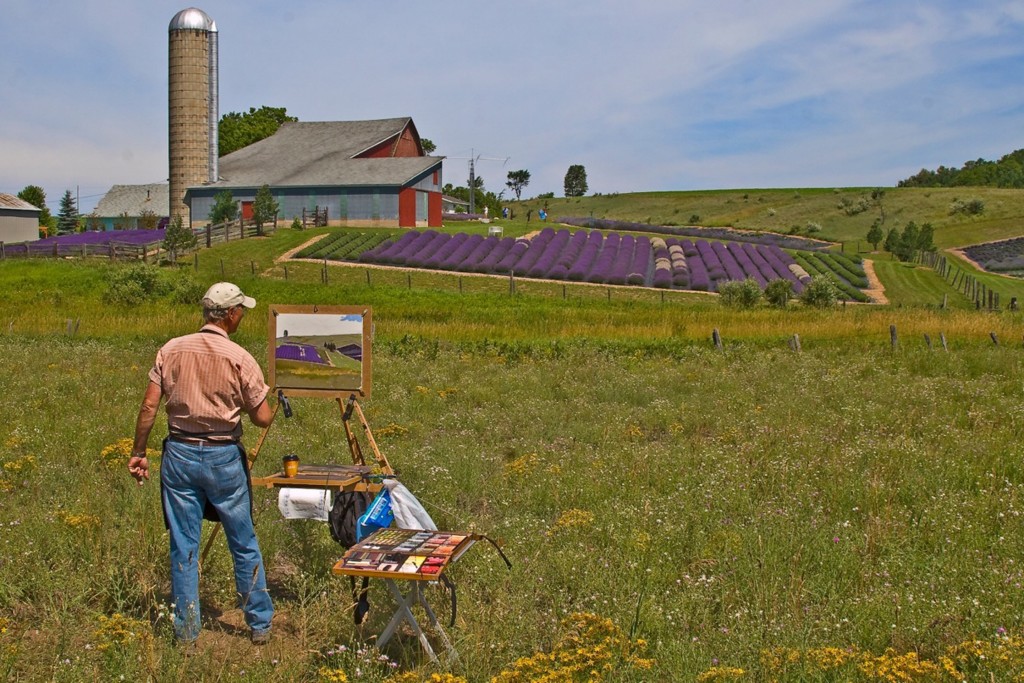 When he's not painting he enjoys all that Traverse City offers to its fullest. Favorites in the local culinary scene include
Amical
, 
Red Ginger
,
The Cook's House
,
Bistro Fou Fou
, and
Tratorria Stella
- "all are fabulous!" A periodic tour of the wineries, window-shopping downtown or in the Mercado at the
Village at Grand Traverse Commons
he notes are great getaways from work. Nostalgic at heart he also enjoys going to a
Beach Bum's
game as it is "great fun and reminiscent of a kind of baseball that childhood memories are made of." Bill's work is featured internationally and he has ample opportunities to live and work in many other incredible destinations. What is it about Traverse City that keeps him coming back? His reply is layered and begins with praise to the obvious natural beauty, "If you're a plein-air painter like myself, this is the only place in Michigan to be." He also appreciates the boundless cultural opportunities within the city and mentions a few of his preferred events and venues including, The
National Writers Series
,
Traverse Symphony Orchestra
,
The Dennos Museum
and
Interlochen
. "There are a great number of talented people in Traverse City that are in cross-venue creative fields, writers, singers, musicians, dancers, actors . . . and I enjoy the social intercourse I have with many of them. It enhances my own creative efforts." Bill's studio is located at 1129 Woodmere Avenue Studio H. A sample of his paintings are also
online
but to fully experience his artistry a visit to his studio is needed. Please call ahead to check for hours of operation.