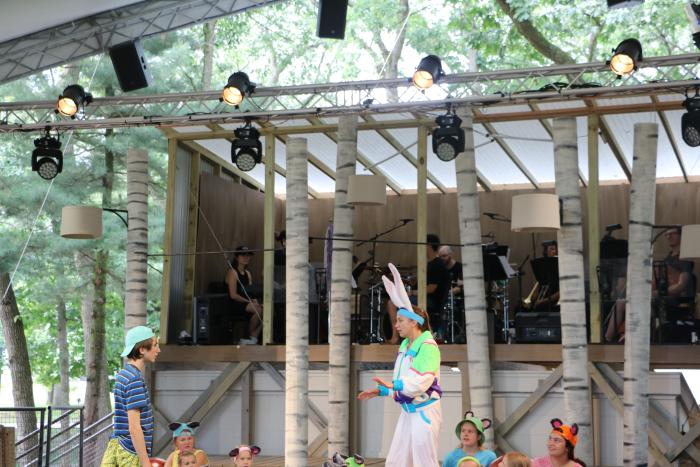 It was July 11th, and the curtain rose on a new, state-of-the-art outdoor theatre in downtown Traverse City! Opening night capped a nearly decade-long journey for Parallel 45 Theatre. What began as a 2010 performance of Our Town has grown into a year-round programming calendar, featuring a summer season with three different shows and 27 performances. Now, their collaboration with Grand Traverse County Parks and Recreation has made the creation of a permanent summer home possible. 
More than 50 professional artists are joining us from across the country and around the world to produce three extraordinary shows. Actors, directors, designers, and technicians have come from Moscow, Spain, New York, California, Hawaii, Chicago, Washington DC, Atlanta, Traverse City, and more to offer audiences world-class professional theatre without leaving paradise. 
The amphitheater at Civic Center Park has been transformed into an immersive performance space, with professional lighting and sound, as well as cover for both artists and audience. The venue will offer bar service and pre-show picnicking—everything necessary for a perfect northern Michigan evening in the park!

The 2019 season features the iconic rock musical HAIR, bringing back all the great music from the 60s, as well as the new award-winning family musical, Little Bunny Foo Foo, and finally Stupid F**king Bird, a hilarious modern adaptation of Anton Chekhov's The Seagull. 
In just a few days, Parallel 45 Theatre will take the stage for the opening night of HAIR: The American Tribal Love-Rock Musical. Celebrated as one of the most popular shows around the globe, HAIR brought the 60s counter-cultural revolution to a mass audience. Recognizing HAIR as a theatrical breakthrough of its time, this production joyfully dissects an era when the thrill of rebellion became a powerful force against intolerance, subjugation and war. P45 Artistic Director Kit McKay directs, drawing a pointed comparison to our current socio-political atmosphere.
One week later, on July 18, they welcomed their youngest patrons they opened the award-winning new family musical, LITTLE BUNNY FOO FOO: a play for small people. This high-energy musical shows off "a saucy bunny who just can't stop boppin' all the field mice on the head" to the delight of children (3+) and their adults. We hope kids walk, bike, and skate through Civic Center Park to enjoy some theatre. These family-friendly matinees are all at 11am.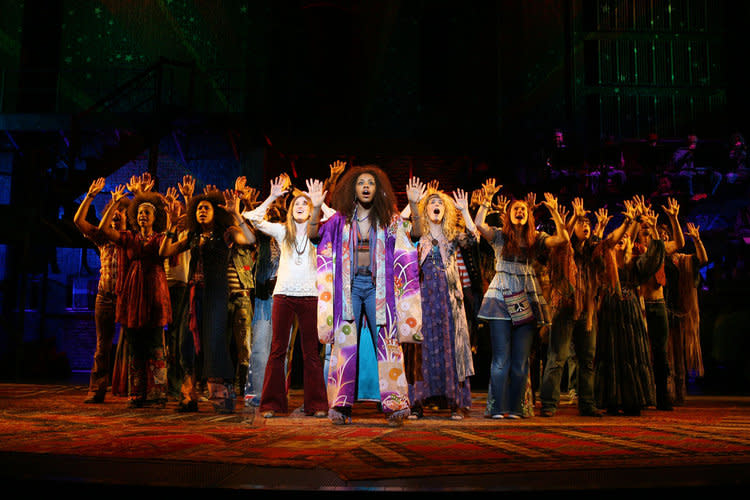 And for their contemporary fans, on July 25, they open a run of Stupid F##king Bird, sort of adapted from Chekhov's The Seagull. In this funny, uber-contemporary remix of Chekhov's masterpiece, author Aaron Posner stages a timeless battle between young and old, past and present, tradition and revolution. Torrid love triangles, philosophical war-waging and foot-stomping hilarity will inspire raucous delight.
Just days ago, as the sun shone through the rain clouds, they raised the saddlespan tent on their theatre for the first time, transforming the space into a cozy, modern, nature-inspired venue. They look forward to joining amazing partners at Civic Center Park as they bring their community of visiting, seasonal, and year-round residents together.
Arrive early, enjoy local food/drink, and stay afterward to discuss the show with friends. This collective experience will demonstrate the best of both worlds; you can experience cutting-edge art without leaving paradise.
Event Details