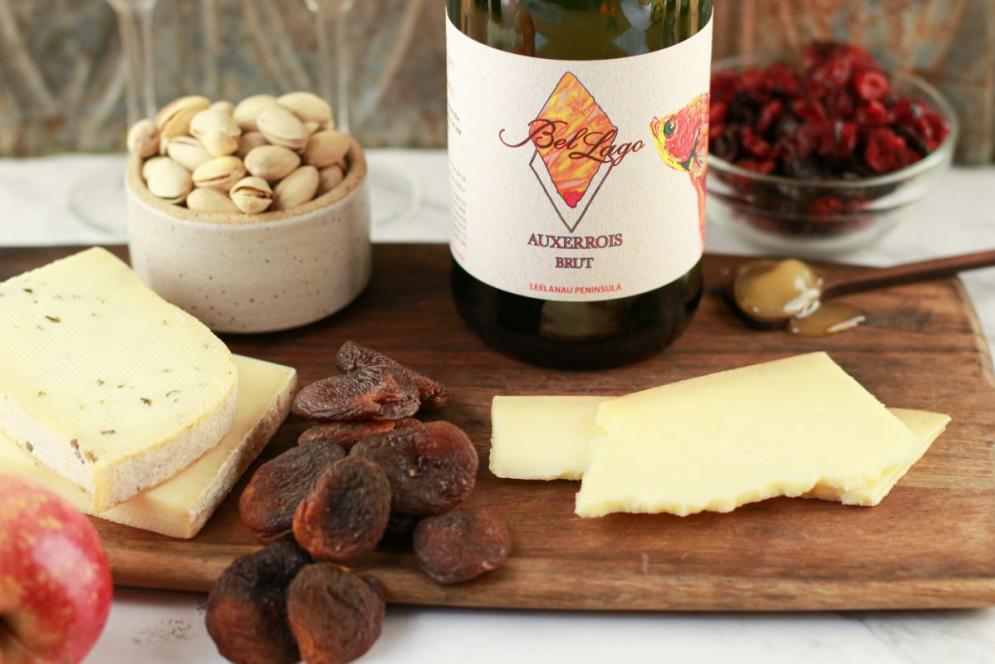 One of the most classic pairing combinations throughout the world is wine and cheese. Whether that pairing is at a formal dinner or gala or shared during a sunset picnic, the intermingling of flavors is guaranteed to impress and satisfy.
With a myriad of wineries, lush agricultural lands, and ample artisans and chefs, Traverse City and the surrounding region is uniquely suited to explore the world of wine and cheese. At Bel Lago Vineyard and Winery, we craft our wine knowing it will often be paired with cheese and bread, charcuterie, or a wide variety of dishes. 
The essentials: Which wine pairs with what cheese?
When contemplating a pairing, it's important to remember that it is all about matching the variety of flavors, textures, acidity, and sweetness of both the wine and cheese. That might sound cumbersome, but the pairings are truly about personal taste. Most wine and cheese will marry well together, but the pairings you love the most will seem effortlessly harmonious in how they balance each other out.
Experimenting with different pairings is part of the fun, but here are some general guidelines to help get you started:
The acidity in wine tends to compliment cheese by offsetting its inherent fattiness, so creamy, richer cheeses generally pair well with higher acid wines with a bit of sweetness.
Fruit-forward, medium-body white wines tend to pair well with a variety of cheeses.
Salty, tangy cheeses tend to pair well with spicy wines with a rich texture.
Rich and savory cheeses need a wine with big fruit, either white or red.
Spicy, rich flavored cheeses, like aged blue cheese, tend to pair well with sweeter or spicier wines.
Moderately flavored and smoked cheeses tend to pair well with lighter red wine or big white wine.
Big, rich red wines tend to pair well with aged, strongly flavored cheeses.
Mild cheeses generally work for a variety of wines. They may not necessarily make a perfect match, but they tend to make a good pairing overall.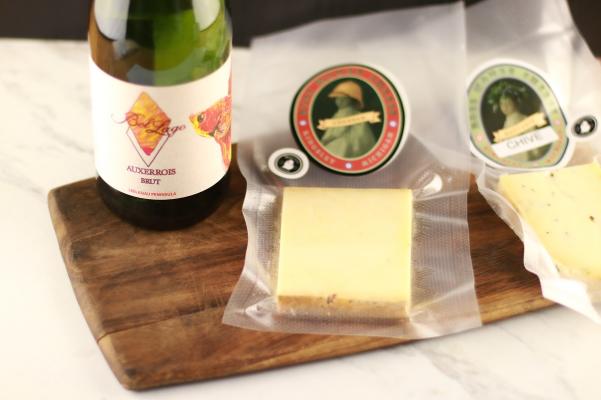 The reliable standards: Our favorite wine and cheese pairings
Here are some of our favorite pairings of Bel Lago wines and local cheese producers like Boss Mouse Cheese, Idyll Farms cheese, and Leelanau Cheese. 
Auxerrois Brut Sparkling Wine: A bright, fruity and dry bubbly with good acidity pairs well with Brie or Boss Mouse Sweet Swiss (salt free, lactic, sweet, and nutty cheese).
Pinot Grigio: A fruity, dry, light body and texture with moderate acidity pairs well with mild cheeses like Boss Mouse mozzarella or aged manchego.
Moreno Block Auxerrois: An aromatic, dry white wine with moderate acidity and richness pairs well with and Boss Mouse Montasio (creamy, mild cheese, comes in several herbal flavors) or other mild cheeses
Chardonnay: An elegant, rich and flavorful barrel fermented wine pairs well with mild cheddar or other mild, creamy cheeses.
Gewurztraminer: A spicy, aromatic, dry white wine with moderate acidity pairs well with Idyll Farms goat cheese or feta.
Dry Riesling: An aromatic, dry white wine with good acidity and richness (or try Semi-Dry for a bit more sweetness) pairs well with Leelanau Cheese raclette or ricotta.
Pinot Noir: Rich, red fruit with great structure and aromatics pairs well with sharp cheddar or manchego.
Bel Lago Red: A multi-variety blend with a Cabernet Franc backbone pairs well with Boss Mouse Cheddar (a dry, salty, tangy and strong flavored cheese) or Gouda.
Cabernet Franc or Tempesta: Both wines are robust, rich reds and pair well with aged cheddar or aged Gouda.
Edelzwicker: An aromatic and textured wine with a touch of sweetness pairs well with and Jarlsberg.
Late Harvest Riesling or Ice Wine: Both wines are rich, sweet, and aromatic and pair well with Brie, aged Parmesan or blue cheese.
Remember, when pairing wine with cheese it's important to experiment and discover what you like. Although we have laid out a few guidelines and suggestions, feel free to break the rules and explore your own personal tastes. The imperative is to have fun, enjoy, and savor your pairings!