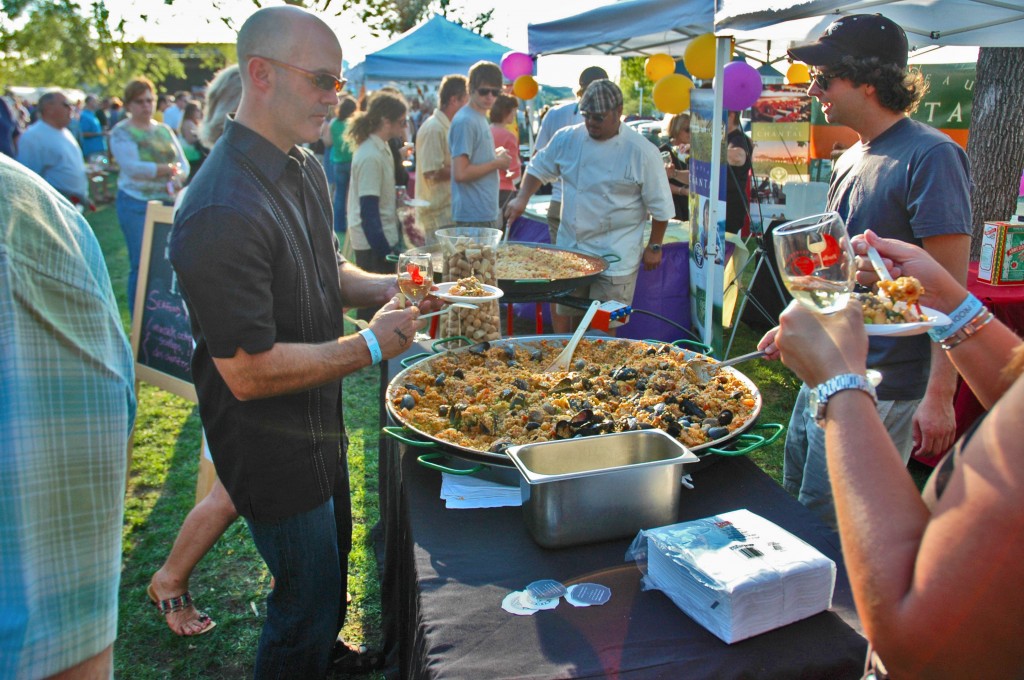 By MIKE NORTON
Technically, August is a summer month, but already you can feel a little freshness in the air each evening. There's a misty look to things, and when you hear the geese honking overhead, you're not entirely sure they aren't starting to head south already.
Maybe that's why we try to stuff as much summer fun as possible into the remaining weeks. This weekend, for instance, there are two festivals taking place at Traverse City's Open Space Park.
On Friday evening, the Wineries of Old Mission Peninsula are holding their fourth annual Paella in the Park celebration from 5 to 11, featuring lots of Old Mission vintages (and local craft brews) paired with tasty Spanish paellas created on the spot by local chefs. Each participating winery hosts a station where a version of this famous rice-based dish is cooked using featured wines and fresh local ingredients, and festival attendees can chat with local chefs about the art of making paella, as well as enjoy food and wine at each station.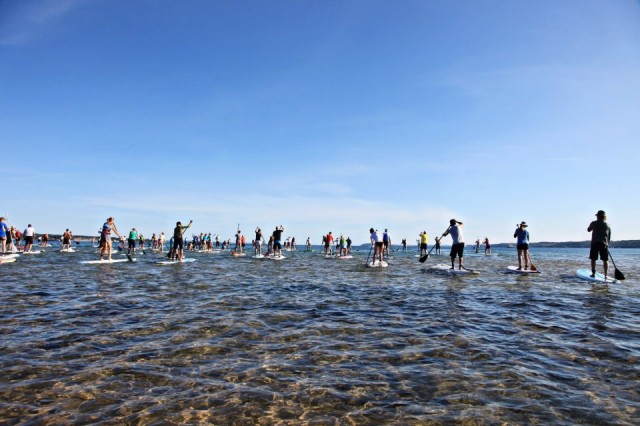 Then, on Saturday, the park will be the site of the second annual
Great Wakes Festival
and the
TC Waterman
Stand-Up Paddleboard nationals, where over 250 SUPs will be competing on West Bay. During the day, participants will be able to roam over 40 booths, and enjoy great food and family fun. Evening events (which will take place from 6 to 11 for
adults aged 21) will be a "celebration of water sports, activities and conservation efforts" whose major focus is food, drink and music.
In fact, food drink and music are the common thread that binds these two seemingly unrelated events together. Both are the handiwork of music promoter Sam Porter, who has made the Traverse City Microbrew & Music Festival so successful that it's now held twice a year, in August and in February. His company, Porterhouse Productions, has lined up an impressive list of entertainers for both evenings.
At Paella in the Park, for instance, the music will be provided by the Cuban orchestra Grupo Aye, "big band reggae" group The Resolvers from South Florida, champion beat-boxer Heatbox, and popular local guitarists the Younce Guitar Duo, with some visual relief from unicycling/juggling/fire-twirling performer Jason Divad.
If anything, the Saturday night lineup is even more interesting, with repeat performances by The Resolvers and Jason Divade seasoned with an appearance by three-time Grammy-winning Latin hip-hop group Ozomatli, Polynesian Dancers and fitness gurus the AcroYoga Slackers and topped off with a "luau celebration" with a traditional pig roast, fish tacos, and paellas. The bar will serve up local craft beer, wine, and McClure's Bloody Marys.
Happy as he may be with the entertainment he's put together for this weekend, Porter is even more juiced about the debut of yet another product: an enormous customizable tent (or "mobile venue") that can shelter over 4,000 people and make large outdoor events possible 12 months a year in Traverse City and other climate-challenged destinations. The new structure – billed as "the first of its kind in the country" --will be used at both this weekend's festivals, but Porter thinks it will be valuable for a wide range of other events.

"Whether it's local symphonies looking to play in an outdoor covered venue, chambers of commerce planning business expos, wedding planners looking for a unique event setting or national touring artists booking high-capacity stages in Michigan, this venue will allow us to cater to every single one of those demographics," he says.
Porter believes the mobile venue – which can be heated or cooled, enclosed or opened, and scaled in size to house a wide range of events – has the potential to revolutionize the event-planning industry in Michigan. And he's found at least one important backer who agrees: the enterprise has secured an early investment partner in Start Garden, the Grand Rapids-based venture capital firm launched by entrepreneur and ArtPrize founder Rick DeVos.
From my point of view, this idea of Porter's may help towns like Traverse City avoid the problem of "festival glut" where local residents and visitors get weary of seeing their favorite spots filled up with booths and kiosks all the time. Being able to deliver comfortable all-weather shelter could mean that large events could be held in a much wider range of venues and times of the year  instead of jamming them all into the same two or three sites during the same two or three months.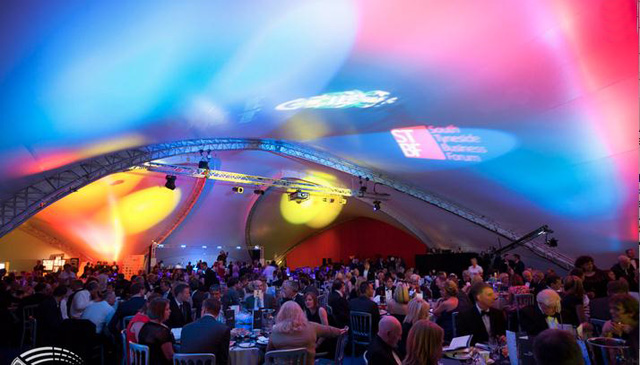 The first big test for the Big Tent will come next week with the Fifth Annual TC Microbrew & Music Festival, a two-day saga at the Village at Grand Traverse Commons, which will include appearances by Michael Franti & Spearhead, Reggae superstars The Wailers,  New Orleans' No BS! Brass Band, vocalist Cris Cab, Junior Brown, Laith Al_Saadi, and  Delilah DeWylde & The Lost Boys.
After that, Porter plans to rent out the structure to anybody who has a use for it, throughout Michigan and the Midwest. He's created two public brands to market and promote the idea: Spectacular Structures, the parent company and rental division, and Tent Venue, focused on concert and event updates, crowd-sourcing campaigns and marketing and social media outreach.
By 2014, he intends to create an addition to the structure, expanding its total capacity to 10,000 people. The ultimate goal? Take the business into key cities across the country where there's high demand for event space.
Very interesting, I think.