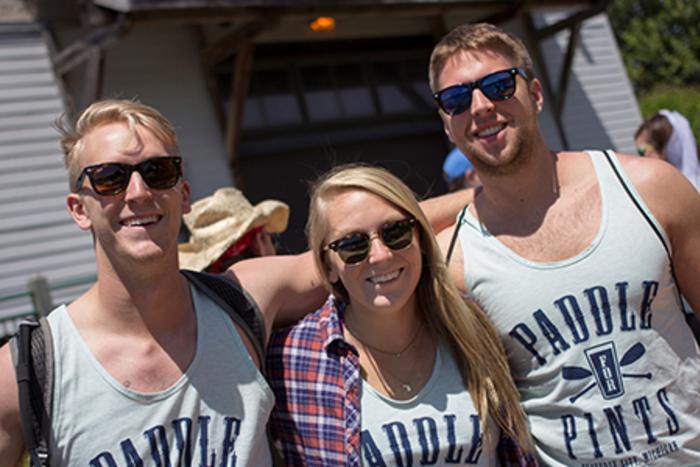 Paddle for Pints, Traverse City's most famous "pub paddle" event, has certainly gotten popular! The first of their scheduled outings begins in June and there's only a couple spots left for the rest of the summer season.
Local entrepreneur Troy Daily started Paddle for Pints in 2013 with the idea of combining two of Traverse City's greatest assets – awesome kayaking and even-more-awesome craft beer –into a single massive event. Paddlers launch from Hull Park on Boardman Lake in boat "waves" and spend the next six hours visiting different breweries and brewpubs located along the lake and river. They don't sell or serve beer – it's up to the participants to buy their own – but they offer a unique experience.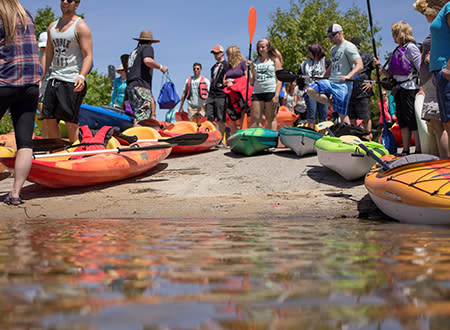 It's also fun for the breweries along the route: the Filling Station Microbrewery, Right Brain Brewery, Rare Bird Brewpub, The Workshop Brewing Co. and Monkey Fist Brewing Co.
For kayakers who want a more intimate, less scheduled experience, Daily's company also runs a smaller outfit called Kayak, Bike & Brew that operates seven days a week with multiple am and pm launch times. (With the added exercise of a bicycle ride from downtown Traverse City to the start of the paddling route.)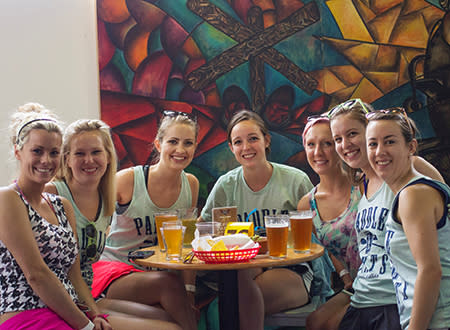 In a typical Kayak, Bike & Brew itinerary, participants meet up at the Create TC Lounge in Traverse City's Warehouse District for check-in, then hop on a bicycle and ride to Right Brain Brewery and The Filling Station before launching at Hull Park. Further stops along the way would be at Rare Bird, the Clinch Park beach and a return to The Workshop Brewing Company for snacks and beer on the patio.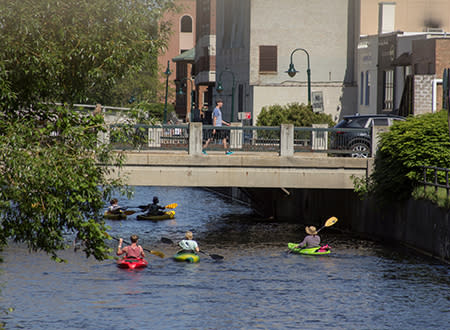 Several other operators run non-motorized brewpub tours by bicycle or kayak. Paddle TC/Kayak Brewery Tours offer two different options: "KaBrew" is a combined cycling/paddling experience following pretty much the same route as Kayak, Bike &Brew, while "BrewBi" is strictly a cycling tour, that includes a minimum of three stops, and a possible trip along Boardman lake, a pedal on the TART Trail or a ride through Downtown Traverse City.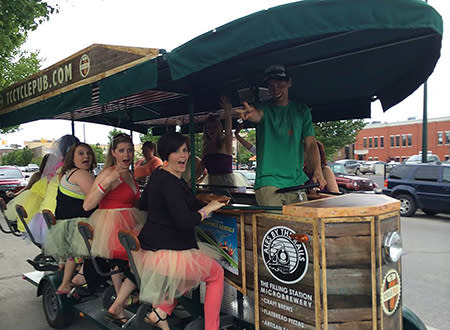 Headquartered at The Filling Station, the TC Cycle Pub has an even more freewheeling method for visiting local brewpubs: a pair of pedal-powered "pub crawlers" that allow participants to sample some of their favorite microbrews while pedaling the 8-14 passenger TC Cycle Pub or the 4-6 passenger Circle Cycle. (It's not drinking and driving, since the steering is being done by a level-headed Cycle Pub guide.
If you are not interested in beer, there's always the option for a bike wine tour. Grand Traverse Bike Tours in Suttons Bay offers Guided Winery Bike Tours, a Leelanau Wine Trail Bike Tour as well as a Brewery and Wine Tour combined. 
Which one will you choose?