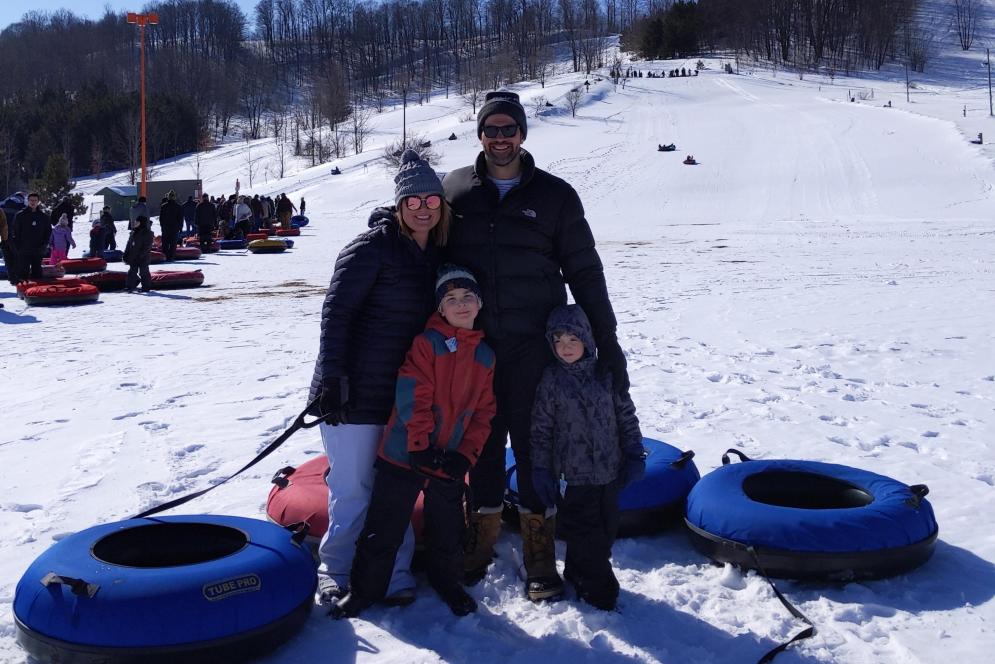 It's no secret that the winter months can feel extremely long in Michigan. The snow, freezing cold temperatures, and gray skies can make us feel a little stir crazy at times. My family loves spending time in Traverse City - the lakeshore, restaurants, shops, and wineries - make it one of our favorite places to visit. This year, however, we decided it was high time to experience what Traverse City has to offer during the winter months.
Our Winter Weekend Getaway in Traverse City

We booked a two-night stay at Sugar Beach Resort Hotel, which is right on Lake Michigan and a short drive to downtown Traverse City. The view was absolutely breathtaking. We would love to go back in the summer! My kids always love swimming at a hotel pool, and Sugar Beach's large pool did not disappoint.
Of course, our weekend was also filled with amazing eats and drinks. We had heard great things about Patisserie Amie, but I don't think I'd be exaggerating to say their Croque Madame was life changing. Our breakfast there was so good that we went back the next day and ordered the Croque Madame a second time! We also enjoyed grabbing a quick, light lunch at the Oryana Cafe.

Snow Tubing at Timberlee Hills
The major highlight of our weekend was taking our kids to Timberlee Hills to try snow tubing for the first time ever as a family. Our boys are seven and four years old, and I'm not quite sure why it took us SEVEN years to try snow tubing! It's similar to sledding, but way easier and a lot more fun. As Timberlee Hills says, "It's all the fun of sledding – without hiking back up the hill!"
Not knowing what to expect, we packed our snow gear and drove up to the lodge at Timberlee Hills. They have a spacious lodge that has a concession counter, bathrooms and plenty of seating. I noticed several families were celebrating birthdays there and I thought tubing was a perfect winter birthday party idea.
We purchased one hour tickets ($14/person) instead of the two hour tickets ($24/person). The hour flew by and we had so much fun, so next time I think we will get two hour tickets. Timberlee Hills will actually let you split your two hour ticket into two separate hours. You can come inside the lodge to warm up and enjoy some hot chocolate after the first hour, then they will reactivate your ticket when you get back outside.
My kids seemed a little nervous as we approached the hill, but they were excited to give it a try. We started with the two-person tubes and were able to go down all together as a group. The ride down was fast, but not too fast to scare my kids. We had ridiculously huge smiles on our faces the whole way down. The boys immediately asked if we could go down again.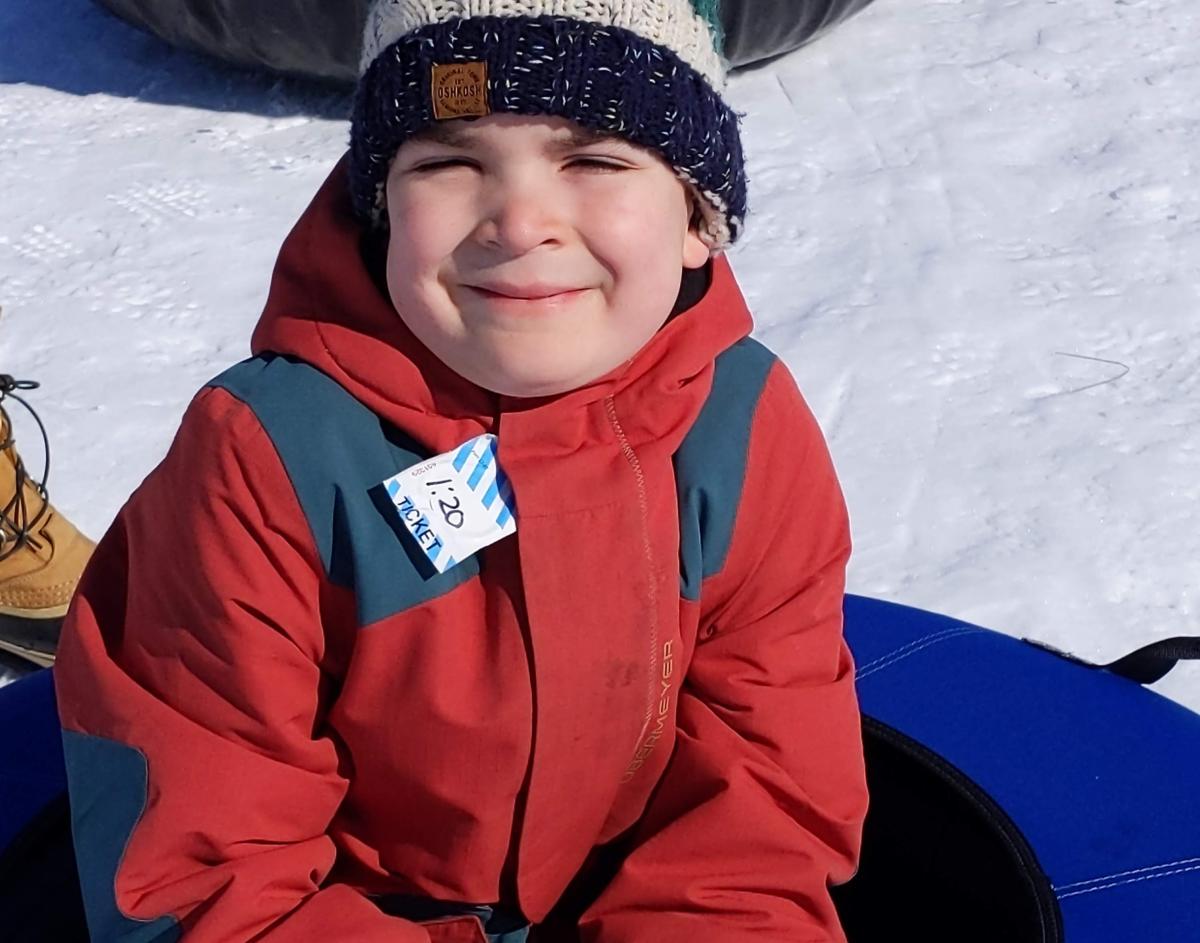 Once we had a few runs under our belts, our kids worked up the courage to go down on their own single person tubes. We were still joined together as a group riding down the hill, but we went quite a bit faster on the single tubes. My husband and I both thought the whole tubing experience went better than we could have hoped. Snow tubing at Timberlee Hills was an absolute blast! Take a look at our adventure in the video below. 
6 Tips for Snow Tubing Newbies

If you want to try snow tubing in Traverse City with your family (which I HIGHLY recommend), here are a few tips to keep in mind:
Pump your kids up before you get there! If your littles are more timid, show them pictures so they can see what tubing looks like and talk through the experience beforehand.
Come with all the snow gear you would wear while sledding. Wear lots of layers; you can always take off a layer if you get too warm.
Ski goggles aren't absolutely necessary, but if you have them, I would bring them.
Bring snacks or money for the concession stand. Who doesn't want hot chocolate after being out in the snow?
Give your kids a heads up that you have to roll out of the tube at the top of the hill. But don't fret, the staff will help kiddos who need assistance with this.
Start with the two-person tubes (they are slower) and ease into the one person tubes for kids that are ready to go a bit faster.
Timberlee Hills, we will be back! We plan to make snow tubing an annual tradition. Until next year...