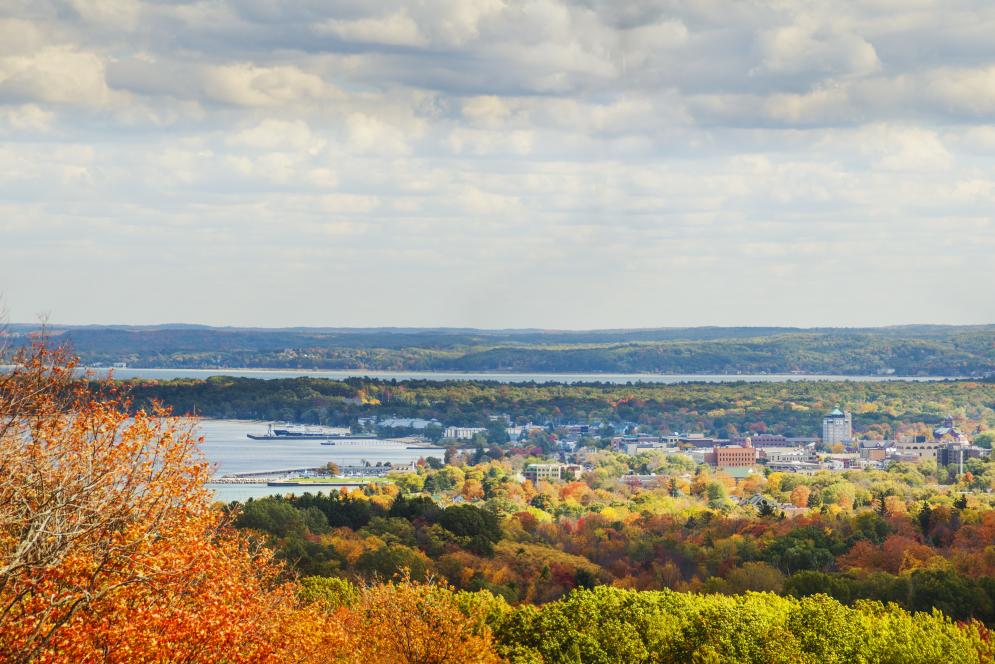 What if one perfect fall day here was all you had? How would you spend it? Everyone is going to come up with their own list, depending on their personal predilections and idiosyncrasies. But if it were my day, here is what I'd do:
First, I'd start out just after dawn with a good cup of strong coffee – perhaps a pumpkin spice latte, considering the season – at Espresso Bay on Front Street. On some days, I might sit down to enjoy it in front of their fireplace, but since this is a perfect day, I'll take my coffee outside and cross the Grandview Parkway to Clinch Park so I can stroll around the marina and the Open Space to enjoy the early morning view of the bay. Once I've worked up an appetite, I'll head back up to Front Street and enjoy a leisurely breakfast at J&S Hamburg.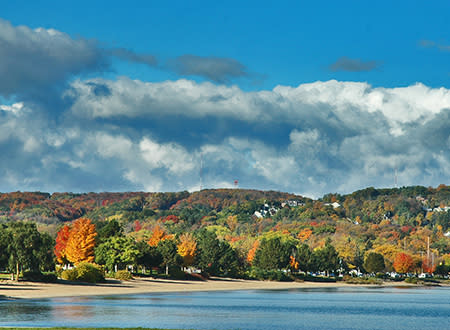 Now, down to business. If you only have one day here, you can't skip the Sleeping Bear Dunes National Lakeshore. You really can't. So get in that car and point it westward on M-72, where you'll get to enjoy some of the area's earliest views of fall color on the way to Empire.
Other people might tell you to save time by doing a quick-and-dirty tour on the Pierce Stocking Scenic Drive, where you can zip in and out of your car at two or three of the main overlooks and call it good – but hey, this is my perfect day, so I'm going to do it my way. What I choose to do is to drive up to Wilco Road and take a short stroll along the Empire Bluff Trail.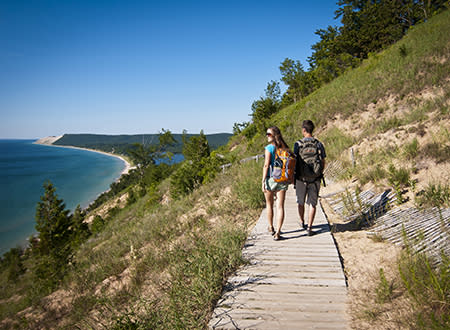 It's not a long trail – just a mile or so – and it goes through a lovely forest of beech and maple trees until the last gentle hill, where suddenly everything opens up and you feel you're standing in the sky with the immense bowl of land and water spread out beneath you. Stay awhile. Watch the gulls wheeling below. Listen to the wind. Let your heart fill with the beauty of it all.
Then, when you've had enough amazement, head back to the trail head, get in your car and follow M-22 up to Glen Arbor for a quick visit to Cherry Republic. Hey, I love the Cherry Republic store in Traverse City, but there's something about the original Mother Ship that draws me in whenever I'm over on the Leelanau shore. Browse around: contemplate (and sample!) all of these inventive ways to use our region's most famous product: cherry jams, sauces, candies, coffees, sodas, wines, brownies... it's a beautiful thing…. I rarely leave without at least a package of Boomchunka cookies.
By now, everybody back in Traverse City is wide awake and open for business. If you're a shopper you could easily spend the next few hours wandering through the downtown shops and stores and exploring the fabulous Mercato in the Village at Grand Traverse Commons. They're wonderful places to investigate, even if you're not that into shopping.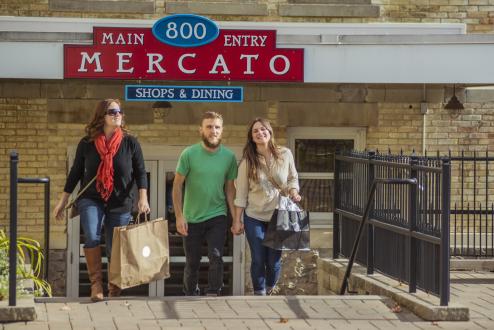 But wait a minute -- why would you want to spend your perfect fall day indoors when you could be outside?  Fortunately, there's a way to have your cake and eat it too: rent a bike from one of the many local cycle shops, and do your exploring by two-wheeler. You can enjoy downtown and the Commons (as well as some of the stately Victorian neighborhoods between them) and even get a little extra exercise. If you're a careful shopper, you can even get a bike with a basket for your purchases.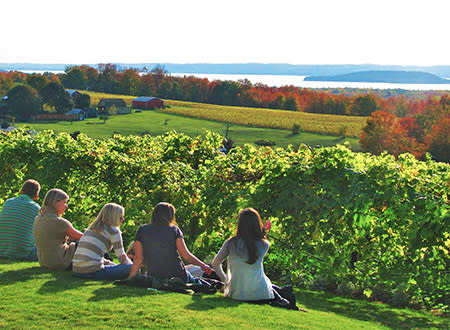 Enough dawdling. Return that bike, reclaim your automobile, and head north for a few hours of scenery and wine-tasting on the Old Mission Peninsula. The Peninsula is one of the best places in the area for viewing fall color, and its nine wineries offer a wide variety of experiences and possibilities. (Personally, I'd recommend stopping at just two or three; the wine-tasting experience is best when it's done in moderation.)
Out near the end of the Peninsula is the charming little settlement of Old Mission, which dates back to 1839. Stop in at the eclectic Old Mission General Store for an ice cream cone before heading out to the historic Mission Point Lighthouse to peer out over the water and marvel at its beautiful translucent blues and greens. As the afternoon begins to slide slowly toward evening, head back to town, enjoying the golden light of fall shining across the hills and vineyards.
Dinner? Of course. Another good reason for not drinking too much wine during the afternoon is so you can enjoy your dinner with a nice Traverse City beer. One place to do both is at The Filling Station, a brewpub located in the former Pere Marquette Railway station, where you can enjoy a serene view of Boardman Lake while munching on one of their wood-fired flatbread pizzas and knocking back a pint of hand-crafted ale.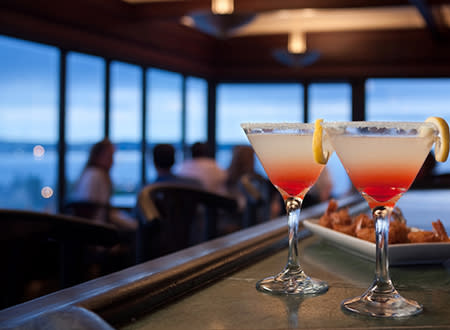 Pace yourself though, because the best place to watch the sun go down in Traverse City is from the little Beacon Lounge at the top of the Park Place Hotel. It's the perfect place to end a perfect day: a beautiful view, a friendly bartender, and maybe even some great piano music from Tom Kaufmann.
Well, heck, of course Tom will be playing. It's a perfect day, right?