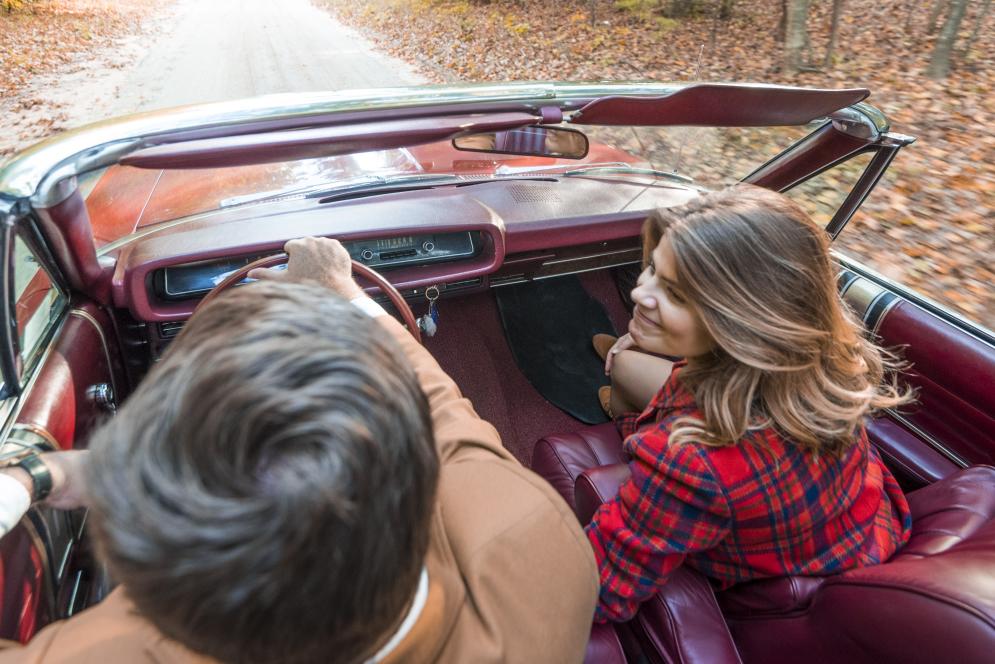 Fall is my favorite season, and the Traverse City area abounds in places where you can almost always find great color.
Our characteristic landscape of rolling glacial ridges, lush forests and wide expanses of open water creates broad panoramas where autumn color is simply the finishing touch to an already dramatic vista of water, sand and sky. And because color seems to come soonest to the high forests to the east and south of us, gradually spreading to the low-lying areas along the water, color season tends to last quite a long time here.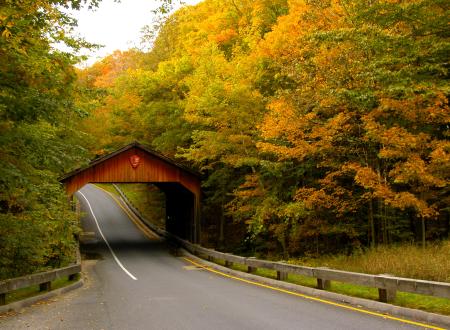 For many folks, the best place for fall color around here is the magnificent Sleeping Bear Dunes National Lakeshore, whose steep hillsides and lush hardwood forests burst into sheets of flaming scarlet, orange and gold each fall. Set against the deep indigo of Lake Michigan, the towering bluffs and islands of Sleeping Bear are particularly dramatic when clothed in their autumn finery.
Somehow, though, I never seen to get to the Dunes at precisely the right time. Either I come too early or I end up visiting after a big windstorm has knocked all the leaves off the trees. It's still gorgeous, but I've never seen the big show everybody talks about.
In fact, one of my favorite drives in the fall is the one I take twice every day – my commute between work and my home on the Old Mission Peninsula in the middle of Grand Traverse Bay. Nearly 20 miles long and in some places as little as a mile wide, it's a beautiful patchwork of orchards, vineyards, forests and villages. Perfect for a morning or afternoon drive that combines fall color with beautiful views of the bay, visits to wineries and roadside fruit stands, and unforgettable meals at several charming restaurants.
I think the most spectacular views along the peninsula are generally to be had along M-37 (Center Road), which runs along the steep ridge at its center, through the village of Mapleton (is it even big enough to be a village?) to the cute little lighthouse at Mission Point. But it's just as much fun to amble along the roads that follow the shoreline on either side, stopping to visit the historic village of Old Mission and the quiet settlement of Bowers Harbor.
Of course, just northwest of Traverse City is the much larger Leelanau Peninsula -- the "little finger" of the Michigan mitten – a place of beautiful scenery, quaint lakeshore villages and fascinating history, and home to those beautiful Sleeping Bear Dunes. Most leaf-peepers stick to the peninsula's coastal area, which means following M-22 along the Bay through Suttons Bay, Omena and Northport, then turning abruptly southwest to skirt the Lake Michigan shore through Leland, Glen Arbor and Empire.
Personally, though, I think there's usually better fall color in Leelanau's hilly interior. On the slopes above Lake Leelanau and the two Glen lakes you'll find farmlands, woods, vineyards and small towns like Maple City and Cedar that still retain traces of their Polish and Bohemian founders. County Road 633 and 641 are a couple of my favorites.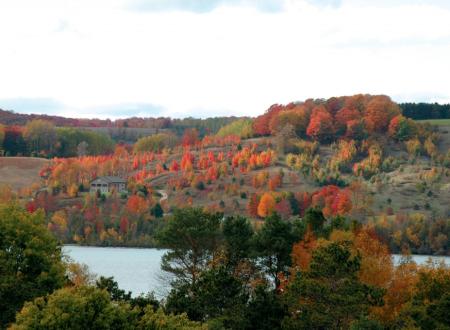 Some of the same feeling can be had just northeast of town, in Antrim County's glacier-scoured Chain of Lakes region. This is a dramatic landscape of rolling drumlins and long, deep blue glacial lakes. Two of the largest, Elk Lake and Torch Lake, are particularly beautiful when the hills in which they nestle are aflame with fall colors. Nearby you'll find the steep valley of the little Rapid River, whose forested slopes look as though they could have been transported from the Appalachians.
A good introduction to this region can be had by following U.S. 31 north from Traverse City, past orchards and farms along the shore of East Bay to Elk Rapids. From here, it's possible to drive east between the lakes and into the hills above them, where the autumn views of distant blue hills evoke fall in the lochs of Scotland. The tiny village of Alden, on Torch Lake, makes a great stop for lunch and some shopping, while the summit of Shanty Creek near Bellaire provides awe-inspiring views of the surrounding countryside.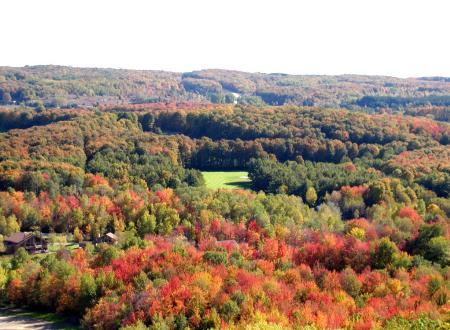 A more woodsy landscape can be found in the highlands just south of Traverse City, dotted with dozens of small lakes and dense forests of evergreens and hardwoods – as well as the majestic Boardman Valley. Much of this intensely varied landscape is contained in the Pere Marquette State Forest, and it is best explored by heading out into the maze of twisting roads that wind through the forests, around lakes and along the tops of high wooded bluffs. (But beware of the roads around Arbutus and Spider Lakes – they're beautiful, but so confusing to the newcomer that this area is known by locals as the "Arbutus Triangle!"