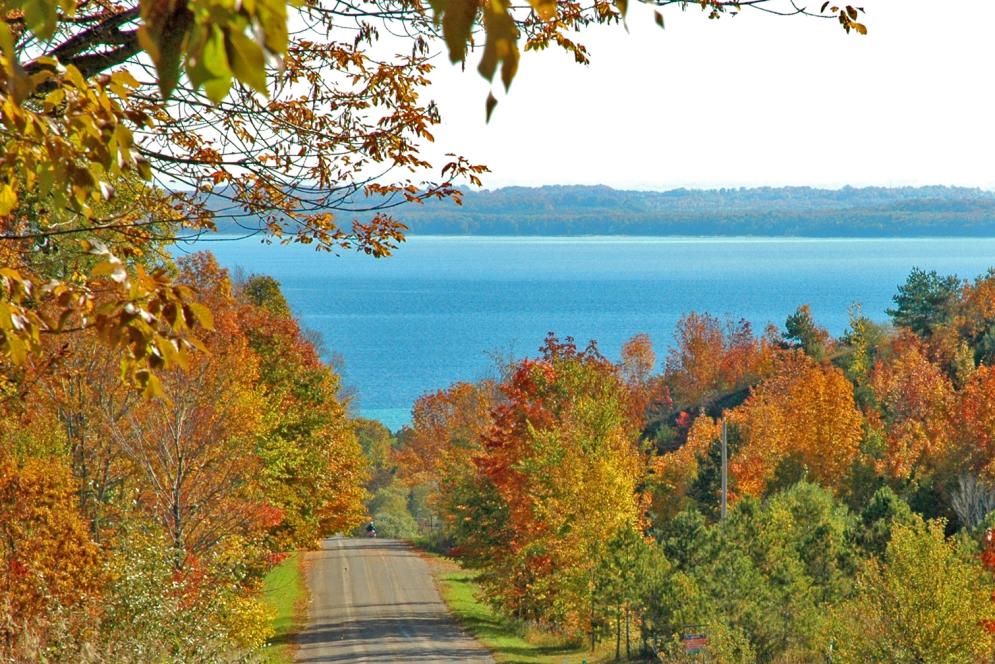 For Traverse City Visitor Center Manager Sharon Pierce, the perfect day in Traverse City begins with jumping on a motorcycle. A ride during the afternoon and viewing a sunset over Grand Traverse Bay make the day even better! As an avid rider, Sharon is a great resource for information on routes and locations to explore. Take a look a three of her suggestions for a motorcycle tour in Traverse City.
Roundabouts and Lakes
Follow Grand Traverse Bay east out of Traverse City and point your compass towards Acme, where you will turn onto M-72 to experience not one, but two traffic roundabouts. Proceed past the Turtle Creek Casino to Elk Lake Road, then turn left and head north to enjoy rolling farmlands with glimpses of Elk Lake on your right until you drive into the quaint port town of Elk Rapids. At the traffic light, turn right onto Ames Street (Cairn Highway) and ride a few miles to the crossroads of Kewadin, where you will turn left to stay on Cairn Highway. A mile or so after the turn, look for a small tower (or cairn) of multi-colored rocks. This stone pyramid is built with rocks from all but one of the counties in Michigan and is an attraction among the orchards along the country road.  
Roll along back to US-31 and follow it up to The Village of Eastport. Turn right on M-88 and follow it through Central Lake, Bellaire and Mancelona, or take County Road 593 (East Torch Lake Drive) to hug the scenic shoreline of Torch Lake. Along the second route you will see glimpses of Torch Lake's deep blue water and the magnificent homes that surround it. Cross the Clam River and travel through the small towns of Alden and Rapid City and head back to M-72 towards Traverse City. 
Over the River and Through the Woods
If twists and turns are your preference, check out this route! Head south from Traverse City to Hammond Road and turn left. Follow Hammond past Three Mile and Four Mile roads, around a hairpin curve by the cherry orchards (where it turns into High Lake Road) and ride two more miles to the stop sign. Turn right onto Arbutus Lake Road and be well aware of tight corners (a good road to practice for The Dragon!). Enjoy the quick view of Wethea Lake on the right before a very sharp left turn; ride along for two miles until you get to Hobbs Highway and turn right. After heading west for a short mile and a half, look for the left turn onto Arbutus Hill Road, then head down the hill to the stop sign and turn left onto Garfield Road.  Enjoy the small town of Kingsley, home of the Adams fly casting bait. Turn left onto M-113.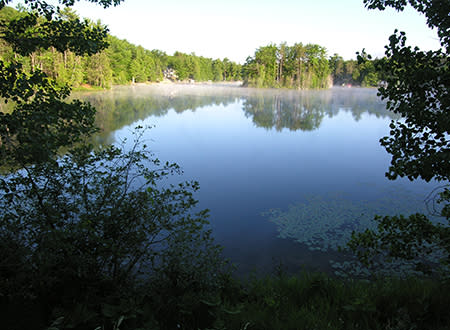 Spider Lake
A little blast of speed feels good after getting through the twisties of the Spider Lake area! Follow M-113 until it meets up with M-186 -- a very short highway to get to US 131. Go straight through this intersection and into the historic town of Fife Lake, a quaint place to take a short break. Head back onto State Street (the main drag through town) go up the hill and look for Ingersoll Road on the left. This is a wonderful ride through a beautiful rural area; enjoy the sights, but don't get carried away and miss the stop sign for M-66, where you will turn left and head north for five miles. A left onto Boardman Road takes you to South Boardman and US-131. Cross this busy highway onto Supply Road and roll back through the tree-canopied two-lane road, around The Devil's Elbow and back to High Lake and Hammond roads towards Traverse City. 
Circle Lake Leelanau
The magic of Leelanau County does not disappoint on this ride! From downtown Traverse City, take the Grandview Parkway and head west on M-72 until you get to Bugai Road (County Road 641), where you will turn left and motor along through rolling hills, farms and orchards. When you get to the village of Lake Leelanau keep heading north on CR-641 until it ends at M-22. Turn left onto M-22 and enjoy the old fishing village of Leland -- especially its Fishtown district, a miniature version of San Francisco's Fisherman's Wharf. Get back on M-22 and head south until it meets M-204, where you will turn left.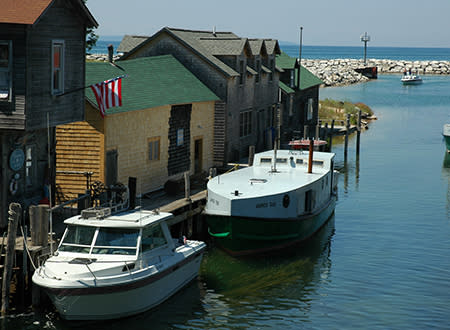 Leland
You'll head back towards Lake Leelanau again, but this time, turn right onto County Road 643. You'll see the beautiful clear water of Lake Leelanau on your left as you roll through orchards and vineyards. Stay on this road until you get to the small town of Cedar, home of the Polka Fest and "Plevalean" - a delicious mixture of local beef and cherries. From Cedar, head south on CR-651 through rolling hills and scenic vistas. Finally, turn left onto M-72 and head back to Traverse City.
Of course, a day of riding would not be complete without a cold one and a meal. Check out this list of dining options, and be sure to save time for a sunset over West Bay!