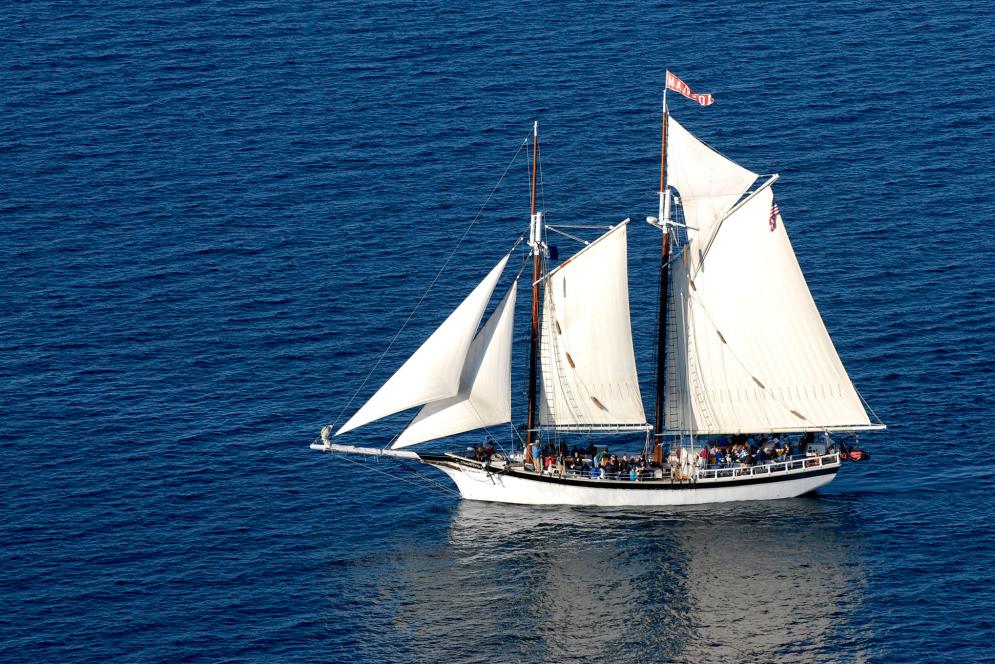 What's the best thing about a milestone birthday? It's a good excuse to wrangle a best friend or 10 and have an adventure together! Here are a few ideas on how to celebrate turning 30, 40, 50, 60 or more in Traverse City. 
BY WATER 
The Nauti-Cat is the largest commercial sailing catamaran on the Great Lakes, with a capacity of 40 passengers. Imagine fresh air, lapping waves and, depending on the cruise you pick, champagne and live local bands rocking the boat. 
The 2½ hour Champagne Sunset Cruise might be perfect for a milestone birthday. Sail by ritzy homes along Old Mission Peninsula, or lay back in the nets and watch the clouds turn to oranges and pinks. As the sun sets, everyone enjoys a complimentary glass of champagne and on-board birthdays (yours!) are toasted! 
The Nauti-Cat sails on West Grand Traverse Bay and depending on the wind speed, the catamaran can reach 14 knots. There are two restrooms on board, so drink up! They offer complimentary snacks but guests can bring other food aboard (cupcakes, anyone?). If you want to feel like a part of the crew, try your hand at raising the sails, jibing, tacking, and navigation. 
They also offer cruises with live bands (complete with beard and slouch beanie) and a full cash bar. These run 10 p.m. to midnight. 
Cost: $15-$40 a person 

The Traverse Tall Ship Company
If you want to make a true night of it, consider the "Floating Bed and Breakfast" aboard the Tall Ship Manitou offered by The Traverse Tall Ship Company. 
The night begins with a two-hour cruise at 5:30 p.m. on one of the largest traditional sailing vessels on the Great Lakes. After, the ship returns to dock for a memorable sleepover secured at the pier. Morning brings a homemade breakfast cooked on a wood-burning stove and sunrise over Old Mission Peninsula. 
The Tall Ship Manitou is a replica of an 1800's cargo schooner, similar to those that sailed the Great Lakes and the Atlantic Ocean. There's room for 59 passengers for cruises and sleeping accommodations for 20 guests in 10 simple private cabins below deck. The cabins are rustic and fitting of a mid-1800's style windjammer. Each is equipped with two built-in, wooden, single bunks or you can opt to bring a sleeping bag and pad for a night up on deck under the stars. There are two toilet facilities on deck and access to shower facilities on shore. 
The Traverse Tall Ship Company offers several other cruises if you want a shorter milestone experience! Consider a tour aboard "Scout," a sailing yacht which hosts six passengers and makes for a wonderful day of sailing the bay and dropping anchor at Power Island for some swimming and celebrating. They even carry Moomer's Homemade Ice Cream in their freezer, and you can bring a bottle of your favorite wine to stow in their fridge! 
Prices vary. 
BY AIR 
TC Helicopter Tours will give you an unforgettable birthday with their choices of either helicopter or float plane tours. 
Their Sunset Helicopter Tour is a once-in-a-lifetime experience. The tour takes you over Grand Traverse Bay and the Southern part of Old Mission Peninsula and continues Northwest toward Sleeping Bear Dunes, Glen Lake and the quaint town of Glen Arbor. They can accommodate 2-5 passengers. Cost: $299.95 per person 
Other helicopter tours include the Old Mission Vineyard Tour and the Two Bays Tour over the Grand Traverse Region. All helicopter packages are refundable and may be rescheduled as necessary. 
And what's better than a little bit of water and a whole lot of blue sky? Choose from their float plane tours over places like Arcadia Bluffs, Bay De Noc, Frankfort, Bay Harbor or Walloon Lake. The Frankfort Tour departs in a Cessna 185 float plane from Traverse City and soars over the Sleeping Bear Dunes to the city of Frankfort. Land in Betsie River Bay and stop at Storm Cloud Brewing for drinks and dining. They can accommodate 2-3 passengers. Cost: $350 per person.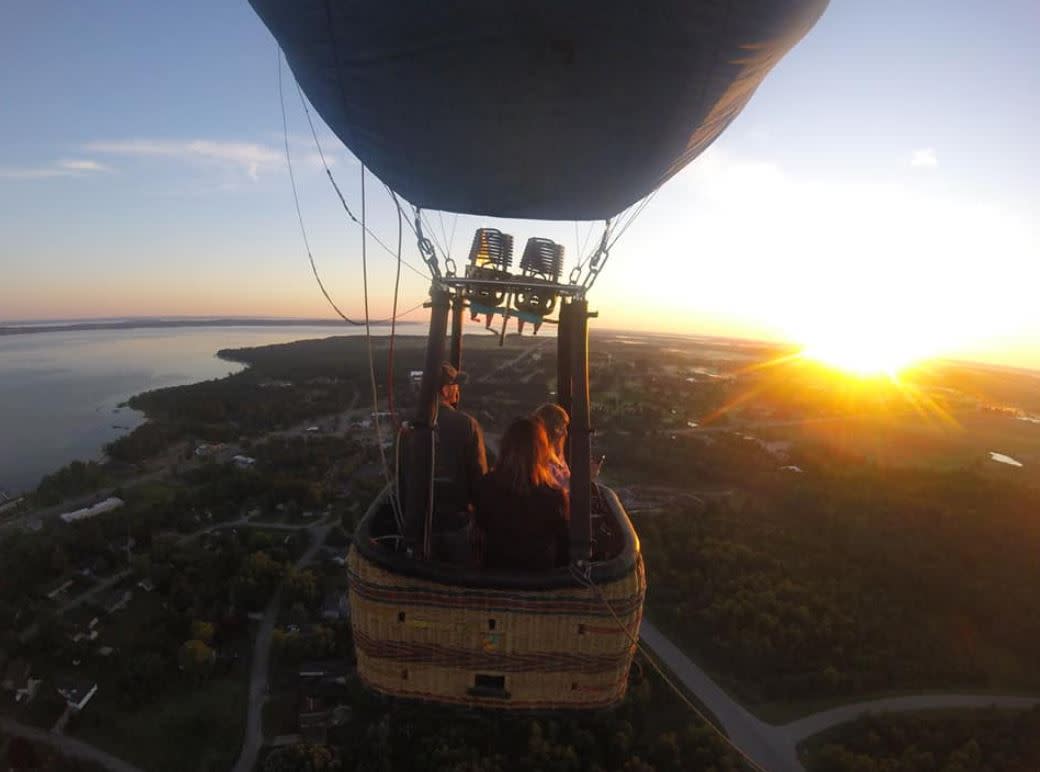 Traverse City Balloon Tours 
The quintessential Traverse City air experience is a hot air balloon ride. Traverse City Balloon Tours offers private tours, group tours and tethered tours. The private tour features a smaller basket that carries up to four passengers, while the group tour has a large basket that can carry up to ten passengers. 
The balloons travel 2,000 feet up over Grand Traverse Bay and tours are taken at sunset or sunrise. A group tour ranges from $299 to $349 a person and up, depending on the day. Reservations are requested but they can often fly the same day you call! Tours last three hours – more than enough time to toast your milestone birthday in an unforgettable setting!