Midwest Living Magazine is inviting friends and residents of Traverse City to a June 18 celebration at Open Space Park to commemorate the community's title as the "Greatest Midwest Town."
The free afternoon event will feature live music, refreshments, children's games and appearances by local celebrities – including Piper the Airport Dog—as well as an official presentation of the magazine's first "Greatest Midwest Town" award by Midwest Living editorial content director Trevor Meers.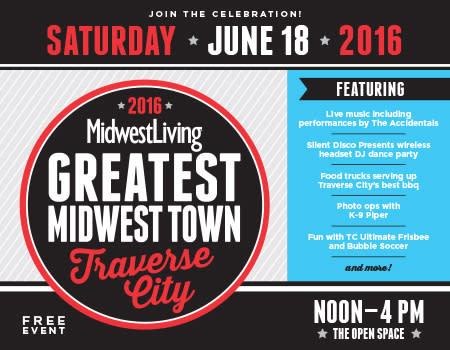 "Our team is thrilled about the lineup of entertainment and activities coming together for this event," said Meers. "We can't wait to celebrate this honor with the entire community. We'll have staff members coming to the celebration from our offices in Des Moines, Detroit, Chicago and New York. And most of us are bringing along family members and adding a few days to our trip to take advantage of everything the area has to offer."
 In January, the magazine's editors selected Traverse City as one of 12 communities – one from each Midwestern state – to compete for the title of "Greatest Midwest Town." From then until the end of February, fans of each nominee town cast tens of thousands of votes to demonstrate their support. Other communities nominated in the contest included Galena, IL; Medora, ND; Duluth, MN; Lawrence, KS; Branson, MO; Put-in-Bay, OH; Columbus, IN; Rapid City, SD; Nebraska City, NE; Bayfield, WI; and Decorah, IA.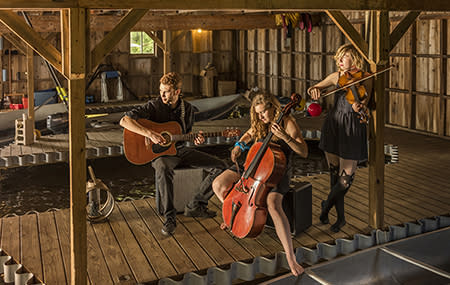 The celebration will last from noon to 4 p.m. and will include entertainment from local musicians including The Accidentals, with face-painting, food, ice cream, bubble soccer and appearances by National Cherry Queen Danielle Bott and National Cherry Festival mascot Super Cherry. In short, it's a hometown celebration to congratulate the people of Traverse City for supporting their town.
 "This isn't so much a tourism event as a community event," said Tori Piersante, interim president of Traverse City Tourism, which helped organize the celebration. "While it's true that Traverse City is a beautiful place with lots of great things to see and do, this award is about the things we sometimes take for granted about ourselves – friendliness, loyalty and pride in the place where we live and play."