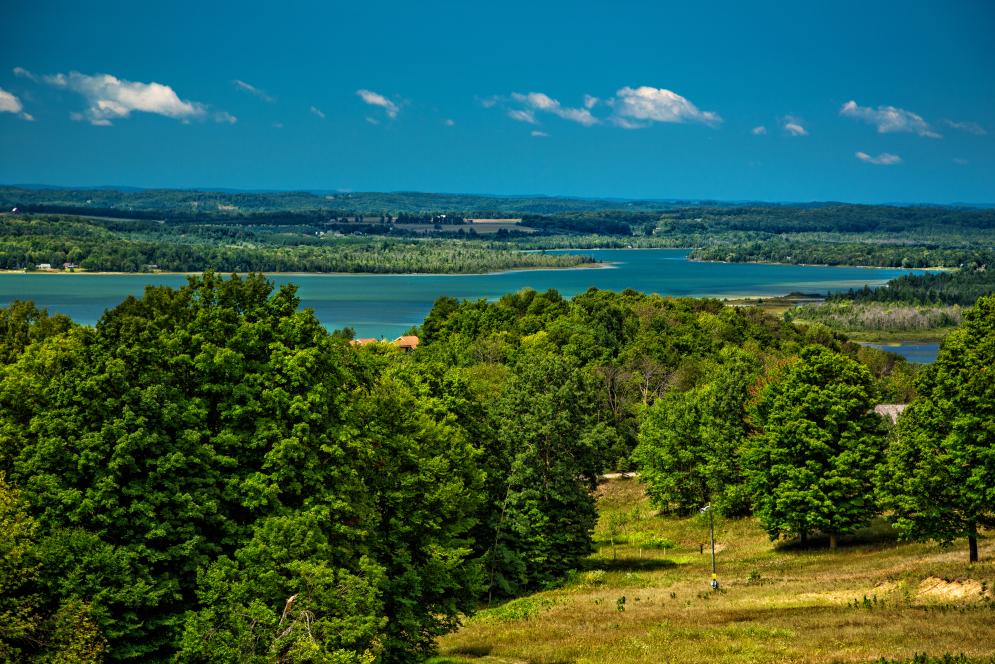 Photo: Bellaire Chamber of Commerce

You may think that you've done it all in Traverse City, but chances are that you have only begun to scratch the surface of what the Traverse City Area has to offer! It may be time for you to venture off the beaten path and discover all the wonders hidden in the small towns that surround TC. You need to experience playing human foosball at 1914 Cellar, listening to Drew Hale sing at Iron Fish Distillery, buying the miracle blend spice mix from Alden's Mill House, and seeing a world-class performance at Interlochen Center for the Arts. 
---
Frankfort & Elberta
Where to Eat
Birch & Maple - Craft cocktails and modern dishes prepared from scratch with deliciously real ingredients
FrankZ - Serving up summer's most iconic food, hot dogs
Stormcloud Brewing - Brewery serving Belgian-inspired beer and locally inspired food
What to Do
If you're visiting Frankfort for the first time, we recommend you start by exploring the local lighthouses: Frankfort North Breakwater Lighthouse and Point Betsie Lighthouse. 
Where to Stay
Thompsonville
Where to Eat: 
What to Do:
Fall, winter, summer, or spring; there's always something fun to do at Crystal Mountain! Start by wandering through the Michigan Legacy Art Park and then complete the exploration with a slide down the Crystal Coaster Alpine Slide.
Where to Stay:
Interlochen
Where to Eat:
•    Oaky's Tavern - Serving smokehouse-inspired tastes as well as the joys of comfort foods
•    Hofbrau Steak House & American Grille - Interlochen's favorite gathering place for over 100 years
•    Bud's - Cafe-style American food, ice cream, coffee, and baked goods
What to Do:
Interlochen is a great place to spend the day on the water jet skiing from island to island on Long Lake. If you prefer boots to boats, then lace up your hiking shoes and set out on an exploration of the 250-acre preserve at Timbers Recreation Area. 
Where to Stay: 
Elk Rapids
Where to Eat: 
•    Pearl's New Orleans Kitchen - Featuring Cajun/Creole cookin', southern specialties & fresh seafood
•    Cellar 152 Pub and Provisions - Live Music with food wine & spirits
•    Riverwalk Grill - Waterfront American dining
What to Do: 
It's easy to spend the day in Elk Rapids. Start by exploring the downtown shops and antique stores, there are some real treasures to be found. If you're a beach person, there's no shortage of sand to cover your toes and relax in the sun. From downtown you can walk to the beach where you can throw a towel down for some rest and relaxation. If laying in the sun isn't for you, take a walk along the marina and admire the colorful boats. 
Where to Stay:
Lake Ann
Where to Eat: 
What to Do:
Go golfing! Either at Mistwood Golf or disc golf at Almira Township Park. 
---
Central Lake
Where to Eat: 
Torch Lake Café - Curated cuisine and handcrafted cocktails in a warm, inviting atmosphere
Central Lake Tavern - Burgers, Burritos and Beers. Shrimp, Cocktail and Coke. French fries or Homemade Chips
Classic Pizza - Signature pizzas, grinders, sandwiches, calzones, and pasta
What to Do: 
Embrace agritourism at its finest and hop from farm stand to winery to farm stand. Our recommendations are King Orchards, Cellar 1914, Providence Organic Farm, and Royal Farms. Then end your day with an old fashioned at Mammoth Distilling. 
---
Alden
Where to Eat: 
•    Torch Lake Beer Company - For good food and good times, this is the place to be!
•    BlueWater Bistro and Pizzeria - Mouthwatering Italian cuisines with hand-selected local wines or beers.
What to Do:
Take a stroll down Torch Lake Drive and pop your head into the shops that line the street. Make sure you stop in Alden's Mill House to pick up some of their miracle blend spice mix. 
---