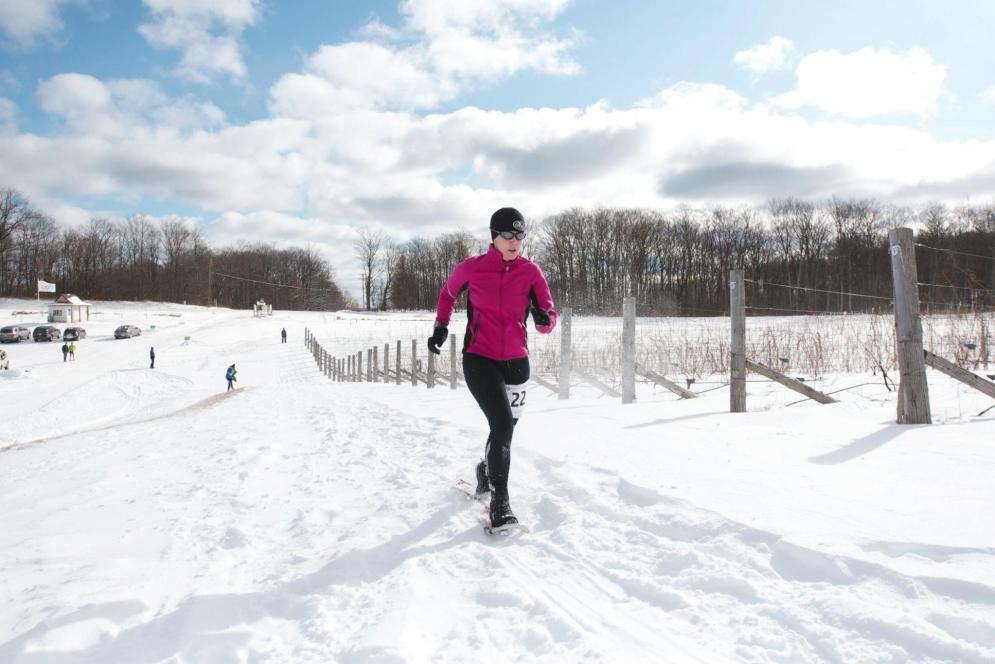 You'll find no shortage of road and trail running races in the Traverse City area, of varying distances and taking place pretty much every month of the year. If you're looking to map out your 2020 race calendar--and perhaps check out a new-to-you event in the new decade--here's a closer look at a few local races.
Winter
For many of us, a January tradition not to be missed is the Frozen Foot Race, a 5-mile run/walk and kids 1-mile fun run through paved neighborhoods at the base of the Old Mission Peninsula. This event, founded in 1987, is now paired with the Traverse City Track Club's Speaker's Series, which brings in elite level distance runners from past and present. I love the challenge of this race (there's a good-sized hill involved) and also the fun and not-so-common 5-mile race distance. The 2020 edition is set for Saturday, Jan. 18. The event is free to 2020 track club members; special student pricing is available, and kids can run the untimed fun run for just five bucks.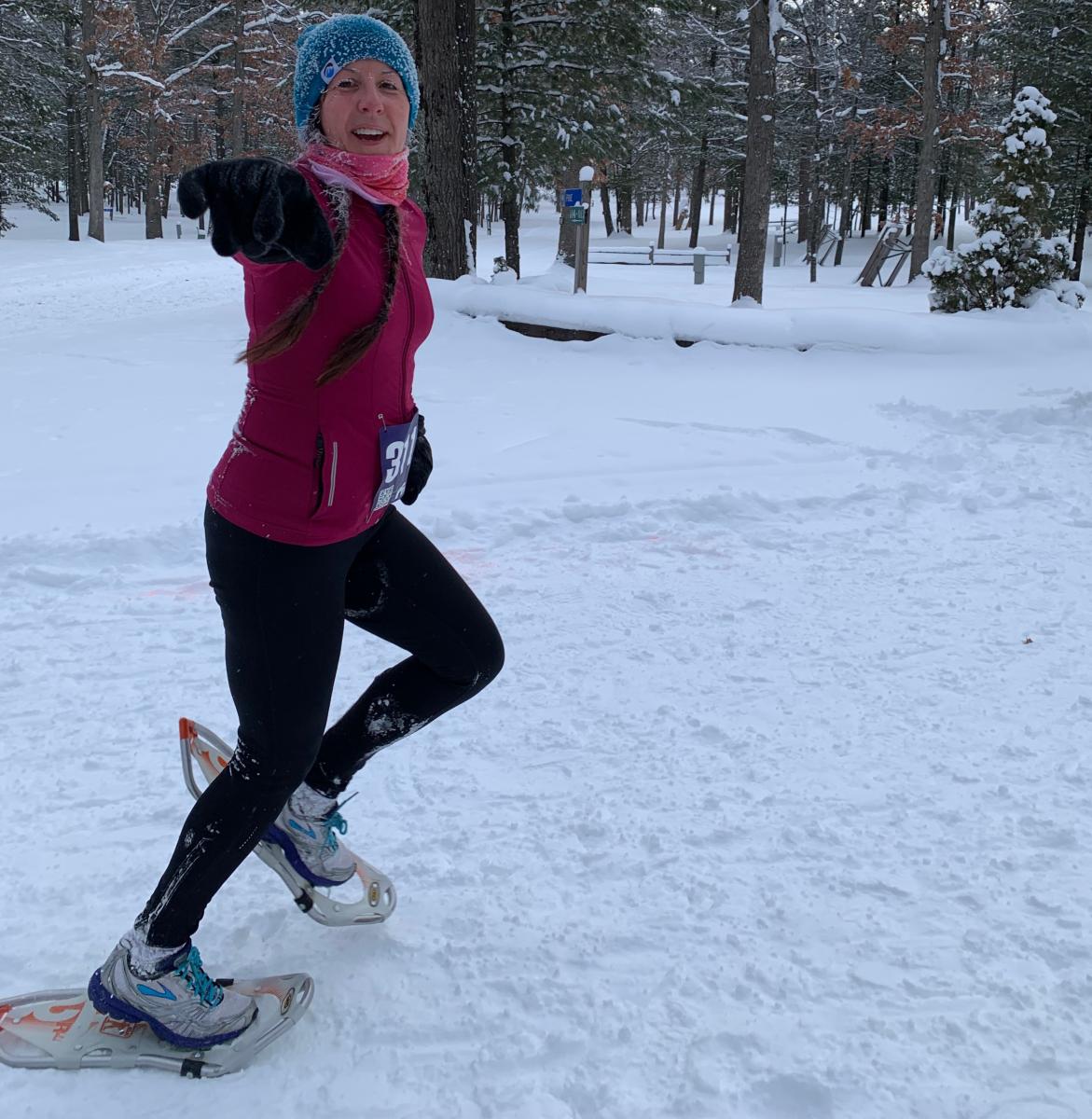 If trails and getting into the woods are more your thing, the Bigfoot 5K and 10K Snowshoe Race on the east side of Traverse City, at Timber Ridge RV and Recreation Resort is an awesome option. Set for Jan. 25 in 2020, this race attracts experienced snowshoers as well as those who have never before strapped 'em on--all are welcome. There's just something special about exploring the trails on snowshoes. I've participated in both the 5K and 10K over the years, in all kinds of wintry weather. My favorite is when there's plenty of fresh powder, providing an extra challenge, yes, as we weave through the hilly, single-track trails, and also incredible views of ice-encrusted meadows and snow-laden trees. The post-race vibe is great; warm up with hot bowls of chili and see who wins the Sasquatch trophies. 
Spring
OK, so it may still feel like winter, but the Fifth Third Bank Leapin' Leprechaun 5K on Saturday, March 14 also could be a warm-ish early spring day (it's happened!). Either way, you're sure to have a ton of fun at this St. Paddy's Day celebration run in downtown Traverse City. Grab your green and throw on those lucky socks for the race's 10th annual foot race that starts and ends in Traverse City's Warehouse District. Post-run, stick around for some luck o' the Irish fun at the Workshop Brewing Company.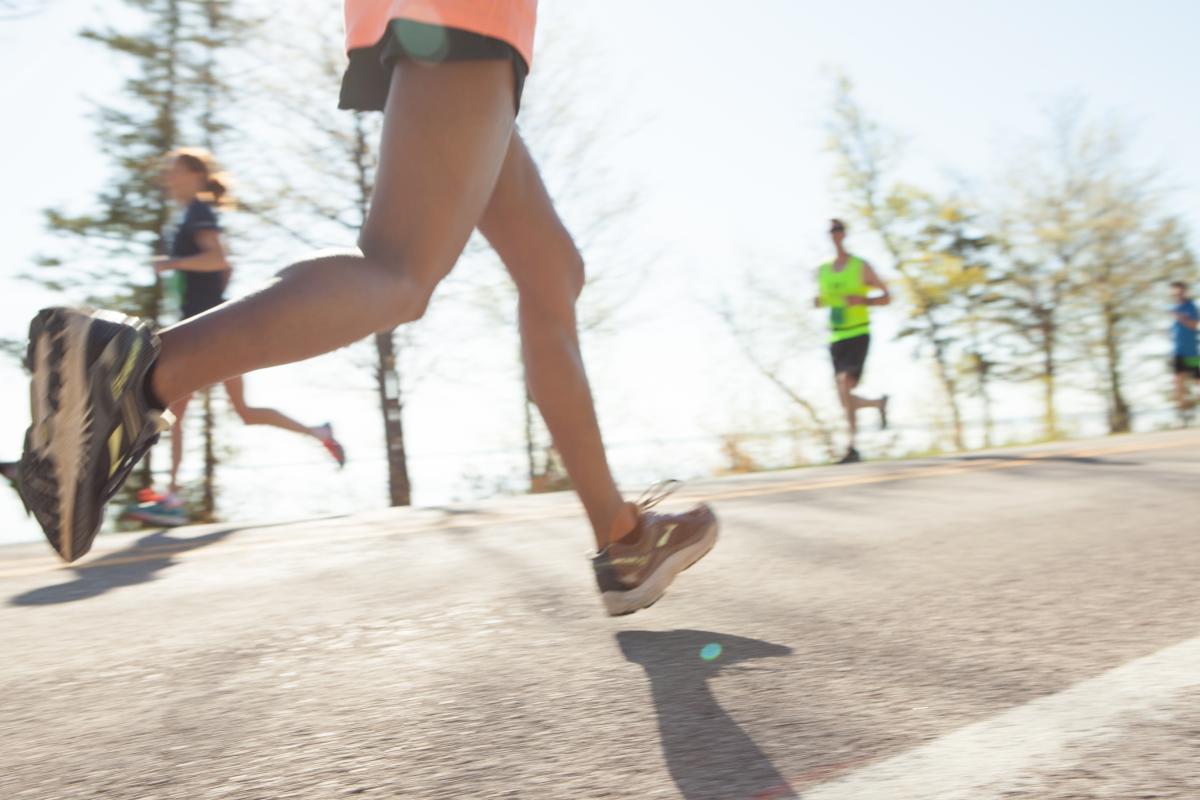 The Traverse City Trail Running Festival, set for April 24-25, 2020, offers something for everyone: the festival begins with a two-person 10K relay (each participant runs a 5K) on Friday evening, and the 10K, 25K and 50K individual races get underway on Saturday morning. The courses take you through the Pere Marquette Forest on a variety of single-track and two-track trails. I've tackled the 25K in the past--a most memorable one, given the when-will-it-end wintry conditions that year--and had such a blast. The post-race awards and cold brew are superb, as is the laid-back feel of this gathering at Timber Ridge RV and Recreation Resort. 
Always a favorite, not to mention the ideal way (in my opinion) to kick off summer is the Traverse City Track Club Bayshore races held on the Saturday of Memorial Day weekend. I've written about these here before--and at the time of this post going live, spots remain in the marathon, 10K and the Munson Healthcare Bayshore Kids Marathon (there's a waiting list for the half marathon). 
Summer
Celebrate all things cherries at The Meijer Festival of Races on Saturday, July 11, 2020. This is a summer tradition for my family, with each of us picking our favorite race distance--some years we're all running the 5K, while others find a couple of us tackling the 10K or 15K. New to this year's event: a re-naming of the perennial favorite, the 15K that is now known as the McKinley Challenge 15K. The races also include a half marathon, during which you'll enjoy views of vineyards and Grand Traverse Bay. With all race distances, the final stretch downtown is sure to energize you given the many cheering fans lining the parade/race route all the way to the finish line. And of course, there will be cherries at the end.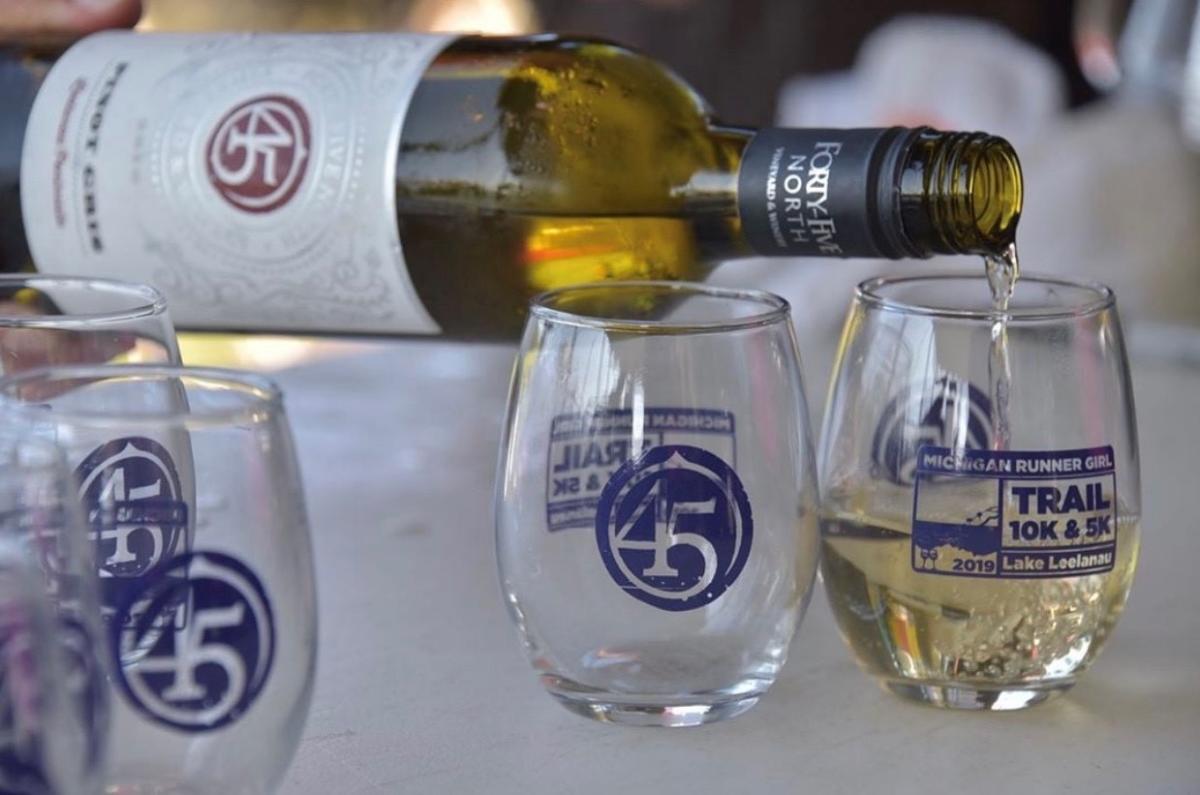 A newer event to hit the local race scene: the Michigan Runner Girl Trail 10K and 5K at 45 North Vineyard and Winery in Lake Leelanau the first weekend of August. Full disclosure: this is an event I started and hosted for the first time in 2019. This inaugural running event brought together more than 300 women and girls from all across Michigan and beyond. The challenging-yet-rewarding race, featuring wine and local food at the finish, took place on 45 North's picturesque property, on a dedicated 5K trail that's also home to bike races and is open year-round for public use. Registration opens in early 2020. 
Summer racing wrapped up with the first-ever IRONMAN 70.3 Traverse City, an event which brought more than 2,400 athletes and their families and friends to the Cherry Capital of the world on Aug. 25. For many athletes, myself included, this endurance event was the first time they'd tackled the 1.2-mile swim, 56-mile bike, and 13.1-mile run. A smattering of pro athletes also signed on for this sold-out event. This event returns for a second year on Aug. 30, 2020. While this event is sold out, spectators will tell you it's a can't-miss Traverse City event. (The athletes will appreciate your cowbell, too.) 
Fall
The Sleeping Bear Marathon, Half Marathon and 5K takes place at that run-perfect time of year: mid-fall, when the temperatures are pretty ideal and the colors are magnificent. These scenic races take place in the heart of the Sleeping Bear Dunes National Lakeshore, with all distances starting and finishing in Empire along the shores of Lake Michigan. I especially appreciate the half marathon's mixture of road and Sleeping Bear Heritage Trail's weaving path through the woods. This race typically fills before race day.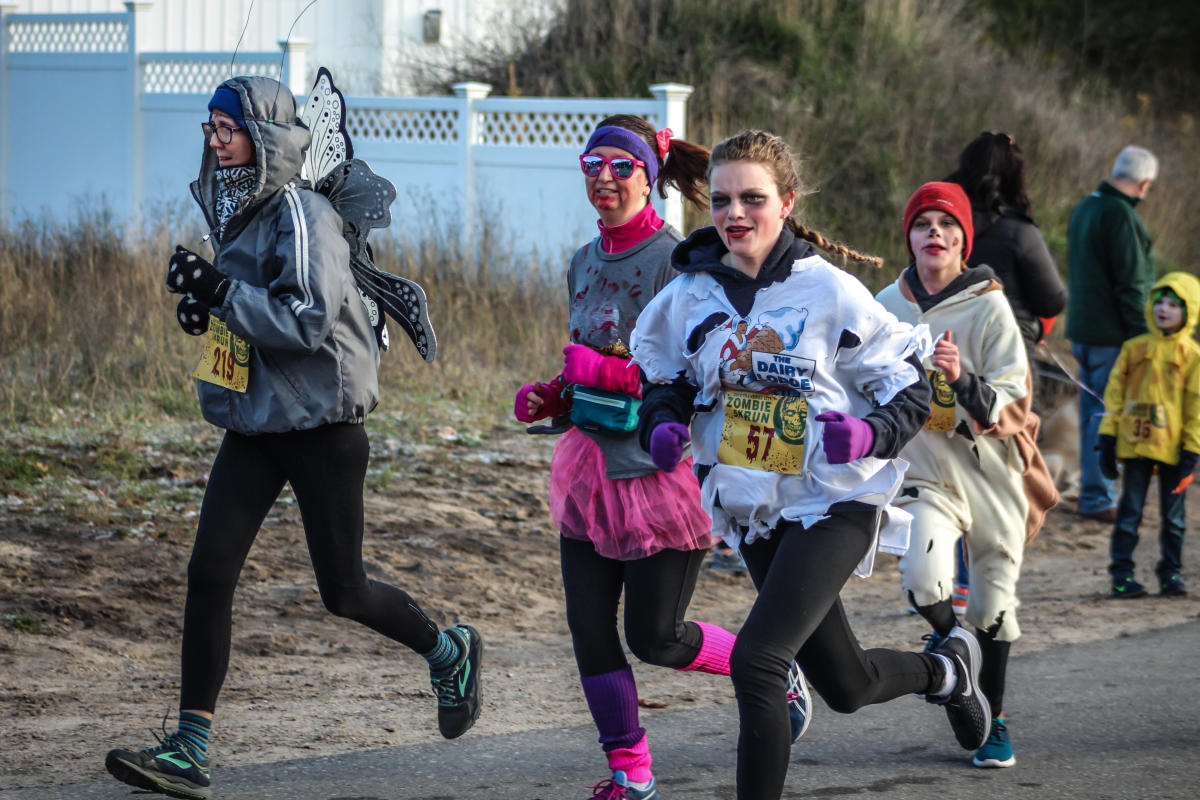 I'll end with four events that are almost always help me round out my year of local racing: the Traverse City Zombie Run in late October; the Great Beerd Run 5K in mid-November at the Grand Traverse Resort and Spa; the Traverse City Turkey Trot on Thanksgiving Day; and the Farmland 5K Run & Free for All Bike in December.
Happy New Year and happy race planning!