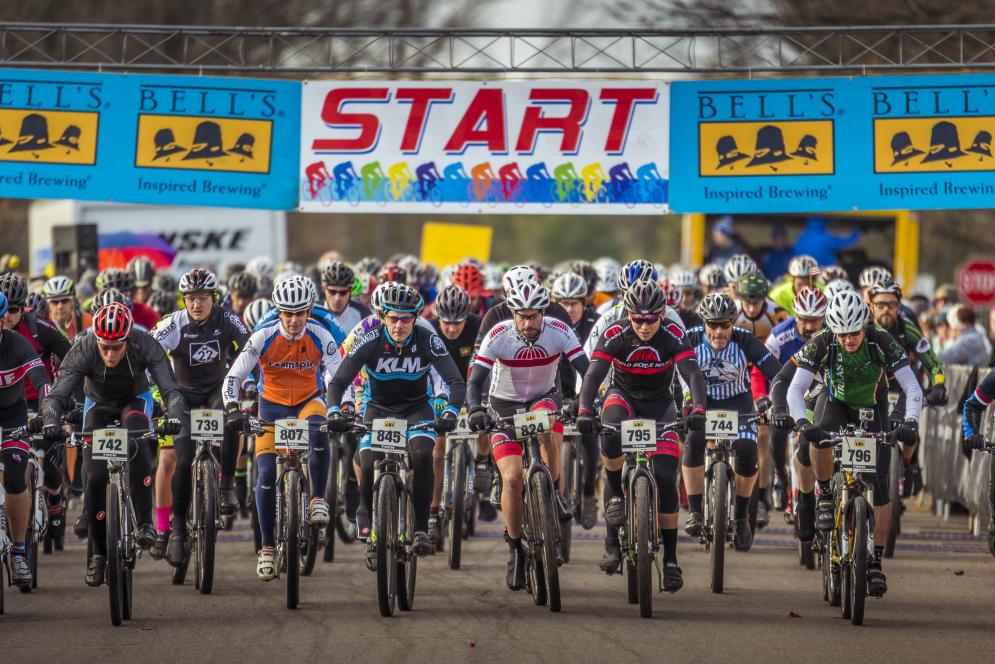 The Iceman Cometh Challenge is a mountain bike race held on the 1st Saturday of November. Over 5,000 riders from across the country and around the globe gather in Traverse City for 30 miles of fast and fun racing. Race Director Cody Sovis answer's some questions as we get close to race day! 
What is the meaning of "The Iceman Cometh?"
This race is special for a lot of reasons, but the timing of it certainly plays a big role. It is traditionally the last big race of the season and for riders joining us in northern Michigan, the weather can be literally anything. Last year, when we had to cancel due to COVID-19, it was 70 degrees and beautiful on what would have been race day. In 2019, it was frigid, snowy, and wet. The conditions create a lot of unpredictability.
How has the race evolved over the years? 
As much as the race has grown, the soul remains the same. It's still a point-to-point race with a big party at the end. Sure, there are a lot more riders than in 1990, when Steve Brown had about 25 people show up. But they're facing the same challenges and terrain. I'd like to think the reward of Bell's and a heckuva party is a bit more enticing these days.

What's new for this year's race? 
We're going left. For years, the race has gone north, or to the right, when it meets the Vasa Pathway. The change doesn't actually change too much; the difference in elevation in 2021 versus the routes in 2018 or 2017 is only about 150 feet less. But without two famous, short, and steep climbs, Anita Hill and the Boonenberg, the course 'rides' quite a bit differently and I think it presents a different challenge for racers.
What's your favorite part of this event?
As a racer, it was always coming onto Ice Breaker, the last hill as you hit the finish. The crowd was always massive and so loud you could hear them for what felt like forever before you could actually see them. Now, my favorite part of the day is the first wave taking off. There's still plenty of work to be done, but once this thing gets set in motion, it's a big relief.
What is it about this race that makes it so popular amongst athletes in the mountain biking community?
It appeals to riders because it's a challenge for everyone. The Pros and elite riders are out there going as fast as possible and they can do some incredible things on a bike. There are people who don't ride often but never miss this race. There are also some who have worked up to riding 29 miles all in one go and it's a huge achievement to finish. I know there are some people that have said that Iceman is 'easy', but if you think this is easy, you should have been going faster!