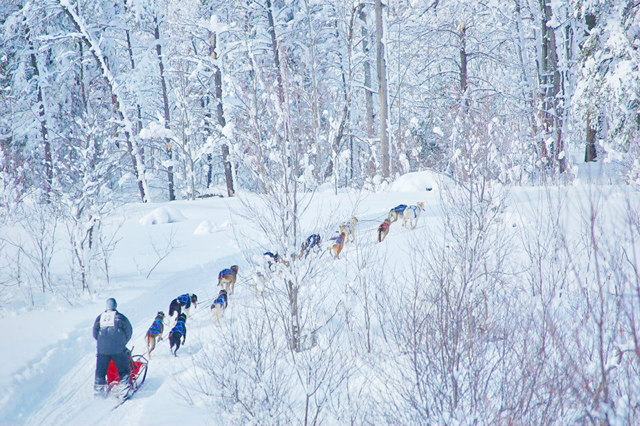 By MIKE NORTON
OK, I admit it. This weekend, after five straight hours of hand-shoveling snow out of the driveway (and trying to figure out where I was going to put it all) I almost lost my enthusiasm for winter. Almost. But I'm back in the game now, refreshed and refueled and realizing that I'm in pretty good shape for an old geezer.
And as I listen to the rising chorus of midwinter angst around me ("I don't WANT it to be winter anymore! I wish it were spring already!") I've been discovering other folks who think all this snow is actually pretty neat. The wind not so much, but definitely the snow.
Consider our neighbors to the east in the village of Kalkaska, who've spent the past year planning their annual Winterfest, which is scheduled for this weekend. Kalkaskians aren't the kind of people whose idea of a winter festival is standing around in the snow nibbling cheese and sipping wine. What they're into – in a big way -- is sled-dog racing.  First organized in 1965, their annual race brings over 4,000 visitors to town each year to watch more than 150 dogsled teams from the U.S. race through the pines and oaks of the Pere Marquette State Forest.
Except that last year they had to cancel the race for lack of snow. As I remember, it was a heartbreaker for many of the racers, some of whom had driven hundreds of miles with their sleds and dogs and were facing the prospect of a long return home. Things are VERY different this time around.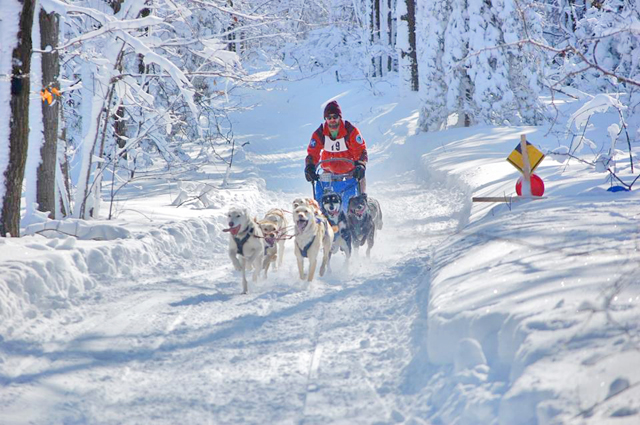 In fact, this year's Winterfest will include the inaugural running of the Midwest American Championships, featuring competitors from Michigan, Wisconsin and Minnesota in three days of racing for a combined purse of $10,000. There'll be races from 1.6 miles up to 8.5 miles, depending on the size of the team (they're as few as two and as many as 10) as well races a 4.8-mile "skijoring" event in which harnessed dogs pull racing skiers around the trail. The races begin at 9 a.m. Friday and continue for the rest of the weekend.
Another great dog event at Winterfest (which wasn't cancelled last year) is the annual weight pull contest, a sanctioned competition where dogs compete individually to see how far they can pull weighted sleds. Over 80 dogs will be participating in their year's weight pull at  11 a.m. Saturday and 10:30 a.m. Sunday. In addition, there'll be breakfasts, lunches, a craft show and the annual Saturday afternoon Outhouse Races (which have to be seen to be believed) and sled dog rides for $5 per passenger.
Another winter competition whose organizers are relieved by all the new snow is the White Pine Stampede cross-country ski race in Mancelona, which had to be canceled in 2012 for lack of snow. This year's Stampede, scheduled for Saturday, should have plenty of good white surface for the long-awaited resurrection of their original 50-kilometer race.
So will the Runaway Hen Snowshoe Scamper at Brengman Brothers Crain Hill Vineyards in Leelanau County – a fun, family-friendly event where a participants get to negotiate a 2K or 5K run (or walk) through the 45-acre vineyards, followed by wine and hot beverages in the tasting room.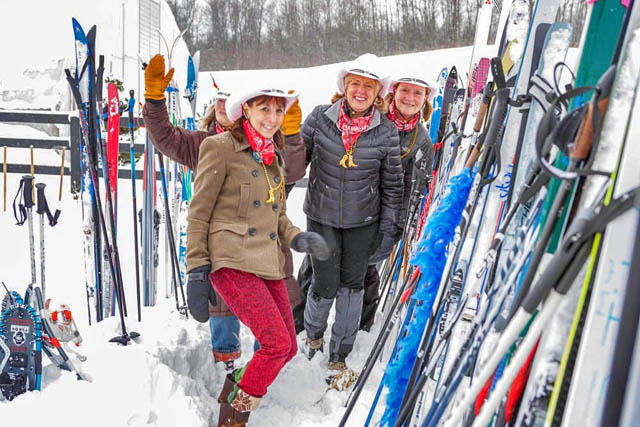 Similar fun should be on tap Sunday during the Women's Winter Tour, which returned to Traverse City last year after a brief out-of-town exile. The women's tour – billed as a celebration of "women, wine and chocolate" -- is a non-competitive day of outdoor enjoyment along the Leelanau Trail around Black Star Farms on skis or snowshoes. Men are allowed to help out -- by passing out food and wine, for instance – but not to get in the way of the womenfolk.
Hopefully, I'll have the rest of the driveway finished by then….