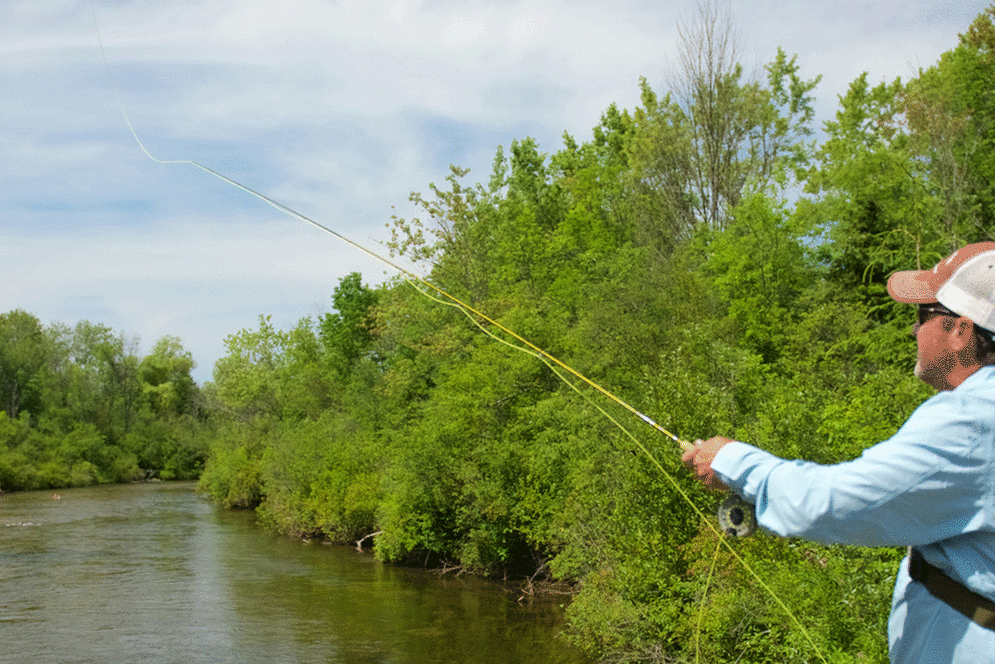 Walking south on Union Street last week, I saw several guys fly-fishing in Hannah Park, casting their lines patiently into the swirling Boardman River, right here in downtown TC.
And not without good cause. On the same walk, I wandered past the newly-restored west branch of Kid's Creek that Munson Medical Center rerouted last fall (if you haven't visited this beautiful little park by the hospital, you really should) and saw two monster trout wrestling their way upstream.
For years, veteran fly-fishing enthusiasts have kept the storied streams, lakes and deep waters of the Traverse Bay area to themselves, letting the rest of the world forget that northern Michigan – haunt of the young Ernest Hemingway and birthplace of the fabled Adams Fly -- was once famed as an angler's mecca.
But a few years ago the spotlight returned to Traverse City. First, Field & Stream listed Traverse City as the third best fishing town in the U.S. and Fly Rod & Reel listed it as one of its "12 Top Fly-Fishing Retirement Towns." Together with such spots as Key West, Durango and Park City, FR&R editor Jim Reilly chose Traverse City as one of a dozen "finest places for living out the dream."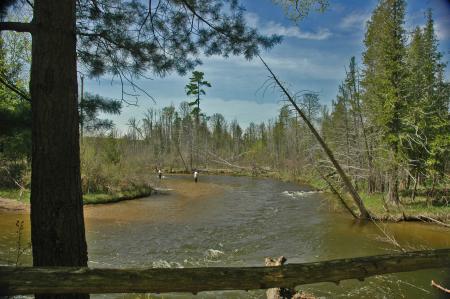 "Northwest Michigan may not have the "best" of a single type of fishing," Reilly wrote, "but from steelhead to salmon, and smallmouth to pike they have a bit of everything, and Traverse City is located right in the heart of it. An angler would have to be pretty jaded to get bored up here with the Manistee, the Pere Marquette and the legendary Au Sable rivers all situated nearby (and don't forget the nearly endless possibilities of Lake Michigan)."
Reilly's source: local outfitter and guide Chuck Hawkins, who came to northern Michigan from Los Angeles 16 years ago after looking at better-known places like Jackson, Wyoming.
"The fishing, is incredible," he says. "'I don't know how to describe it. We have, arguably, the best fly-fishing in the United States.'"
It's no slouch in the world of bass fishing, either. Down in the Deep South, it's no secret that they pride themselves on their bass fishery, but Don Wirth of Bassmaster heads up from Nashville every summer to do a little fishing in Traverse City for his popular "Day on the Lake" column.
Don has fished all of America's premier bass venues and calls Traverse City the best place in the U.S. right now to catch a trophy smallmouth bass.
"Compared to most trophy fishing destinations, the waters near Traverse City receive relatively light bass fishing pressure, and the sheer number of big fish that populate the area's lakes staggers the imagination," he says. "Unlike other Great Lakes smallmouth venues that may be unfishable on windy days, Traverse City has an enormous number of nearby waters to choose from, so you can always find a great place close by to wet your line regardless of weather conditions."
Grand Traverse Bay and the inland lakes near Traverse City are the favorite smallmouth waters of Kevin VanDam, who's regarded as the best competitive bass fisherman on the planet. Legendary bass angler Hank Parker, host of the popular TV show Hank Parker's Outdoor Magazine on the Versus network, filmed two shows here -- one on the Bay, the other at a nearby inland lake.
"The fishing was beyond my wildest expectations," Parker said. "Not only did we boat dozens of big smallmouth bass -- I personally caught the biggest smallmouth of my fishing career, a whopper that topped seven pounds. I could actually see the fish hit my lure in the crystal-clear water, an experience I'll never forget!"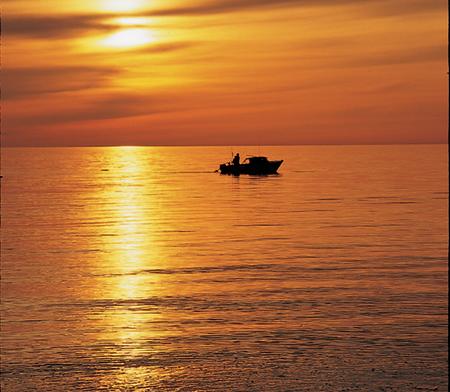 Local bass guide Capt. Chris Noffsinger, who has garnered a national reputation in the fishing media for putting his clients on big bass, said the bass fishing in Traverse City is "awesome" from the last Sunday in April, when Michigan's catch and release season opens, through late fall.
"It's also exciting to explore the area's countless small inland lakes in a kayak or canoe," he added. "Most of the bass in these pristine waters have never seen a lure."
For really big fish, of course, anglers head to Traverse City for lake trout, brown trout, steelhead and salmon in Grand Traverse Bay.
The secret here is that although the Bay's rich waters are deep -- 600 feet in some spots -- they're close to shore and protected by land on three sides. That means boats can get to the fishing grounds within minutes, and are usually immune from the heavy seas that can make fishing the open waters of Lake Michigan an uncomfortable experience when the wind is up.
Michigan fishing licenses are available online. And since Traverse City boasts over 80 hotels and resorts, it's easy to find comfortable and affordable lodging with ample parking room for your trailered boat. There are plenty of boat launches close to town, so you can get in and out of the water without too much fuss.