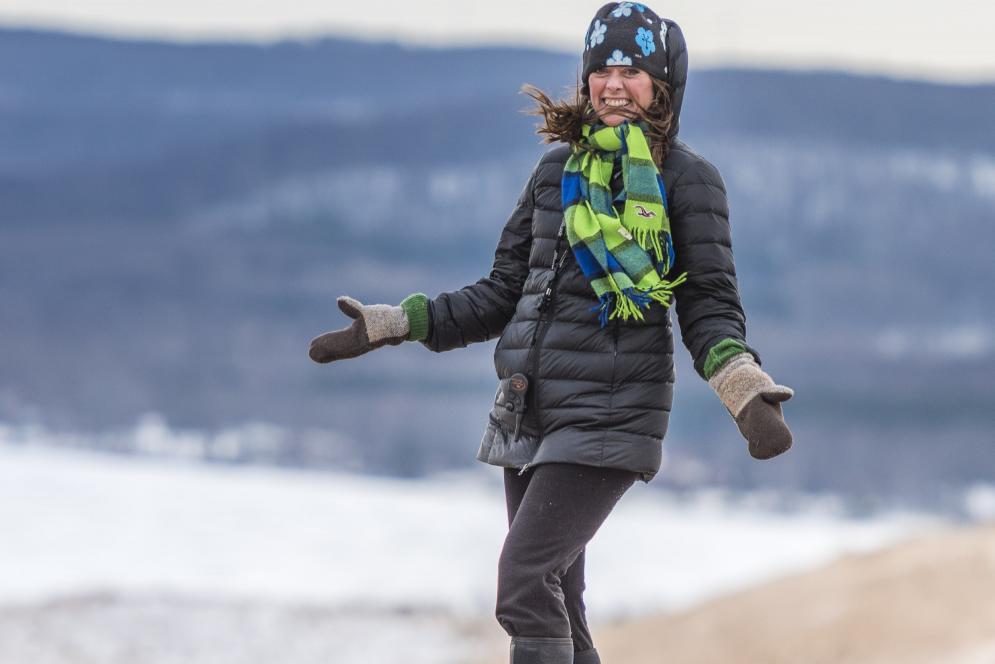 Each summer, millions of visitors throng to the Sleeping Bear Dunes National Lakeshore to prowl its miles of sandy beaches, climb its towering 400-foot dunes and swim in the jewel-bright waters of Lake Michigan.
Far fewer travelers think to visit the dunes in winter, but those who make the effort find it uniquely rewarding. For winter enthusiasts, in fact, Sleeping Bear's glacier-scoured landscape of ridges, bluffs, lakes, and islands are even more appealing clothed in snow: a wild and primeval setting for cross-country skiers, snowshoers and anglers.
In winter, there are large stretches of the park that you can have pretty much to yourself. There's lots of wildlife and lots of good views. You can see the "backbone of the land" -- the marks of those ancient glaciers -- this time of year.
Although it's barely 20 minutes west of Traverse City, the park operates at an undeniably slower pace in winter. There are few rangers in evidence, and some roads (including the popular Pierce Stocking Scenic Drive) are closed to traffic because they can't be reliably kept clear of blowing snow and sand. Still, because of its linear layout, most corners of Sleeping Bear are within a few miles of the highway. And many attractions and amenities remain open all year round -- including the Philip A. Hart Visitor Center in Empire, where rangers and interpreters can give you a quick rundown on what's happening.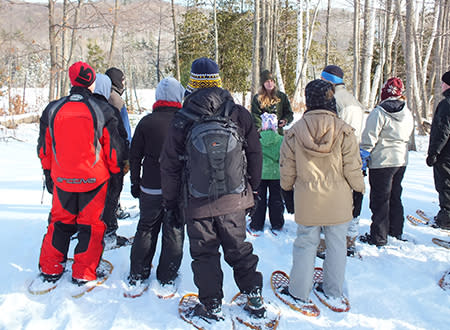 The visitor center also has a small museum, bookstore and auditorium, and is open in the winter from 8:30 a.m. to 4 p.m. It's also the place where you can join one of the park's most enjoyable winter group activities: guided snowshoe hikes. On Saturdays in January and February, park rangers lead groups in leisurely trips to some of Sleeping Bear's most interesting winter features. They even provide free snowshoes for those who don't have their own, though snowshoes and spaces are limited, so call ahead for reservations at 231-326-4700 ext 5010.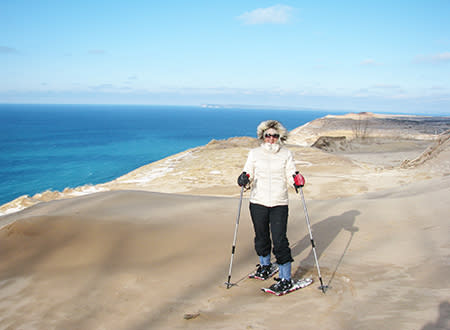 But the best part about using snowshoes at Sleeping Bear is that you're free to leave the trail system pretty much whenever you want. Since the park's soils and vegetation are delicate and easily harmed, rangers are fairly strict with hikers during most of the year -- but in winter the rules are much more relaxed, and snowshoeing is allowed on all snow-covered dunes, fields, and forests. They still recommend that you use one of the established trails -- but be sure to walk beside, not over, the ski tracks. Otherwise, you'll ruin them. 
Cross-country skiing is probably the most popular winter sport in the Lakeshore, and the park has designated several trails for Nordic skiers, from relatively flat routes like Platte Plains, Windy Moraine, Good Harbor Bay and Bay View to challenging routes like the Old Indian and Alligator Hill trails. The Sleeping Bear Heritage Trail between Empire and Port Oneida is even groomed for both skate and classic skiing styles. And although the Pierce Stocking Scenic Drive is closed to auto traffic for the winter, it's open to skiers and snowshoers alike during the winter. On some days, in fact, it's quite a busy route.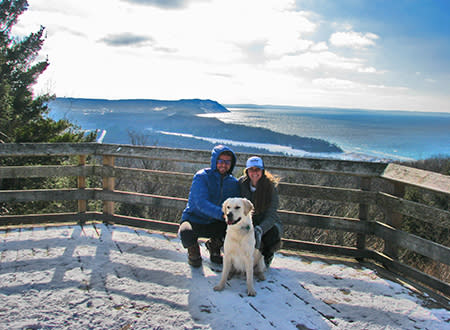 Unlike some parks, Sleeping Bear does not permit snowmobiles on land or on the surface of its frozen lakes. But ice fishing on those lakes is allowed (subject to state fishing rules) and many anglers find winter the most rewarding time of year to visit the Lakeshore. Fish aren't the only wildlife that's stirring in the park in winter, either -- deer, coyote, fox, porcupines and otters are active and can sometimes be spotted more easily than in summer.
That's also true, strangely, of shipwrecks. Between 1835 and 1960 more than 50 ships sank offshore in the narrow strait known as the Manitou Passage; thanks to strong winds, many pieces of those long-ago wrecks wash ashore during the winter. Many beachcombers look for relics along what's called the Shipwreck Trail, between the ghost port of Glen Haven and the shore south of Sleeping Bear Point.
An even more thrilling winter experience can be sampled at the famous Dune Climb near Glen Haven, where the Park Service allows sledding on the 260-foot face of the dune. It's the only dune where such activities are allowed. (But bring your second-best sled -- the combination of snow and windblown sand can be pretty gritty!)