By MIKE NORTON
This is the way winter is supposed to look. Snowy!
I'm looking out my window today at a wide expense of white that leads out past the marina breakwall to the slate-blue water of Grand Traverse Bay. Behind me, leaning against the office wall, is my bicycle -- which I wasn't smart enough to ride back home while the weather was still dry.
If I had a Fat Bike, now….
I'm seeing Fat Bikes everywhere these days, zipping along on the street and through the woods at all time of the year – but especially in winter. These specially-adapted mountain bikes, with large tires capable of cycling on snow and sand -- have become a normal part of the local winter landscape. In this bicycle-obsessed town, where our winters are long and our bike trails are even longer, they're turning cycling into a four-season sport.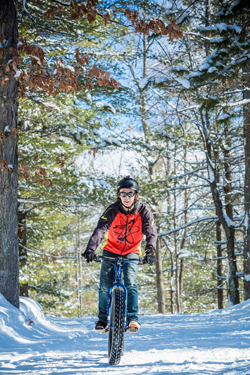 Named for their oversized tires, which come in widths of 3.7 or 4.5 inches, Fat Bikes were developed in Alaska only a few years ago and  have spread rapidly to the rest of the nation. Industry analysts expect Fat Bike ownership to double in the next year from 10,000 to 20,000. Warm-weather cyclists find them useful for riding on sandy beaches and desert trails, but their clearest advantage is on snow.
It makes sense that the interest has been particularly intense in this neck of the woods. Traverse City is a favorite year-round destination for outdoor sports enthusiasts of all kinds. Given the opportunity to add cycling to their repertoire of winter sports, they've wasted no time embracing the Fat Bike phenomenon. Check out this video to see what the fun's all about:
"Fat Biking is the answer for a lot of people that don't currently have a winter sport or are looking to try a new one," says Jason Lowetz, co-owner of Einstein Cycles, one of the area's biggest Fat Bike dealers. "There's no learning curve.  You just get a bike and ride and have fun."
Fat Bikers tend to be a sociable group, too. Lowetz's shop sponsors weekly group rides for Fat Bikers that draw anywhere from 20 to 30 people, and there's a popular winter ride/potluck event called Friday Night Lights where cyclists ride together in the dark forest south of town and get together afterward for food.
Fat Bikers have already made some major ripples in Traverse City's cycle racing community. In 2013 they created the Northern Michigan Fat Bike Series – four winter races held in different parts of the region – and since 2013 Fat Bikes have been included in Traverse City's prestigious Iceman Cometh Challenge (the largest point-to-point race in the US).
In 2014 the venerable North American Vasa Festival of Races, usually reserved for cross-country skiers, hosted a Fat Bike race, the King Vasa, on the popular Vasa Pathway in the Pere Marquette State Forest. It was so successful that the 2015 race  (Feb. 14)  will feature two King Vasa events, a 12K race and a 35K race.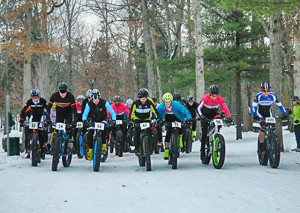 Relations between skiers and Fat Bikers are not without occasional conflicts (in warm slushy conditions the cycles can damage groomed trails) but in Traverse City the two groups are trying to find ways to coexist peacefully. A big step forward has already been taken, with creation of a new dedicated 15K multi-use trail near Supply Road in the Vasa system.
One Fat Bike-friendly spot on the Vasa Pathway is the Timber Ridge RV Resort, which offers bike rentals and special Fat Bike passes for its own lighted trail system. And Shanty Creek Resorts near Bellaire has just created its own 5K multi-use trail, too. But winter cyclists can be found on many other trails in the Traverse City area – from the steep but well-packed hills of the Grand Traverse Commons to the 15-mile Leelanau Trail between Traverse City and the nearby village of Suttons Bay.
The bikes don't come cheap – a steel or aluminum-frame model will run $1,600 to $3,300 and a titanium/carbon model ranges $3,300 to $5,500 – but they're easy to rent in the Traverse City Area. Einstein Cycles offers Fat Bikes for $25 for two hours, $45 for four hours or $60 for six hours, Brick Wheels rents them out for $35 per half-day or $60 a day, Suttons Bay Bikes offers rentals for $50 per day, and Sleeping Bear Surf & Kayak in Empire rents them at just $10 for two hours or $40 per day.
"Anyone who can ride a bike can ride a Fat Bike," says Lowetz. "We're still out riding every chance we get and it's never a 'weather pending' type of ride.  We ride in all types of weather and have an absolute blast doing it."