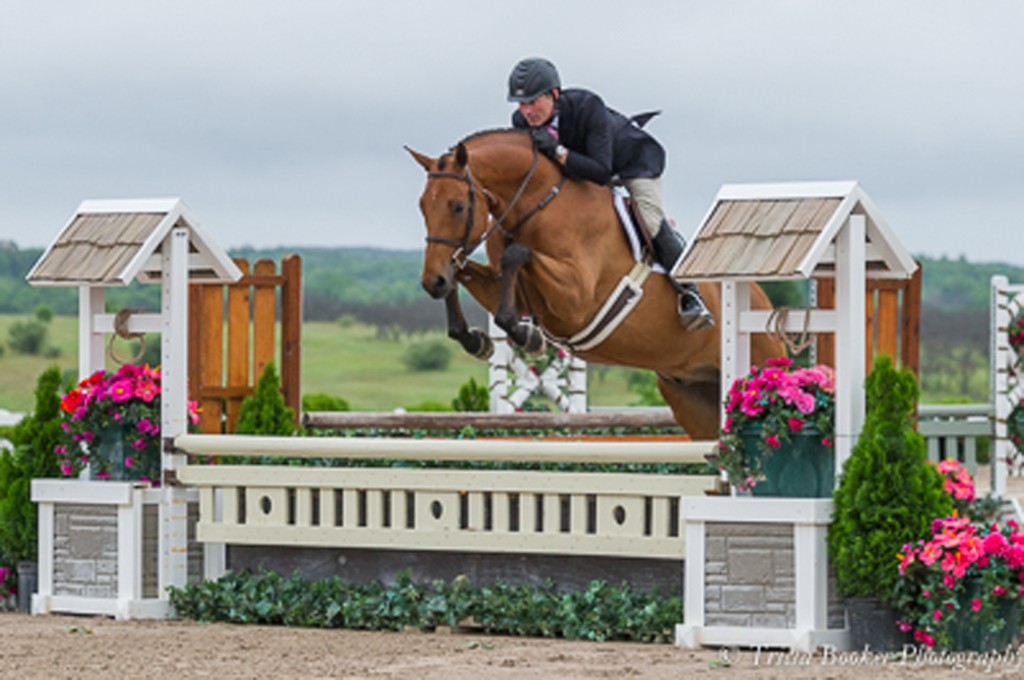 One of Traverse City's greatest summer festivals doesn't get a lot of the attention it deserves. It's Horse Shows by the Bay, our month-long "equestrian festival" out at Flintfields Horse Park in Williamsburg, which started on Wednesday. Not only is it a really spectacular event for horse lovers -- it also donates a lot to local and national charities. We asked guest blogger Tricia Booker of Cameron Green Media to explain:
While the Horse Shows by the Bay Equestrian Festival draws some of the country's top horses and provides a major economic boost to the Traverse City summer economy, the show's impact doesn't stop there. Last year, the four-week Hunter/Jumper series hosted a record 1,355 competing horses from 32 states and Canada, and the direct local economic impact during the month of July exceeded $15 million.
Over the past decade, Horse Shows by the Bay has donated more than $100,000 to local and equestrian-related charities, and this year horse show owner and manager Alex Rheinheimer hopes to meet or exceed the $15,000 presented to last year's charities.
"Our goal is to create awareness for these amazing charities amongst this wonderful assembly of people that are here for a month," said Rheinheimer.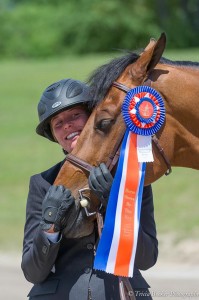 This year, the 11th annual Horse Shows by the Bay Equestrian Festival will feature the popular Team Elmer's Kid's Day, on July 5. Children will be admitted free, adult admission is $10, and the day's gate proceeds will benefit the Grand Traverse and Leelanau 4-H Program.
"We've been working with the local 4-H groups since 2005, and we really enjoy helping young people explore their interests in horses, livestock and agriculture," said Rheinheimer. "We hope their time here is educational and inspirational."
In addition to the competitive equestrian events scheduled, there will be games and activities, such as Clear Round Ribbon Jumping, the Team Elmer's Super Sandbox "Find the Petoskey Stones" Station, Face Painting and Pony Rides from 10 a.m. - 2 p.m.  Betsy VanDyke will also be on-hand to perform a special dressage ride to music.
Danny & Ron's Rescue, an organization dedicated to saving and helping dogs in need, will be the featured charity during the second week of the Horse Shows by the Bay Hunter/Jumper series.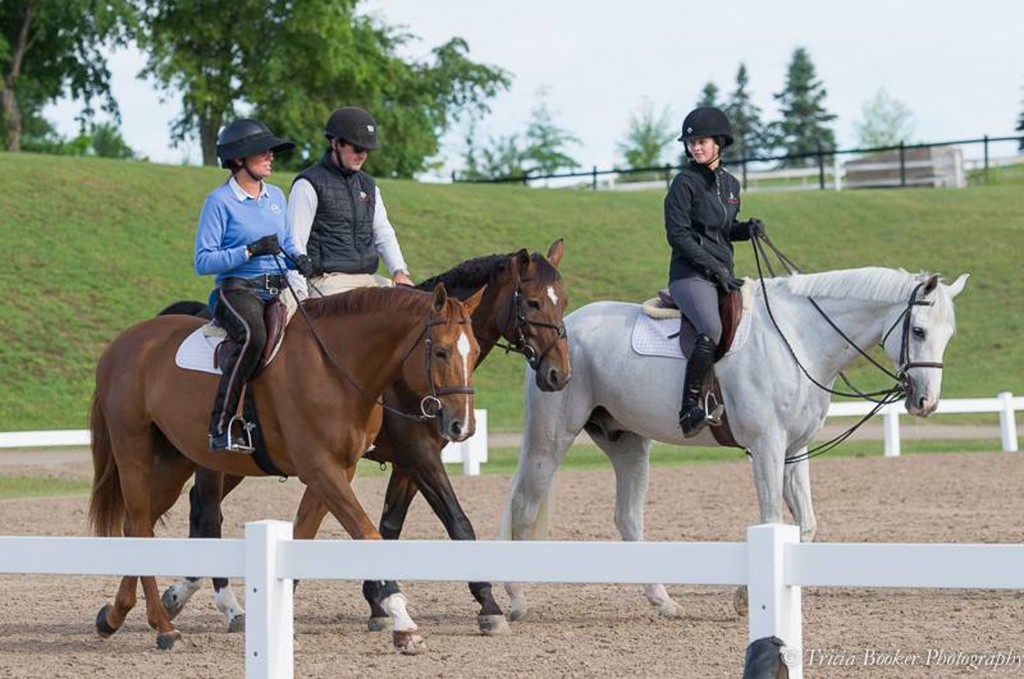 Saturday, July 12 will be "Rescue Day" and will feature the $10,000 SJHOF High Junior/Amateur-Owner Jumper Classic, sponsored by Missy and Doug Smith. The Smiths, who like to sponsor fundraisers nation-wide for Danny and Ron's Rescue and who also have rescued many dogs from Danny and Ron, hope the Saturday showcase event draws a large crowd as gate proceeds will be donated to further help Danny and Ron's coast-to-coast mission to save dogs in need.
"Danny and I are so impressed with Horse Shows by the Bay, and we're thrilled to be associated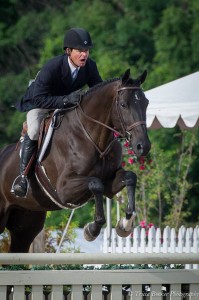 with such an outstanding event," said Ron Danta, co-founder of Danny & Ron's Rescue. "We hope that after their Rescue Day experience, spectators will be encouraged to visit their own local shelter and adopt a dog in need of a loving home."  Since Hurricane Katrina swept the Gulf Coast over 8000 dogs have been rescued, saved, and adopted by this organization based out of Camden, SC.
Child and Family Services of Northwestern Michigan will benefit from the WTCM FM Radio Family Day, Saturday, July 19. Radio personalities will be broadcasting live onsite from 10 a.m. to noon. The adult admission fee is $10, and children are admitted free.
Child and Family Services of Northwestern Michigan began life as a branch of the Michigan Children's Aid Society in the 1890s. The purpose was "to accept homeless, neglected, and destitute children," and "to find homes for them." Today, their programs and services include adoption, counseling, foster care, pregnancy and birth counseling, safe haven, and foster care, among many others.
Family Day activities include light kid-friendly entertainment in the Farm House Orchard from 10 a.m. to 2 p.m. and also includes admission to that day's feature Show Jumping event in the Grand Prix Arena and to the Betsy VanDyke Dressage demonstration.
"Child and Family Services/Third Level is pleased and honored to partner with Horse Shows by the Bay.  We are northern Michigan's premier provider of foster care, adoption, counseling, crisis, youth outreach, and family preservation programs, so this year's Family Day feels like a perfect fit," commented CEO Jim Scherrer.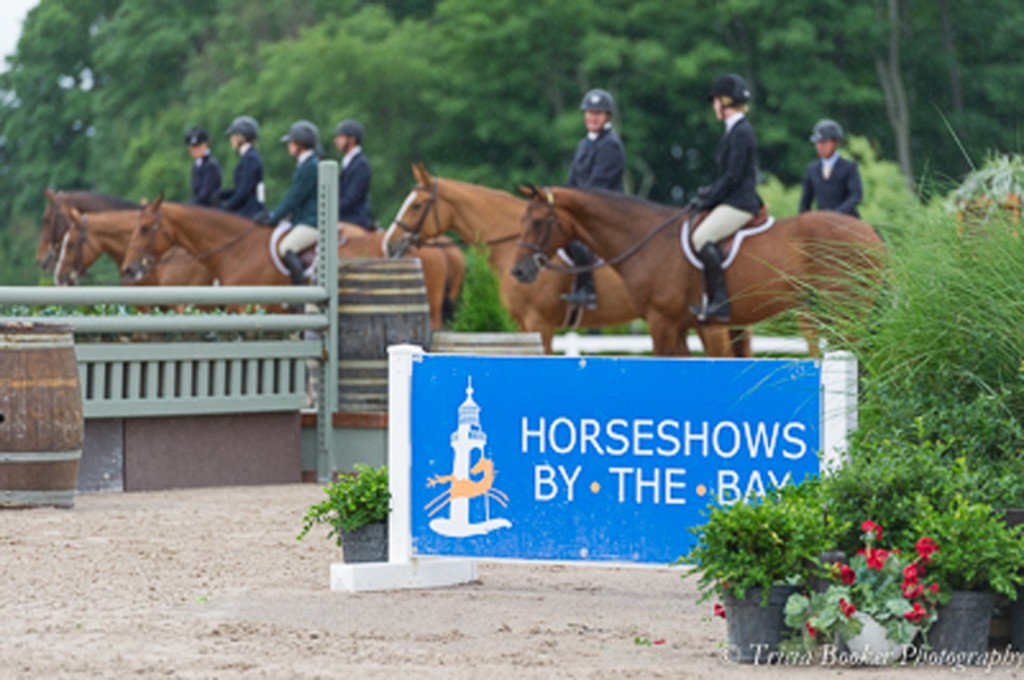 "We know firsthand how therapeutic contact with horses can be for people of all ages that have experienced trauma, such as our clients have," he continued. "We look forward to being part of a great 11th year of Horse Shows by the Bay."
The popular "Red, White and Blue" Day will be held on Saturday, July 26 to celebrate the United States military and its veterans. All past and present members of the military are admitted free, and Reining Liberty Ranch, of Traverse City, will receive the gate proceeds from the additional spectators attending.
"I'm especially excited about our partnership with Reining Liberty Ranch, since we know how therapeutic even just being around horses can be. Reining Liberty Ranch seem to really understand the importance of the equine-human relationship," said Rheinheimer.
"This is a new organization that works with wounded veterans, and their work with horses serves as a physical and emotional therapy," continued Rheinheimer. "They use the ranch to give them a place and opportunity to heal. We hope members of the military will also find our finale Grand Prix exciting, and we hope they'll join us at the horse show on this day so we can celebrate their service to our country."
Reining Liberty Ranch's mission is to promote the physical, relational and emotional health of primarily veterans and their families through the use of equine, agricultural, and educational services as well as community outreach efforts.
"Reining Liberty Ranch is privileged to partner with Horse Shows by the Bay in honoring our veterans on Red, White and Blue Day.  We're moved by their commitment to creating the awareness necessary in serving those who have served us so well!" remarked Director Becki Bigelow.
Their programs are centered around the horse-human relationship, such as Natural Horsemanship, therapeutic riding, hippotherapy, equine facilitated learning and other agricultural activities. Through these activities, participants connect with others facing similar challenges, and the ranch becomes the catalyst of healing through building relationships, mentorship opportunities, and reintegration and interaction within our community.
Opening day on Wednesday July 2 will feature action in all five rings, with the Grand Prix Ring and the R.L. Polk Family Main Hunter Ring streaming live thanks to Horse Shows by the Bay's streaming partners, HRTV and ShowNet, LLC. They're bringing the action right to your screen every day, beginning at 8 a.m. Go to www.horseshowsbythebay.com and click on "Watch It Live."
Horse Shows by the Bay Fast Facts
Horse Shows by the Bay is a United States Equestrian Federation (USEF) Premier (AA) Hunter and Level 4 Jumper competition.
Dates:
Series I: July 2-6
Series II: July 9-13 (USHJA/WCHR Member Event)
Series III: July 16-20 ($25,000 USHJA International Hunter Derby)
Series IV: July 23-27 (HJAM Equitation Medal Finals)
Featured Events:
Weekly $40,000 Grand Prix
Weekly $10,000 Open Jumper Welcome Prix
Weekly $2,500 USHJA National Hunter Derby
Weekly $1,000 USHJA Pre-Green Incentive Program Stake Classes
Weekly TAKE2 Thoroughbred Hunter/Jumper Classes
Weekly Charity Fundraisers & Special Spectator Days
Featured events for Horse Shows by the Bay Series I - July 2-6:
TAKE2 TB Hunter and Jumper Classes - Wednesday, July 2
$1,000 USHJA Pre-Green Incentive Stake Class, sponsored by PJP Farm, Inc - Thursday, July 3
$2,500 1.40m Jumper Speed Stake, sponsored by Mr. and Mrs. Bertram R. Firestone - Thursday, July 3
$10,000 Positive Step Farm Open Jumper Welcome Prix - Friday, July 4
$10,000 SJHOF High Jr/AO Jumper Prix - Saturday, July 5
$2,500 USHJA National Hunter Derby, presented by Walgreens - Sunday, July 6
$2,500 NAL/WIHS Children's Jumper Classic - Sunday, July 6
$2,500 NAL/WIHS Adult Jumper Classic - Sunday, July 6
$7,500 NAL Low Junior/Amateur-Owner Jumper Classic - Sunday, July 6
$40,000 Grand Prix of Traverse City - Sunday, July 6
Special Exhibitor functions during Series I include: Equestrian Connect Tuesday Check-in Coffee Station; the Coldwell Banker Schmidt Wine & Cheese Social featuring local winery Black Star Farm on Thursday, a weekend ice cream social sponsored by the Gochman Family, and the Morgan Stanley VIP/Sponsor Luncheon on Sunday during the Grand Prix.
Contact Information:
Alex Rheinheimer, Show Owner/Manager (561) 723-6287
Julie Agar, Show Office/Entries (248) 892-6806
Ben Fairclough, Feed/Stabling (231) 267-3700
MSU College of Vet Medicine, Show Veterinarian (517) 214-9369
Tricia Booker, Media Relations (703) 431-7103
Keep in touch by following the official Horse Shows by the Bay Facebook page for daily updates and photos. For more information, schedules, directions, or to Watch It Live, please visit 
www.horseshowsbythebay.com.