In our
blog post last week
we introduced you to one of the area's unique shopping districts, Downtown Traverse City. When it comes to holiday shopping, the mix of boutiques, specialty shops, restaurants and more make it a destination entirely in itself.  But now we're here to help you tackle your shopping and give you suggestions on where exactly you should be going for those certain people on your list. First up: foodies, Traverse City's biggest fans and all of the outdoorsy gurus.
FOODIES
Who are they? The people that are in the know on everything culinary and are constantly experimenting with new recipes and ingredients. Why? Simply put, because they love food.
You can't go wrong by giving people specialty cherry products (since Traverse City is the cherry capital after all) and Cherry Republic has it all.  Jams, salsas, chocolates, chips, cookies, and even wine - they'll even put everything together in a gift box for you!
If you know someone who loves to experiment with new dishes and ingredients, make sure to check out Spice Merchants. Exotic sea salts, bulk spices, teas, colorful rice and more offer a great mix for a culinary gift set that is sure to give inspiration to any chef.
Every culinary master needs to right tools and that's where Peppercorn can help you out. They have everything a kitchen could need: cutting boards (some even shaped like Michigan!), towels, cookie cutters, serving dishes, and all sorts of locally made goodies too (peanut butters, coffee and even dog treats to name a few!)
TRAVERSE CITY'S BIGGEST FANS
If there's one thing you may have noticed (either by traveling here or by living here) it's that people who come to know about Traverse City (and Michigan!) have a great sense of pride for the area - and what better way to show that pride off than with some snazzy apparel and products.  It's a trend that has taken off in recent years and Traverse City has no shortage of creative designs on quality products, but all of them have their own twist.
High Five Threads is all about Michigan pride. They showcase a variety of messages (i.e. "Brewed In Michigan", "Grown in Michigan", etc.) on everything from shirts to tote bags to stickers to wine glasses.
The M22 Store is the place to go to find t-shirts, hoodies, stickers, magnets and more for both of their brands: M22 (resonating with anyone who has ever ventured out to the Leelanau Peninsula) and Love Michigan (taking that proud feeling to a statewide level).
Love Traverse City (LoveTC) showcases their namesake brands, in addition to their 45° North brand by utilizing the area's specific geographic distinctions (the Leelanau and Old Mission peninsulas and West and East Grand Traverse Bays) into all of their designs.
OUTDOORSY GURUS
 We all know those people who are staying active and seem to always be playing around outside. So where do you head to find something for them?
For the avid cyclist (or the person who just likes to cruise around town or head down the TART Trails) the City Bike Shop has everything they'll want - and need - from safety basics to flashy add-ons (think baskets, bells, decals, etc.).
What about those who would rather spend their time on the water? When it comes to fly-fishing (fun fact: Field & Stream Magazine named Traverse City as one of The Best Fishing Towns in America) stop in at The Northern Angler and they'll get you taken care of. From fly rods, to reels, to apparel and even guided trips, their knowledge and expertise will get you casting in the right direction.
Need something for that water-sports guru? Head over to Wet Mitten Surf Shop, where you'll find everything you need when it comes to board sports: SUP (stand up paddle board), kite-boarding, and surfing (yes - you can surf in Michigan!).
Downtown Traverse City
website!
Next up on Thursday we'll suggest places to go for him, her, the kids, and those sometimes difficult gift recipients (i.e. bosses, teachers, in-laws, etc.) Until then - Happy Shopping!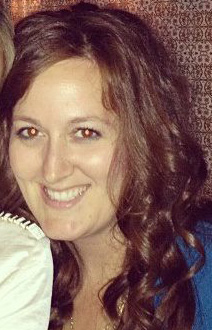 Who am I? My name is Rebecca and I'm a proud Traverse City native who might possibly suffer from OCD (Obsessive Christmas Disorder). I get overly excited to decorate with lights and garland and I may or may not be the person who starts listening to carols entirely too early. Happy Holidays!