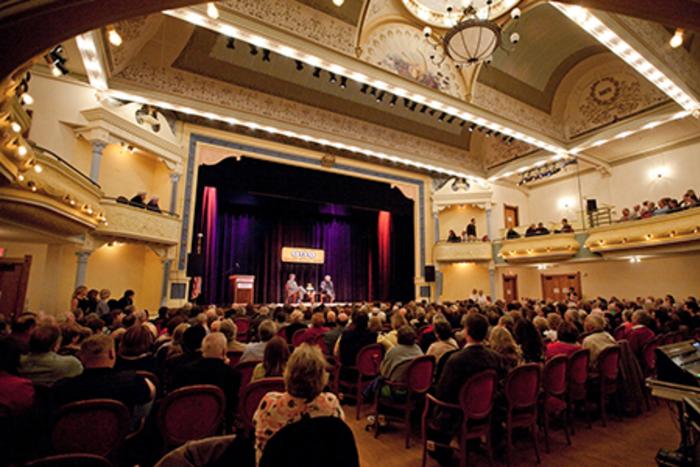 Many of Traverse City's most interesting structures are not only open to the public, but are places where you can have a nice dinner, do some shopping, relax over cocktails or enjoy a concert or a movie. The city's roots don't go very far back -- a mere 165 years -- and our modest beginnings mean that we don't have a huge number of grand historic buildings. (Not to mention that the early ones were made of wood and had an alarming tendency to burn down.) But maybe that's why we treasure the ones we have!
Here's a brief (but not exhaustive) list of some of the city's interesting historic buildings and what you can do there: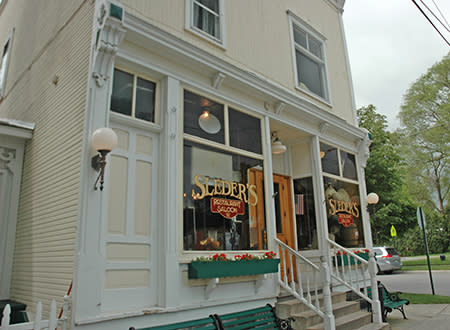 Sleders' Family Tavern (1882) -- still Sleder's Family Tavern
A century and a half ago, Traverse City's West Bay waterfront wasn't for beachcombers; it was a loud, smoky collection of sawmills, docks, stables and warehouses, and nearby were the homes of the people who labored in those places -- many of them Bohemians from what's now the Czech Republic. Today, this neighborhood is known as "Slabtown," because many of the homes were built with slabs of scrap wood salvaged from the mills.
The best place to sample Slabtown's charm is at Sleder's Family Tavern on Randolph Street, the oldest continuously operated restaurant in Michigan. Built in 1882 as a social club for the Bohemian woodworkers, it's still a favorite local watering hole. Patrons can still belly up to the original carved mahogany bar amid a menagerie of stuffed animal heads, including a famous moose named Randolph.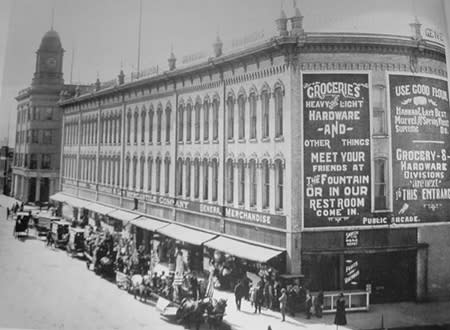 The Hannah-Lay Mercantile Building (1883) -- now Boyne Country Sports
This large white brick edifice on the northeast corner of Front and Union Streets was built by Traverse City founding father Perry Hannah -- and was originally two city blocks long. Known as the "Big Store," it was the largest store north of Grand Rapids and sold all kinds of goods: hardware, boots, shoes, dry goods, clothing, groceries, provisions and furniture.
The building was sold in 1928 and became a Montgomery Ward outlet, which it remained until 1981. (Its western half was destroyed by fire in the 1940s.) In 2010, it was extensively restored and renovated, and today its upper two floors are professional offices while the main street level is an outlet for Boyne Country Sports, where you can shop for ski, golf and beach clothing, gear and accessories.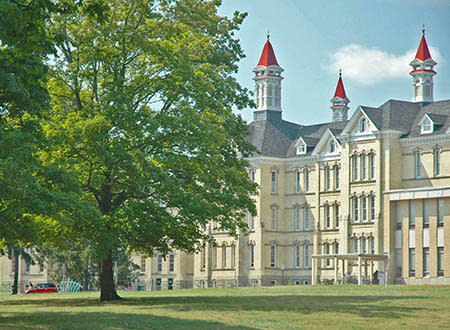 Building 50 (1885) -- now the Mercato in the Village at Grand Traverse Commons
In 1881, Traverse City was selected to be the site of the Northern Michigan Asylum, a hospital dedicated to the idea that fresh air and beautiful surroundings could ease the suffering of the mentally ill. Its 333-acre campus included a diverse collection of cottages, workshops, stables and outbuildings, but its centerpiece was Building 50. This three-story white brick Victorian Italianate building is a quarter-mile from end to end containing 386,740 square feet of space and is decorated with towers, bracketed eaves, dormers and bright red turrets.
The hospital closed in 1989, but Building 50 and many other stately buildings have been preserved and are being transformed into a complex of shops, restaurants, offices and apartments that have become one of the city's most appealing attractions. Building 50 is the home of The Mercato, an underground shopping center filled with eclectic boutiques, bistros and galleries.
The City Opera House (1891) -- still the City Opera House
This ornate red brick building on the south side of Front Street is one of only six historically intact Victorian opera houses in Michigan. The first building in downtown Traverse City to install electric lights, the Opera House hosted plays, lectures, meetings, balls, concerts and vaudeville acts before closing in 1920.
Fortunately, it underwent no significant renovations until the 1990s, when local citizens began raising funds and seeking grants to faithfully restore it to its former grandeur and preserve it for generations to come. It is now used for a variety of community meetings, dances and performance events in affiliation with Michigan State University's Wharton Center.
The Traverse City Gasworks (1901) -- now the Candle Factory/Home Elements
In 1901, the Traverse City Gas Company built a facility to extract gas from coal and pipe it to local homes and businesses for heating and lighting. The company built an imposing brick building at the north end of Hall Street, complete with a pair of massive multi-story gas tanks and operated it until 1945.
For a time, the building was used as a cannery, but in 1971, it became the home of The Candle Factory and Home Elements, one of the country's largest and most diverse candle retailers and a favorite place for shoppers to find tabletop fabrics and similar accessories. While browsing around the vast brick space, though, it's easy to envision its industrial past.
The Carnegie Library Building (1903) -- now the Crooked Tree Arts Center
In the years from 1883 to 1929, Scottish-American steel magnate and philanthropist Andrew Carnegie donated $60 million to build 2,509 libraries in towns, cities and universities around their world. The handsome gray stone building on Sixth Street in Traverse City, which features an exquisite rotunda and fine interior woodwork, was one of the 1,689 Carnegie libraries built in the United States.
In 1999, the Traverse Area District Library moved out of the building to larger quarters at the north end of Boardman Lake, and the original structure became the History Center of Traverse City, home to a number of small nonprofit historical and cultural organizations. Today, it houses the Traverse City branch of the Petoskey-based Crooked Tree Art Center, which holds exhibitions, art classes and other events there.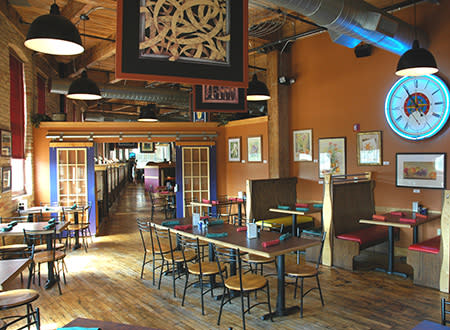 The Big Daylight Candy Building (1904) -- now North Peak Brewing Company
Started in 1899, the Big Daylight Candy Company was so successful that it outgrew its two original factories before owners John & Anton Straub and George Amiotte, built this three-story brick building at the corner of Front and Hall Streets. The factory was a model of its kind, and continued to manufacture candies of all kinds until it closed in 1928.
In 1997, the building became the home of North Peak Brewing Company, a restaurant and brewpub serving craft beers, wood-fired pizzas and a wide range of salads, burgers and sandwiches. A companion tavern, Kilkenny's Irish Public House, is in the basement, and both spaces were carefully renovated to display much of the buildings old factory fittings and beams. The upper stories contain offices and residential condominiums.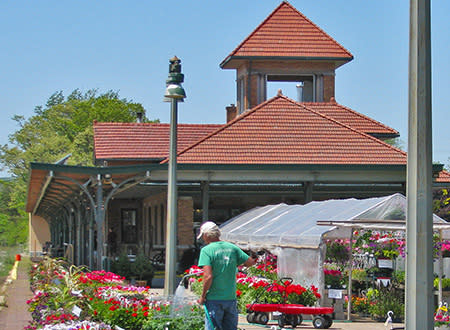 Pere Marquette Passenger Depot (1927) -- now the Filling Station Microbrewery
This handsome Italianate depot at the north end of Boardman Lake with its glazed brick walls and tile roof was considered the finest train station along the Pere Marquette line when it was first built. Unfortunately, the railroad business in northern Michigan declined after World War II, and the depot closed in 1966.
Since 2012, the station has been home to The Filling Station, a microbrewery and bistro brewing its own "Ales by the Rails" as well as some tasty salads and wood-fired flatbread pizzas. An adjacent depot building houses The Soup Cup Microsouperie, serving eight handcrafted soups daily, as well as Belgian fries and gooey cheese sandwiches.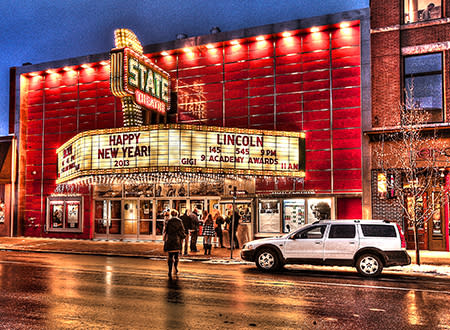 The State Theatre (1949) -- still the State Theatre
This fine Art Deco movie house was built in 1949 on the site of the former Lyric Theatre, which was destroyed in a fire. It underwent a remodeling into a twin-screen theatre in 1978 and in 1996 was closed as a movie house amid plans to turn it into a year-round performance center.
The plan stalled, but in 2005, the State Theatre became the home of the new Traverse City Film Festival, which rallied a small army of volunteers to raise funds to restore and operate the theatre year-round. Today, the State is a beautiful blend of classic Art Deco decoration and 21st-century technology, including work from local artists and a fiber-optic representation of the night sky worthy of a planetarium.