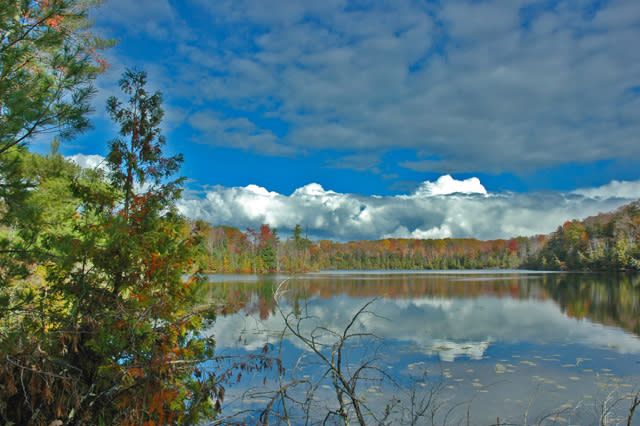 Well, it's certainly been a dramatic autumn in Traverse City this year. The trees have been late coming into their fall color, and the weather has been full of sturm und drang – one minute there's rain, hail, sleet and snow in abundance and the next minute it's dazzling sunshine -- great masses of clouds chasing across the sky and fat beams of light stabbing down across the landscape.
Since a dramatic season requires a dramatic setting, I found one in a place I've never explored before: the Timbers Recreation Area on North Long Lake Road, just 10 minutes west of town. It's a 250 acre preserve, complete with trails, historic buildings and 9,000 feet of waterfront on three lakes, and it's open to the public.
That is, it's open to the public now. But for years it was in private hands – first as the backwoods retreat of meat magnate J. Ogden Armour and his family, and later as a Girl Scout camp that ran from the 1960s until 2009. Since the summer of 2014, though, it has been administered as a public recreational area by Long Lake Township -- thanks to the Grand Traverse Regional Land Conservancy, which raised $891,300 to help it qualify for a $2.1 million grant from the state. 
Long Lake Township has always been one of Traverse City's loveliest neighbors. A century ago, this is where local residents built their own summer homes to escape the noise, grime and odors of town. (Contrary to the nostalgic popular legend, Traverse City is a much cleaner, prettier and healthier place now than it was in the "good old days" when the city waterfront was a grimy industrial harbor.) To this day, the township has done a great job of creating and maintaining a wide variety of parks and natural areas.
To get to The Timbers, you drive out on North Long Lake Road, just past the Long Lake Elementary School and tiny Coffield Lake, where you'll find a gravel road that heads south through the forest. A few hundred yards along this road, there's a well-constructed fieldstone entryway – one of several examples of masonry scattered around the woods like so many ruins of an ancient civilization.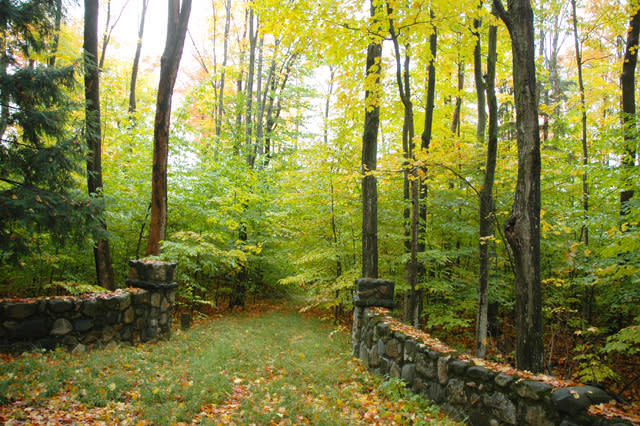 They're remnants of the estate that the Armours built here during the 1920s, which eventually included a main lodge, dormitory, cottages, two barns, an ice house, boathouse, and numerous outbuildings as well as 68 acres of landscaped gardens, pathways and farmlands. Some of that architectural and horticultural history has been lost – I did see the half-submerged boathouse while hiking around Fern Lake – but some of the buildings (including the lodge, which is now a private home) survived when the estate was broken up and sold off after 1945.
The Girl Scouts got the largest chunk of it, of course, and they left their own reminders -- a few modest administrative and common buildings, as well as dozens of wooden platforms scattered through the forests that once supported big canvas tents. But the really impressive thing about The Timbers is how much land is just there. Almost  2,000 feet of frontage on Long Lake, an entire 20-acre lake (Fern Lake) inside its boundaries with 4,500 feet of shoreline, and 2,400 feet of shore on yet another, Page Lake. There are two-tracks and trails winding their way through woods, meadows and fields.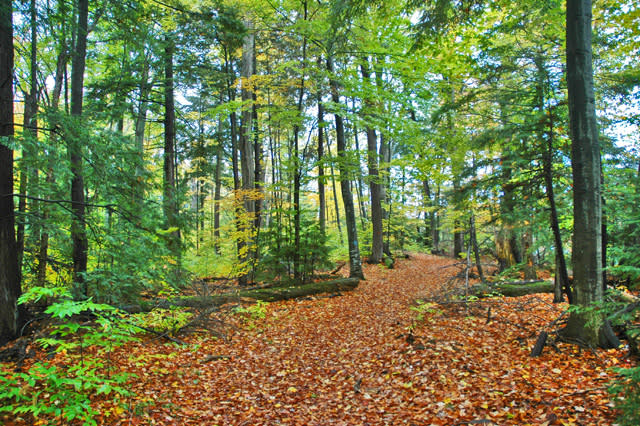 Naturally, I had to get out and explore the whole thing. And it took a long while, starting with the paths that generations of Girl Scouts must have used during their daily trips to the waterfront, the mess hall, the nursing office and their various campsites… and moving out under a canopy of golden maples and beeches… through dark, ferny hemlock woods, uplands filled with burgundy-colored blackberry bushes, and fields of waist-high grasses. The forest was filled with birds.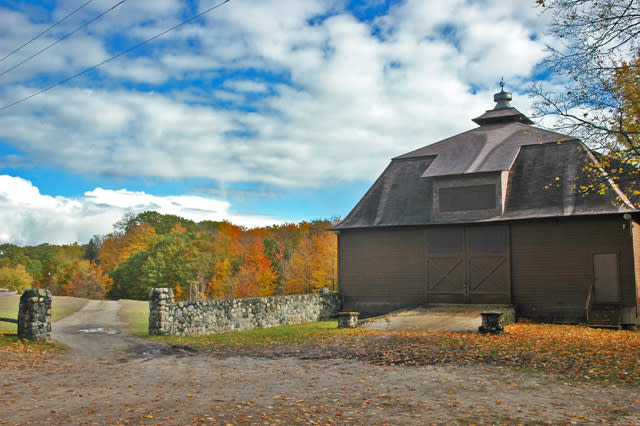 Back at the entrance, there's a barn and silo of handsome glazed brick.
The Timbers Recreation Area will provide both residents and visitors with a wonderful place to enjoy the Long Lake waterfront in a natural setting by hiking, fishing, wildlife viewing and snowshoeing and cross-country skiing. And the coolest part of it all is that it's so close to town.