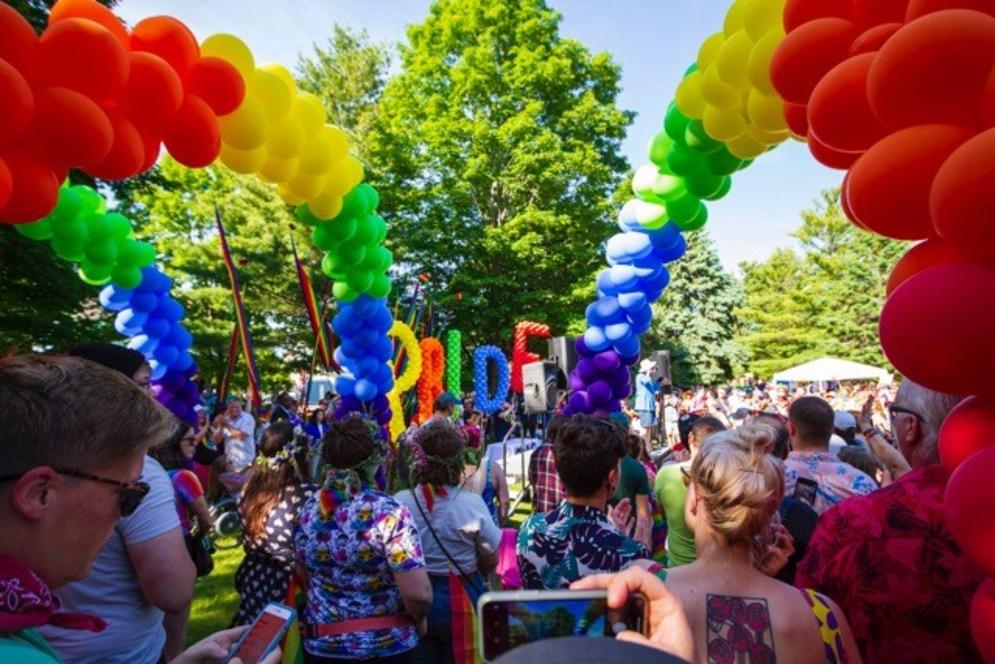 If the arrival of spectacular summer weather wasn't enticing enough to visit the Traverse City area, Up North Pride is organizing some special events in June that you won't want to miss.
Where else can you meet The Real Dragwives of Northern Michigan, experience a hilariously tasty Drag Brunch and transform yourself into a moving work of art during a color run? Oh, and you can enjoy free carnival rides, too!
The Traverse City area is proud to be the site of a handful of unique Pride Month events that promise to be silly, yet also significant.
"We focus on making sure we're visible," said Nick Viox, programming and operations director for Up North Pride, a nonprofit group of 2SLGBTQIA+ people and allies striving to make northern Michigan more inclusive and welcoming.
"Visibility truly matters, to not only recognize yourself but your community. We're here and we're your neighbors, your friends, and your colleagues."
When Viox was growing up in northern Michigan, "We really didn't have a lot of places where people could gather and be themselves authentically," he said. That's no longer the case. No fewer than five big Pride Month events are planned in June in the Traverse City area.

The events in the Traverse City area coincide with National Pride Month in June and are designed to give LGBTQ+ people from around Michigan opportunities to gather in safe spaces. There's "a real sense of community here in northern Michigan that (some LGBTQ+ people) don't always feel" in their hometowns, Viox said.
But as much as the Pride Month events are for LGBTQ+ individuals to support each other and be visible about who they are, everybody is welcome to participate.
For example, at four of the Pride Month events – the Rainbow Run and the Drag Brunch, which are new this year, and the Pride Carnival and Drag Bingo, which each are back for a second year –  there will be a Painting with Pride activity this year. Two queer artists from northern Michigan are creating one 8-foot by 8-foot mural for each event, and people can come to fill them with color.
"At each event, we are inviting the community to paint by number with us," Viox said. "All these events aren't just meant for the queer community. We try to be as welcoming as possible. We need to make sure that we're representing everybody as much as we can."
In addition to Pride Month, Up North Pride, each fall celebrates Pride Week in the Traverse City area. The organization's flagship event is scheduled this year from Sept. 27-Oct. 1. Scheduled activities include a Pride Ride & Sign Making Party, Pride Poolside, a Comedy Night, Drag Night & Silent Disco, and a Visibility Rally & March – with a Big Gay Brunch to wrap things up on Sunday.