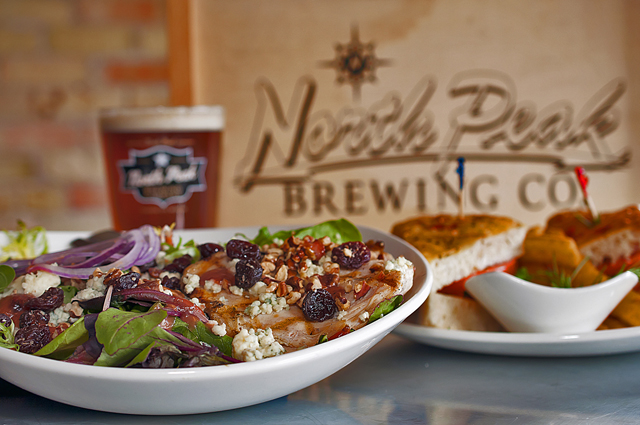 By MIKE NORTON
Here in Traverse City, we're proud to be America's "Cherry Capital" – and not without reason. Over 75 percent of the nation's tart cherries (the ones used in baking and cooking) come from Michigan – and most are grown here, in the beautiful hillside orchards overlooking Grand Traverse Bay. And since we also pride ourselves on being one of the country's up-and-coming "foodie towns," it makes sense that most local restaurants -- from the humble to the
haute
– have at least one cherry specialty on the menu.
Those who love finding cherries in all their food can find satisfaction in the Grand Café at Glen Arbor's Cherry Republic, where one can sample cherry-sauced pulled pork or meatloaf,  try a CBLT (cherry-bacon-lettuce-tomato sandwich) and some cherry pasta salad -- polished off  with a slice of cherry pie, or a scoop of cherry ice cream. But for less obsessed diners, here's a brief guide to some eateries that aren't quite so enthusiastic:
Appetizers: First off, there's the baked Brie topped with hot cherry sauce at Sleder's Family Tavern. Or the Gorgonzola Ale Dip at North Peak: gorgonzola blended with cream cheese, dried cherries, toasted pecans and beer, baked and served with pita chips or bread.
Salads: Traverse City's most ubiquitous cherry dish is probably Cherry Chicken Salad, but it comes in a bewildering array of styles. The "TC's Favorite" at The Dish, for instance, involves walnuts and gorgonzola with an orange-ginger vinaigrette, while Minerva's features both dried cherries and Granny Smith apples, sliced celery, almonds and feta, with honey balsamic dressing, and Morel's includes smoked walnuts.
The version at the Jolly Pumpkin, meanwhile, includes smoked chicken breast, dried cherries, Maytag blue cheese, candied pecans and dried cherry vinaigrette, while the Front Street Salad at Poppycock's has cherry jalapeno glazed chicken breast, dried cherries, toasted pecans and fresh goat cheese with lemon cherry vinaigrette.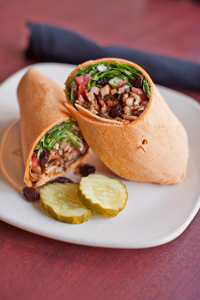 Sandwiches: These are easy to find, too. At Bay Bread, there's a Cherry Turkey sandwich (turkey, cherry walnut spread, lettuce & cherry butter on multigran bread) while Little Bohemia  offers a version with turkey, Swiss cheese, spinach and cherry walnut mayo on toasted sourdough. North Peak has a Cherry Chicken Ciabattini that combines creamy chicken salad with dried cherries, toasted pecans, celery and onion on a ciabattini roll with alfalfa sprouts.
Minerva's Cherry Chicken wrap teams a grilled chicken breast with spinach, walnuts, gorgonzola, tomatoes, green onions, dried cherries and cranberry vinaigrette, while The Dish offers a Cherry Daze Wrap:  chicken, havarti cheese, red onion, dried cherries, and fat free cherry vinaigrette. The 45th Parallel in Suttons Bay (which puts little cherry symbols on their menu to mark the cherry dishes) has a Cherry Albacore Tuna Melt, while the Green House Café's TC Reuben tops its sliced corned beef with melted provolone and cherry kraut.
Breakfast: Cherries go well with cereals both hot and cold. Bay Bread, for instance, has a homemade cherry nut granola with milk for breakfast, while 45th Parallel offers Old Fashioned Hot Oats -- a blend of oats, sliced almonds, dried cherries and floured dates that's baked, sprinkled with brown sugar and served hot with cream or milk.
At the Flap Jack Shack, they have a Stuffed Cherry French Toast: a classic sourdough French toast that's filled with sweet cherries and vanilla cream cheese, then topped with more cherry compote and lightly dusted with powdered sugar.
Meats: It was local butcher Ray Pleva who came up with the idea of mixing cherries and pecans into bratwurst and other sausages. House of Doggs has a nice grilled cherry brat, and Apache Trout Grill includes smoked cherry sausage (along with a half rack of ribs, barbecued  shrimp, baked beans and slaw)  in its BBQ Mixed Grill.
Pleva's other famous creation – Plevalean, a low-fat blend of cherries, lean ground beef, oat bran and spices – can be also be sampled.  Mackinaw Brewing  serves up  Plevalean burgers, while Xylo has created something called the Leelanau Gyro: strips of grilled Plevalean served up in a pita with an herbed spread, tomato, onion and Greek dressing.
Pork and chicken are also popular cherry partners.  Schelde's features Cherry Apple Pork Chops (two boneless chops grilled with their apple-cherry relish), while Reflects at Cambria has a Cherry Glazed Chicken: a hand-breaded grilled chicken breast topped with homemade cherry demi-glaze, and Sleder's serves a charbroiled half chicken brushed with cherry BBQ sauce.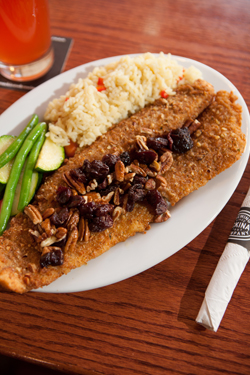 Fish: The most ubiquitous cherry-paired entree in Traverse City has got to be fish. There's pan-seared walleye topped with cherry butter at Schelde's, Pecan Crusted Whitefish with cherry amaretto sauce at Apache Trout Grill, Walleye Almondine in cherry wine cream sauce at Peninsula Grill, pecan-encrusted walleye with buerre blanc and dried cherries at Mackinaw Brewing, cornflake encrusted crab cakes with cherry compote at Fire Fly and Cherry Almond Salmon at Poppycock's.
Pizza: Tart cherries add a whole new zing to pizza.  Pangea's China Cherry Chicken pizza has chicken, pineapple, green peppers, carrot slivers and mozzarella cheese with sweet-and-sour cherry sauce, while Mancino's  has a Cherry Chicken Pizza with marinated chicken, dried cherries, walnuts, ranch sauce and five different cheeses. And there's Peninsula Grill's Pesto Chicken Pizza: pesto, grilled chicken, red onions and dried tart cherries.
Dessert: Cherry pies and cobblers are everywhere. Best-known is the Grand Traverse Pie Co., which has eight varieties of cherry pie. But Reflects at Cambria and Little Bohemia both have their own versions of Cherry Bread Pudding, while Aerie at the Grand Traverse Resort & Spa features a cherry toffee pudding cake with toffee sauce, almond ice cream, candied cherries and sugar coated almonds.
Here's contact info for all these restaurants: 45th Parallel www.45thparallelcafe.com (231) 271.2233 Apache Trout Grill www.apachetroutgrill.com? (231) 947-7079 Bay Bread www.baybreadco.com? (231) 922-8022 Cherry Republic www.cherryrepublic.com (800) 206-6949 The Dish www.thedishcafetc.com (231) 932-2233 Flap Jack Shack www.flapjackshack.com (231) 941-1890 Grand Traverse Pie Co. www.gtpie.com (231) 922-7437 Green House Café www.greenhousecafetc.com (231) 929-7687? House of Doggs www.houseofdoggs.com (231) 922-1348 Jolly Pumpkin www.jollypumpkin.com/traversecity (231) 223-4333 Little Bohemia www.lilbo.com 231-946-6925 Mackinaw Brewing  www.mackinawbrewing.com (231) 933-1100 Mancino's www.tcmancinos.com (231) 943-4844 Minerva's www.minervas.net/minervas-traverse-city (231) 946-5093 North Peak www.northpeak.net (231) 941-7325 Pangea's www.pangeaspizza.com? (231) 946-9800 Peninsula Grill www.tcgrills.com/peninsula-grill? (231) 223-7200 Poppycock's www.poppycockstc.com  (231) 941-7632 Reflect (231) 778-9000 Schelde's (231) 946-0981 Sleder's Family Tavern www.sleders.com (231) 947-9213? Xylo www.xylobistro.com (231) 421-9200