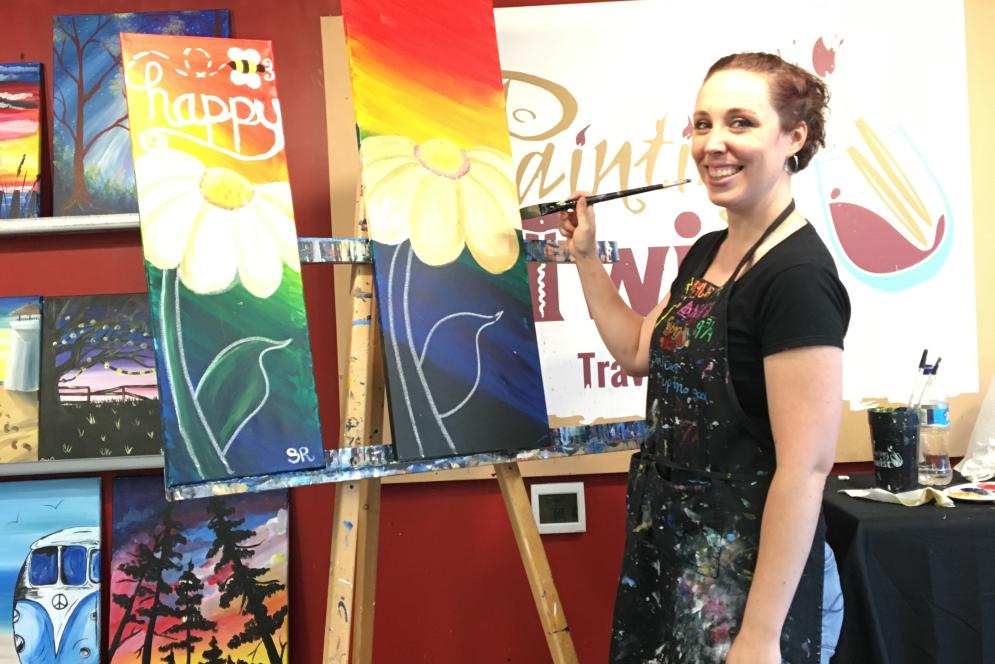 It's not your traditional girls night out. You don't want to wear your best clothes or your new shoes. Don't even think about high heels. This is a night that will be the closest you've come to high school art class in over a decade(s).
Walking in, you'll be struck with the same old fears. You can NOT paint a flower, a tree or an anything. You were a disaster in high school art class, and you'll be a disaster now.
But, wait. There's something different afoot. This isn't like art class. You aren't going to be turned loose on a blank canvas. You aren't going to be asked to draw something from your imagination. No, you're not going to be set free at all!
Rejoice, you are going to be given a play by play. It's like Bob Ross, but in person, by a woman with nice hair.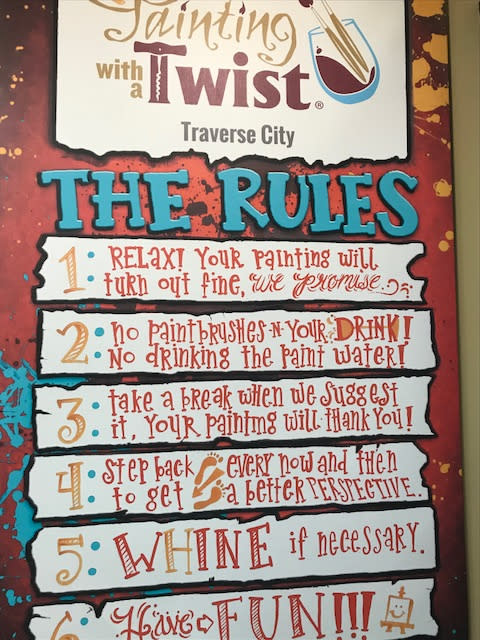 There are four of us. Me, Dru, Diane and Megan. My friend Dru is the most nervous. She was dodgy in the car, skittish in the hallway. The last thing she wants to do is be creative. Give her a conference to plan and hundreds of people to coordinate, and she's on it. But give her three paint brushes and two hours and she's looking at her phone, hoping for a low-grade emergency to call her away.
Mikayla Lehn, the studio manager, at Painting with a Twist in Traverse City, welcomes us. We parked in the downtown Hardy Parking Garage off State Street, and it's an easy walk straight across Front Street to get to the studio, which boasts a gorgeous view of the Boardman River running behind it.
She has set up easels for each of us, along with a rainbow of colors on a palette. They are like the little palettes Bob Ross used, only on a smaller scale. We have thumb holes! On a small stage at the front, Mikayla has set up a blank easel and a finished painting. Our "before" and "after." She will paint with us step by step.
"I can't do this!" It had become Dru's war cry.
We were all equally worried, but, like most group outings, the more one of us balks, the more confident it makes everyone else. Every group needs a worrier, and Dru, lovingly, is ours.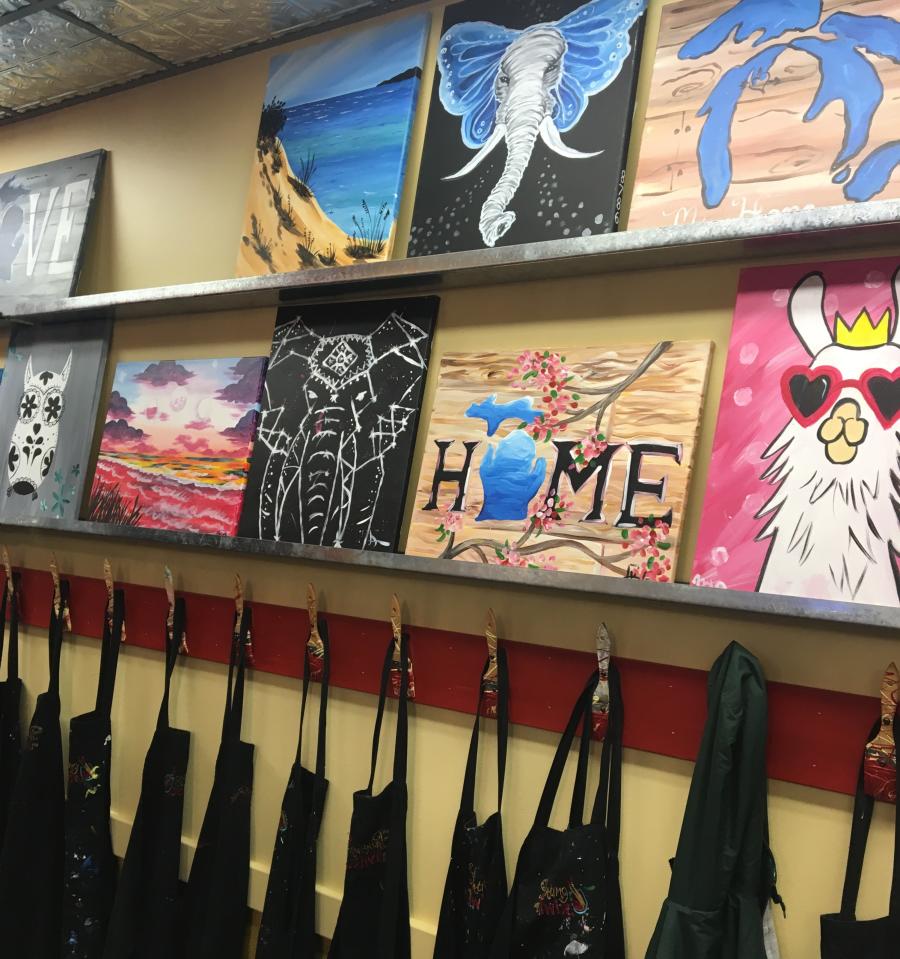 We'd picked out a daisy pattern. And a Riesling. We'd ordered a large pizza from Paesano's Pizza down the street—half veggie, half ham—a clear representation of the polar opposites in the group—and had it cut into squares for easy finger food.
Mikayla provided the rest: a corkscrew, cups and patience.
We were nervous, but yes, we could do this. Definitely! Absolutely! Easy Peasy! At least that's exactly what we told Dru.
Mikayla gathered us up and told us the first step was to do this: paint a swath of red along the top of that perfect empty canvas. Then – without rinsing our brush! – paint a swath of orange. It seemed like a mistake, to mix colors on the canvas and, (no!) on the brush too. But that's exactly what we did.
The first 10 minutes proceeded like that: Mixing one paint over the other and downing squares of pizza and tiny, respectable glasses of wine (thrice) to comfort our natural inclination to clean brushes between colors.
Mikayla stood up front and waited, with a smile. She had taught enough classes to know that we'd soon be exclaiming over our swathes.
And we were.
Next, the daisy. Mikayla told us to get out our one pencil and sketch, of all things, an oval.
Oh, the way we debated what our oval should look like. It would be the eye of the flower, a simple start. But we all decided our ovals looked too round or too square or too, in my case, like a rock. It was like kindergarten gone bad.
"Everyone's will look different, and that's a good thing," Mikayla said, trying to get us over this small setback.
Next, she showed us how to sketch petals, which, were just loose lines looped out from our non-oval ovals.
There was more exclaiming from the group that petals were impossible, but finally, we had a basic drawing of a flower at hand. Then, it was time to retrace our pencil drawings with paint. At this point, Mikayla all but hung us out to dry. She, in a radical departure from our experience with her up to this point, encouraged us to experiment.
"Mix your colors, let it dry, add a layer of color," she said. "Try pink, yellow, orange."
We all looked at each other in silence. It was time for a wine break.
We headed out onto the patio overlooking the river.
"She's not telling us how to do it!" one of us (me) said.
"It's like she doesn't care if I have too much yellow and not enough white," Megan said. "I'm terrified."
Diane sipped her drink and remained thoughtful. She was, of the four of us, actually talented.
But that's when Dru said the magical words: "Actually, I think mine might look like a flower."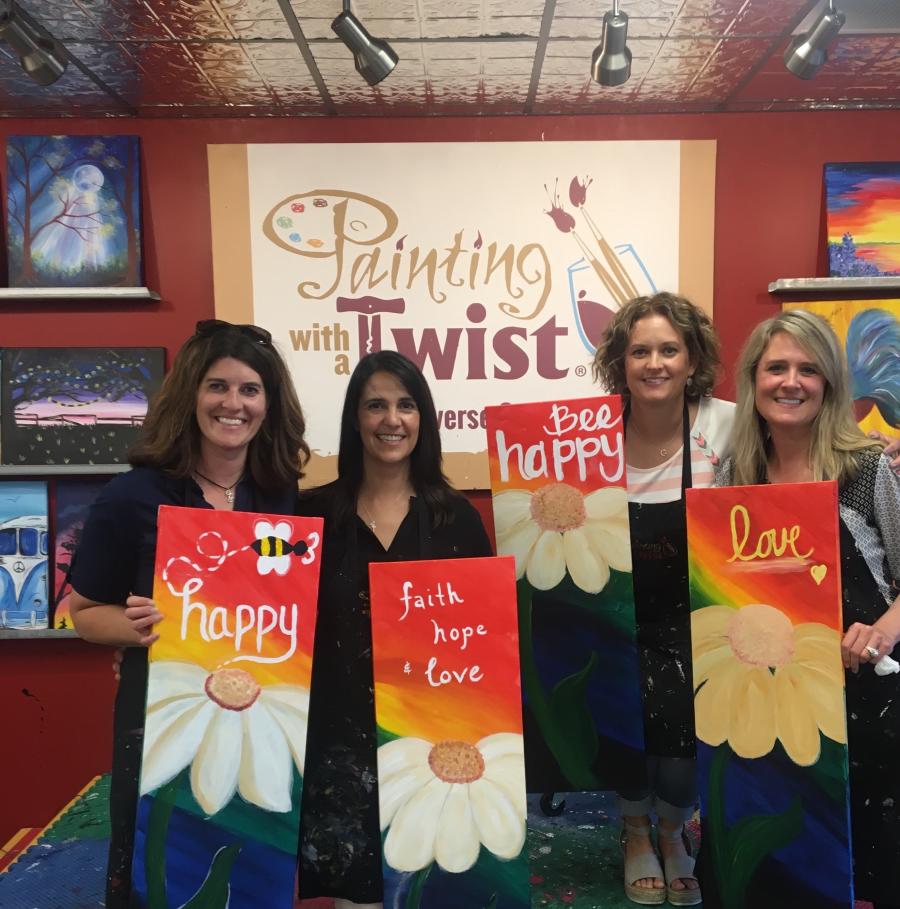 Suddenly we were all-in. If she could do it, we could do it. We headed back to our paintings with renewed hope and faith. Daisies sprouted on every canvas, little shouts of joy and worry coming along the way.
In the end, we loved our paintings. All of them were different, all of them a struggle at one point, all of them a triumph at another. But all of them a wonderful memory of a fun night out with friends—when we all did a little something we didn't think we could do.
You May Also Like