Here in Traverse City we talk about our wine, and we talk about our craft beer -- but this area is also home to a thriving microdistillery movement that's turning out some lovely vodkas, whiskeys, brandies and other high-octane fuels.  And as it happens, winter is an excellent time of year for a distillery tour.
My first stop is on Front Street, at the tasting room of the Grand Traverse Distillery. Founded in 2007, GTD was the area's first real microdistillery; owner Kent Rabish relied on rye grown just east of Traverse City and the area's pure glacial water to create True North Vodka, a product that has won major national and international awards. Since then, the company has branched out into whiskey, gin and even rum (using tropical cane sugar, alas!)
For years, Grand Traverse Distillery's only real tasting room was at the distillery itself, located in an industrial park on Three Mile Road – though a steady stream of eager customers still managed to seek out the place. More recently, though, it has established additional locations in Frankenmuth, Leland, Grand Rapids and in downtown Traverse City. 
It's a classic downtown Traverse City location, too -- long and narrow, with hardwood floors and a cozy little "tasting salon" in the rear that overlooks the Boardman River with views of Clinch Park and West Bay. Andrew says he's usually able to spend time with customers, finding out about their preferences before pushing a tasting menu in front of them.
"If you listen to them, they'll tell you what they like," he says. "Some people just taste whiskeys and some people just try the vodkas, but there are a lot of people who aren't used to drinking spirits. For them I'll try to mix up something from our cocktail menu." He demonstrate with a case in point: GTD's seasonal True North Chocolate Vodka. It's a product that starts with a barrel of GTD's True North Wheat Vodka, in which organic cocoa nibs are allowed to soak. After a month of swishing that cocoa-infused vodka around in the barrel, several blood oranges are added to give it a hint of orange. But despite the undeniable aroma of cocoa, orange and spice, it's not a sweet or particularly chocolate-y drink.
So Andrew goes to work and mixes it with a little cream soda, whose sweetness and vanilla flavor bring out the chocolate in the vodka without making it cloying. "I do the same thing by mixing our cherry vodka with lemonade," he says. "It changes the character of the whole drink."
Personally, I'm a whiskey guy -- and I'm very fond of GTD's Ole George, a premium rye whiskey that has a lot of that spiciness that you find in a high-quality rye whiskey. As a bourbon fan, I wasn't sure I'd care for rye, but I have to admit I like its ruggedness.
It's not far to my next stop, in the
Village at Grand Traverse Commons
:
Tastes of Black Star Farms
, down in the Mercato of Building 50. This is fruit country after all, and not all spirits are distilled from grain. Black Star Farms has been making some amazing fruit brandies -- from mellow barrel-aged apple brandies with a hint of maple (my favorites!) to fiery
eau de vie
-- a clear distilled spirit (usually 80 proof) made from local pears, cherries, apples, and apricots.
Kate, my helpful spirit guide, chats a little about the various fruits and flavors. But while I appreciate the high-octane qualities of the eau de vie, my palate doesn't seem to be sensitive enough to notice the flavors I'm supposed to be noticing. The apple brandy, on the other hand, is just my style; aged from 3 to 5 years in oak barrels, it's smooth and amber-colored with lots of fruity notes.
Black Star has also gotten raves for another high-octane product: grappa, an Italian brandy made from the skins of grapes after pressing. I'm not a big grappa fan, but I've had it in Italy, and Black Star's is better!
Next, it's a pleasant trip up the Old Mission Peninsula to the tasting room (only open on weekends!) at the Jolly Pumpkin Brewery in Bowers Harbor.  Although Jolly Pumpkin's ales are brewed downstate in Dexter, the company's Civilized line of spirits is actually distilled right here on the Old Mission Peninsula, and distiller Mike Hall makes some great stuff using local materials. Their vodka, for instance, is made with local Riesling grapes. And Sakura, their cherry vodka?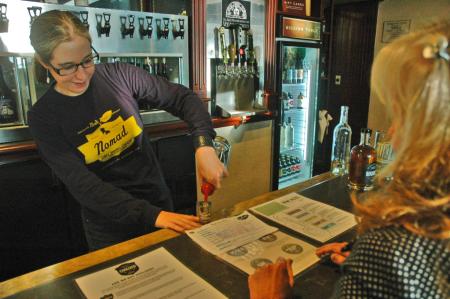 "Sakura is distilled from local cherries," says tasting room sherpa Liz Norton. "Which is why it doesn't taste very medicinal and has a subtle flavor -- unless mixed with something carbonated."
Good. Because who wants a cherry vodka that tastes like cough medicine? Civilized also make a gin using local botanicals and a rum made with sugar cane -- which we don't grow around here. But it's the whiskey (again) that makes my palate sit up and take notice. And here again, I like the rye better than the bourbon -- though Mike has a few tasty products waiting in the wings that I like even better!
As the crow flies, it's not that far from Jolly Pumpkin across West Bay and over the hill to Lake Leelanau -- home to the Northern Latitudes Distillery -- but if you're not a crow it'll take you an hour or so. Distiller Mark Moseler isn't afraid to make sweet liquors here –--there's a Ginger liqueur, a Limoncello di Leelanau (pretty good!) and a Mackinac Island Fudge liqueur. They also make a gin flavored with lavender, juniper and jackpine seeds, and a bourbon whiskey.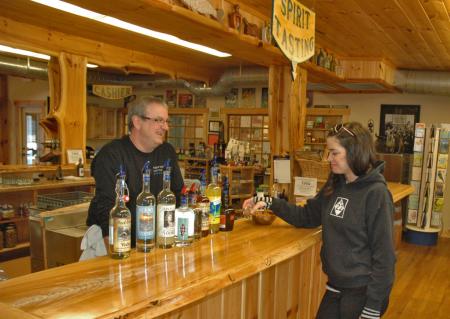 But I have arrived to try their vodkas. One, called Ice Dunes, is made with Michigan wheat. Two others, though, are distilled from…. wait for it… Michigan beet sugar. At Mark's urging, I do a taste test between the wheat vodka and the unflavored beet, known as Deer Camp Vodka. Big difference! Ice Dunes has a bold, assertive character, but the beet vodka is mild and unassuming with a prolonged sweet finish that would go well with fruit mixers.
The other vodka is something else entirely. It's called Apollo Horseradish Vodka, and that's what it is: a smack-you-in-the-nose dose of pungent earthy horseradish. Mark distilled it for his own use because he likes horseradish in his Bloody Marys. He figured it might be a nice niche product, and instead it's become the distillery's biggest seller.
"Most people use it in Bloody Marys and dirty martinis," he says. "But there are people who keep the bottle in the freezer and drink it straight."