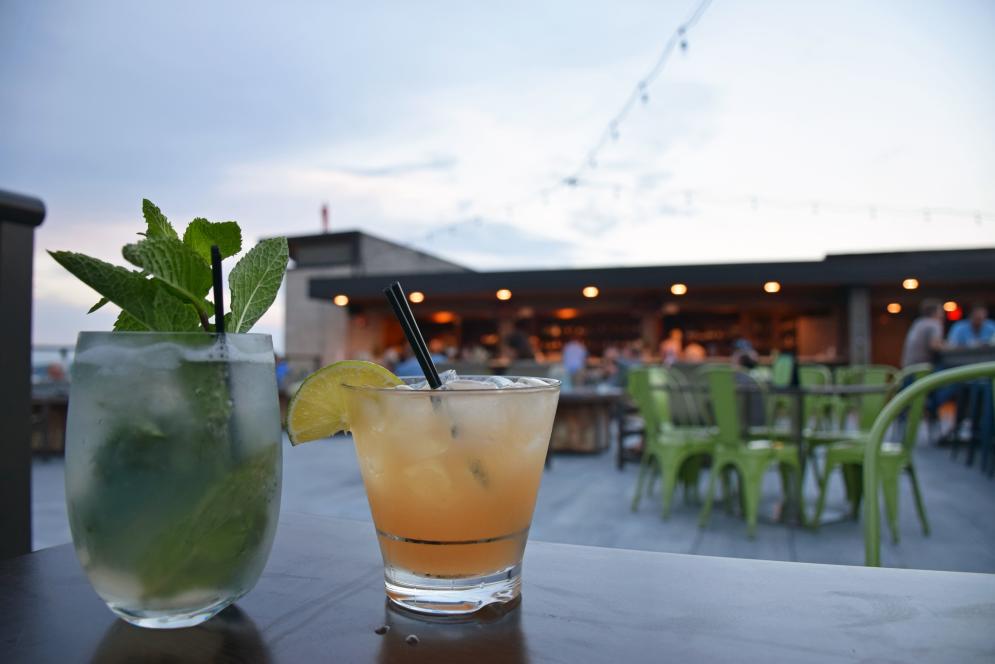 When the sun sets on this scenic city, there's no shortage of things to do. From open air bars to rooftop decks with a view, Traverse City is rapidly developing as a trendy scene to unwind and celebrate.  Whether you're in the mood to enjoy an after dinner drink, play some pool or hit the dance floor, there's an exciting mix of bars and nightlife hot spots. 
Check out Lakes and Grape's Summer Nightlife Guide and make Traverse City your destination for a memorable evening on the town. There's a place for every night owl!
The Little Fleet 
Experience an eclectic array of bites, curated cocktails, local craft beer and wine all in one of Traverse City's coolest outdoor venues. This open air bar and food truck lot will satisfy any of your cravings. Ranging from pizza to sushi, tacos and more, there's a food truck on site to pair with any mood. The Little Fleet is a great first stop in your nighttime hop, or even your one-stop fun because no matter what time of day it is, the lot is always packed. Not to mention their establishment is dog friendly!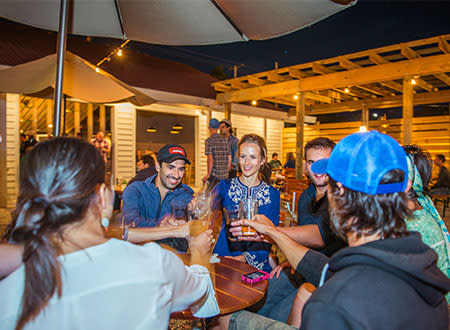 West Bay Beach Holiday Inn Dayclub & View Nightclub
At the West Bay Beach Holiday Inn you can enjoy a chill evening along the Bay on an expansive beachfront patio, or you can hit up TC's hottest nightclub. Start your evening off with cocktails, live music and good vibes at the Dayclub and end your night dancing at the View Nightclub. It's a win-win!
Hotel Indigo Rooftop Bar - H&L Social
The H&L Social at Hotel Indigo puts you directly overlooking West Bay in the Warehouse District. Arguably one of the best views in town, H&L Social is a prime spot for Traverse City's nightlife scene of drinks with a view. Relax on one of their comfy lounges, and sip as the sun goes down. Try their Pineapple Jalapeno Margarita if you're feeling adventurous!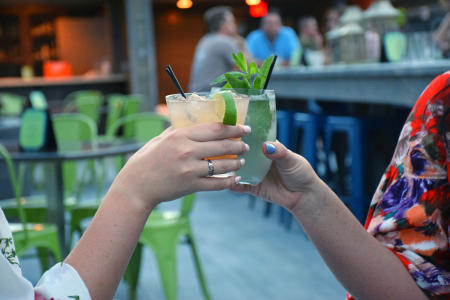 The Parlor
Warm, cozy and an intimate ambiance, The Parlor is Traverse City's premier hand-crafted cocktail lounge. Set in a restored warehouse on Lake Avenue in an upscale setting, The Parlor server up everything from distinguished drinks to fine wines and craft beers. Sip on something from their ever-evolving signature drink list, and try some of their delicious artisan tapa-style food. The Parlor features some of the best Happy Hour specials in town! 
7 Monks Taproom
This downtown Traverse City taproom offers the best variety of craft beer in town, featuring 46 taps and an ever-changing bottled beer selection from Michigan and around the world. 7 Monks Taproom's well-curated mix of flavors will keep everyone satisfied in the group. Grab a bite to eat and claim a table for the evening because 7-Monks will be hopping until they close at midnight.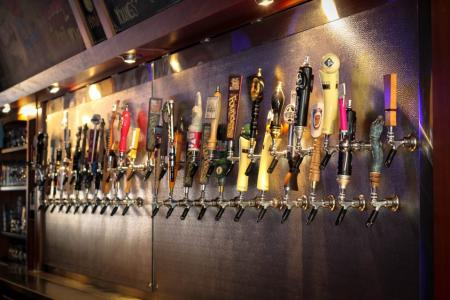 State Street Bar and Grille
If there's a sporting game on, State Street Bar and Grille is your spot! With an oversized outdoor patio, and multiple large screen TV's, State Street is a fun summertime hangout. On the weekends enjoy drinks with a group of friends and live music in a chill atmosphere.
Kilkenny's Irish Pub
Kilkenny's has completely transformed the typical cocktail bar atmosphere by combining top-notch hospitality, high quality drinks, and an Irish bar vibe. Here you can enjoy a calm round of pool, or hit the dance floor with your friends rocking out to one of Traverse City's favorite bands. Thursdays are "ladies night" with half off drinks and dancing from 9:30-1:30 am! Not to mention live entertainment every Friday and Saturday.
Low Bar, Traverse City's Speakeasy
Low Bar is a throwback into a modern era. Take the elevator down below 7 Monks Taproom, follow the lit candles along the mid-century hallway of a windowless basement, and you'll find a darkened speakeasy lounge. Low Bar perfectly captures the vibe of the 1920's prohibition era. Their elegant and comfortable seating offers a quintessential hideout for those seeking the perfect beverage. This cocktail bar is loaded with rare spirits (400-500 bottles) and a large menu of curated craft cocktails.
Of course this list is not the only nightlife fun to be had in Traverse City, but it will get you started. Grab a group and make your next night out fun-worthy!